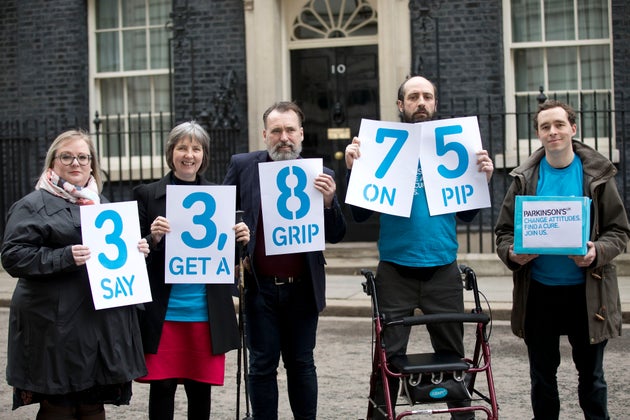 Over 33,500 people have sent a message to the Government to get a grip on a key disability benefit by protecting people with Parkinson's from nightmarish assessments.
By signing Parkinson's UK's petition, which we handed in to Downing Street this week, the thousands of voices are calling on the Government to end stressful and unnecessary Personal Independence Payment (PIP) assessments for people with Parkinson's – a condition that will only get worse.
We know that almost half of people with Parkinson's received the very highest rates of PIP's predecessor, Disability Living Allowance (DLA). In many cases, people were given permanent awards but now they're being sent for assessments under the Government's tougher PIP assessment, with devastating consequences.
The process of reassessing people from DLA to PIP isn't complete, but already a quarter of people with this lifelong condition have lost some, or all, of the support they had under DLA.
The fight for a fair system was personal for the people who joined us at the hand-in, Janet had her car taken away under PIP, Rob was turned down for PIP despite it taking him 45 minutes to walk 200 metres and Phil, who asked to be reassessed and lost support. DLA and PIP are designed to help people like Janet, Rob and Phil manage the extra costs they face. At its highest rates, it can also enable people to lease a car under the Motability scheme which Janet describes as her 'lifeline'.
However, the tough PIP assessment rules and assessors' very mixed knowledge of Parkinson's mean that we're flooded with stories of people with the condition being forced to give back their family car. Others are losing crucial financial support that helps them put food on the table, or pay their energy bills.
It's completely unacceptable that people are pushed to the edge of poverty, or are forced to borrow money from elderly relatives because they've lost the car that keeps them independent. That's why we need the Government to heed the warning of these 33,500 voices.
People with Parkinson's that already have the highest rates of DLA should be automatically given PIP – and spared the trauma and indignity of a PIP assessment that could see them lose everything.
It's not only common sense, but it'll save money too. Last year we calculated that the Government will waste over £3 million on pointless Parkinson's PIP assessments.
Over 60% of PIP appeals are now being overturned in favour of the claimant. Worse still, the Government's admission that it will need to reassess all PIP claimants to see if they need more support following its decision not to appeal a legal challenge last month, shows that PIP has been a disastrous failure.
It won't take much to protect people with Parkinson's from this mess. The voices of over 33,500 people have asked the Government to get a grip on PIP for people with Parkinson's.
The ball's in your court, Department for Work and Pensions.