The mother of a five-year-old who died of an asthma attack after being turned away from a GP appointment because she arrived late, is calling for a change in the way emergency appointments are handled.
Shanice Clark, who was with her daughter Ellie-May when they arrived 10 minutes late to the appointment back in January 2015, said she wished she stood her ground at the time. "I think there needs to be procedures put in place that emergency appointments don't get turned away ever, especially children," Clark said on 'Good Morning Britain' on 9 March.
"Whether you're five minutes late or half an hour late, you should be seen if it's an emergency and that needs to happen."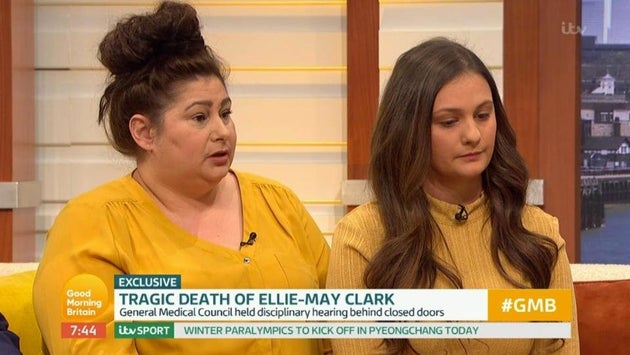 During Ellie-May's inquest in February 2018, Clark told of how she requested a home visit when her daughter, who had a history with asthma, began wheezing. She was given an emergency appointment 25 minutes later. She arrived five minutes late for the 5pm appointment and was speaking to the receptionist at 5.10pm. She was told she had to return in the morning.
According to the BBC, the coroner said a chance to "provide potentially life-saving treatment was missed".
Speaking of the day she was late to the appointment, Clark said: "I was angry more than anything. I was a few minutes late but I thought she still should have been seen. At that point, we were in the surgery, she was walking and she was talking and her breathing had improved, so at that point I wasn't too worried.
"So I just took her home, I thought if she gets any worse I'll take her to the hospital. As soon as she did get any worse, that's what I did, I rang 999 straight away."
The mum said she wished she had reacted differently, and put her foot down, demanding to see a doctor before she left. Ellie-May's grandma Brandi Clark was also on the ITV morning show, "I was annoyed. She's a little girl, she had a history," she said. "You think, that's what doctors are supposed to do."
Aneurin Bevan University Health Board provided a statement to GMB which was read out on air: "Our thoughts remain with the family of Ellie-May. We fully investigated this matter and subsequently made a referral to the General Medical Council who investigated in accordance with their procedures."
'Good Morning Britain' is on ITV on weekdays from 6am – 8.30am.