Campaigners have hit out at ministers for failing to adopt a so-called latte levy, calling the government's commitment to tackling waste "all froth and little substance".
MPs on the Environmental Audit Committee (EAC) had suggested introducing a charge of 25p on disposable coffee cups, after it was revealed that half a million disposable cups are thrown away each day in the UK, with fewer than one in 400 recycled.
But on Friday the government rejected the move, claiming it would undermine the emphasis on "producer responsibility". The government also rejected the committee's recommendation to ban disposable coffee cups completely by 2023. "Targets should be challenging, but realistic," ministers said.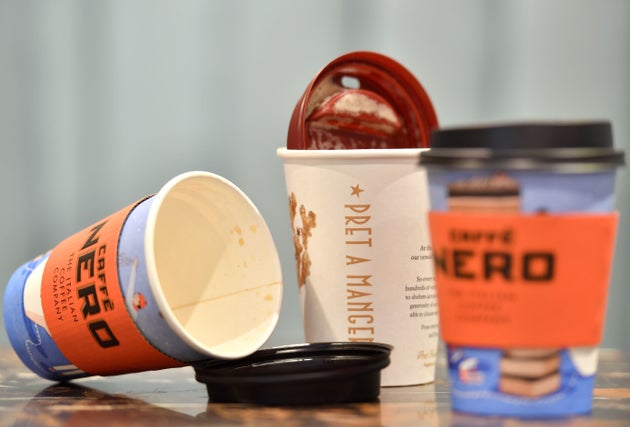 Mary Creagh, the EAC chairwoman, called the decision "not good enough" and "disappointing".
"The government has refused to take any decisive action on the complex issue of coffee cups – including the introduction of a 'latte levy' – and has instead chosen to rely on voluntary commitments."
Creagh added: "The UK's throwaway culture is having a devastating impact on our streets, beaches and seas. Our report recommended practical solutions to the disposable packaging crisis. The government's response shows that despite warm words they plan no real action."
The committee had argued that the charge was the most effective way to change consumer behaviour – similar to the 5p plastic carrier bag charge.
Environmental campaigners also lambasted the move, urging for action to be taken to tackle the waste "crisis".
Julian Kirby, Friends of the Earth's plastic-free campaigner, said: "Government commitment to tackling coffee cup waste appears to be all froth and little substance.
"With mounting public concern about the impact of plastic pollution on our wildlife and environment, ministers should be taking firm action to tackle this crisis – including the introduction of a latte levy.
"This response will also undermine government pledges to champion the environment – a far bolder and more urgent approach is needed if we are going to tackle the crisis we face."
The committee disagreed with the government's favoured approach of offering discounts for customers with reusable cups instead of a levy on disposable cups.
The committee also recommended that coffee cup labelling should state where they can be recycled, but the government instead advocated voluntary anti-litter labelling.
Elena Polisano, oceans campaigner at Greenpeace UK, said: "When [Environment Minister] Michael Gove said he was 'haunted' by plastic pollution and solutions were a priority, some cynics said it was all talk.
"Given the strength of public demand for action on plastic packaging, it is disappointing that Gove didn't use this opportunity to indicate clear support for a levy on disposable coffee cups.
"He needs to listen to MPs, retailers, and the majority of the public, who are asking him to act decisively on reducing throwaway plastic packaging."
The government said in its response to the committee that it wants to "leave our environment in a better state than we found it", pointing to its 25 year environment plan published earlier this year.
"Coffee cups make up 0.7% of total paper packaging waste in the UK. We believe it is important to look at the packaging producer responsibility system and waste management system as a whole, in order to drive the best environmental outcomes."
The rejection of the coffee cup levy comes after the government was accused of "dragging its feet" on the recycling of plastic bottles, after it failed to launch a key consultation to introduce a deposit return scheme to cut the billions of plastic bottles not recycled every year.
In February the EAC called for a deposit return scheme, which would see consumers pay a small deposit on each plastic bottle which would be returned once it is recycled – a system used successfully in Germany.