Confusion over crisis measures put in place to house rough sleepers during freezing weather actually forced some people back onto the streets, HuffPost UK has learned.
Speaking to rough sleepers in London following the extreme conditions, some said they hoped the freezing weather had continued, as sustained freezing temperatures trigger the opening of emergency shelters for the homeless.
The Severe Weather Emergency Protocol (SWEP) prompts councils across Britain to offer extra accommodation when the forecast for three or more days is below zero (or just one in London since Sadiq Khan revised guidelines).
But almost a week since the Beast from the East and Storm Emma gripped the UK, HuffPost UK has uncovered a series of consequences to the emergency response to care for Britain's homeless.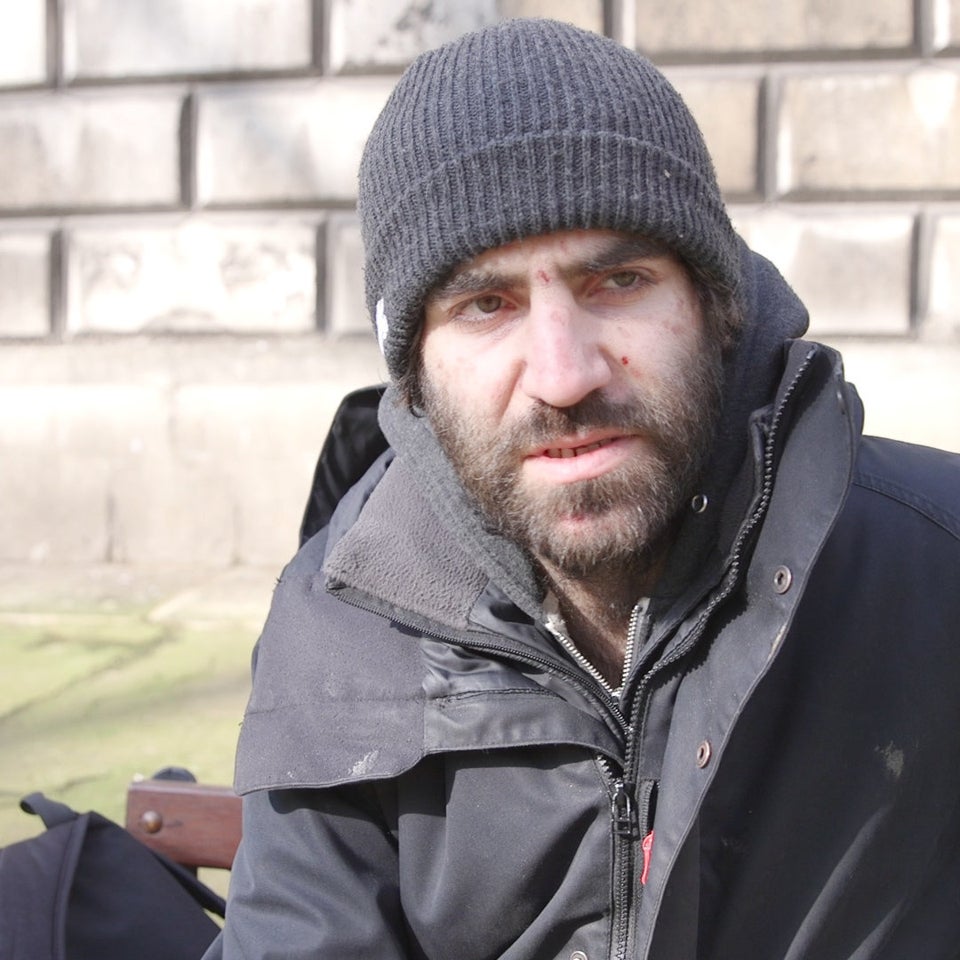 There Was Confusion Over Guidelines Meaning Some Rough Sleepers Were Apparently Turned Away From Shelters
Rough sleepers told us that they were turned away from homeless shelters if they self-referred, forcing them to choose to wait in the snow until they were found by outreach workers.
SWEP guidelines state:
"Individuals should not be sent back onto the streets to wait for verification. Bear in mind that people often have good reasons for concealing their sleep sites, for example due to vulnerability to assault or fears of enforcement, therefore verification of rough sleeping should not be used as a barrier to SWEP."
Interviews with rough sleepers however, indicate not all shelters followed these guidelines last week.
One man, who asked to remain anonymous, said he was turned away after arriving at a shelter, and instead turned to an impromptu refuge created in an abandoned building on Great Portland Street.
"I was taken to a cold weather shelter by a friend, another homeless person. Having arrived there I said 'Hi, it's minus one, can I come in?' and they said 'No, we can't take you in. You need to be found by an outreach team'.
"Do you grit your teeth and stay out in the cold for the night or do you do what is sensible and if you can get enough money, get into the warm [by going to a paid hostel]?"
"But by going into the hostel you exclude yourself from being found by the outreach team which means you come out from the hostel the next day, it's still cold and what do you do?"
This story was echoed by another rough sleeper, 66-year-old Richard Curtis who, as well as being homeless, suffers from a number of chronic health conditions. He also turned to the Sofia Solidarity Centre on Great Portland Street after being turned away from a shelter.
I'm basically in a Catch 22. I'm on this sort of roundabout and I can't get off it
Richard Curtis, 66
He told HuffPost: "I've been in and out of hospital over 20 times in the last year. Eighteen of those times I've been discharged straight back onto the streets. Two occasions I've been put in a hostel.
"But then within four days I'm back in hospital again. I'm basically in a catch 22. I'm on this sort of roundabout and I can't get off it.
"Yes, you can have shelter here but you have to be assessed by a SWEP team who say 'you need to go back on the streets tonight, tell us where you are and we'll send a team out to find you'."
A spokesperson for the Mayor disputed the claims, telling HuffPost that "no-one presenting at SWEP services funded by the Mayor is ever turned away."
"During the unprecedented cold weather last week, teams worked to help rough sleepers who arrived without referrals, either by providing shelter or ensuring their local borough provided support," the spokesperson said.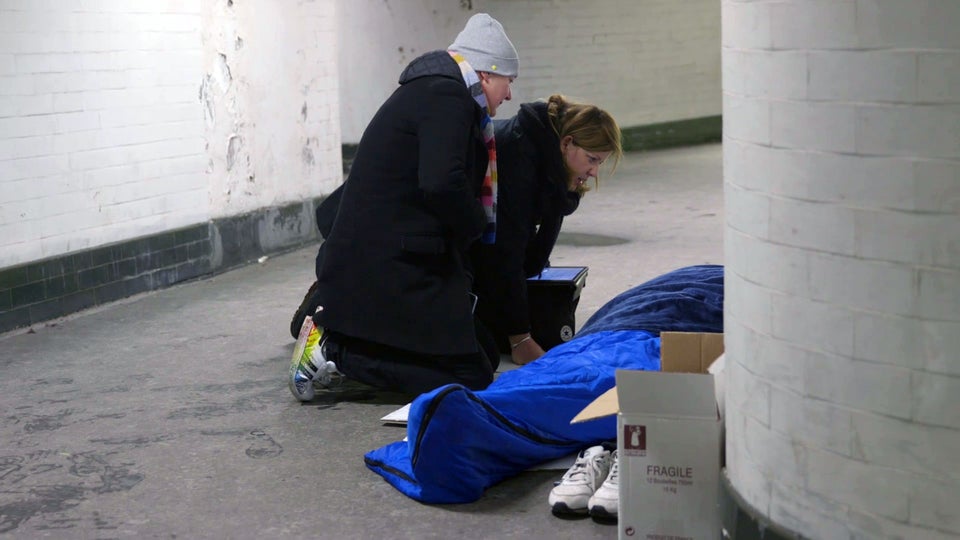 Warmer Weather Means People Are Forced To Return To The Streets
While snow still grips parts of the UK, the thaw in temperatures in the south has brought a whole new set of problems for rough sleepers, who instead of worrying about staying warm, are now being forced to return to the streets to contend with staying dry as ice and snow melts.
The anonymous rough sleeper told HuffPost UK: "Cold weather is going to end at the end of the week and there are a few people who in the back of their mind are thinking 'I hope it snows a bit longer' because when that mercury hops above one, two, three degrees they will stop SWEPPing. And they will open the door and say 'it's not that cold, you can back and sleep in the park again'.
He added: "A lot of the people who are indoors out of the cold tonight will be outdoors, perhaps not quite so cold, but will be out in the rain next week."
They will open the door and say 'it's not that cold, you can back and sleep in the park again'
Anonymous rough sleeper
Some of those who were housed under SWEP were made to sign forms promising they would leave when the emergency guidelines were lifted.
Joe, a South African rough sleeping in London, said: "We got there and before they even gave me anything, they said, 'well, you need to sign this paper'.
"So we signed the paper and the paper was saying that after the temperature has gotten a little bit warmer, that I have to leave the hostel.
While SWEP is a "life-saving response" to periods of extreme cold, charities have also raised questions over how it fits with finding long-term solutions to homelessness – rather than simply reacting to the weather.
Rick Henderson, Chief Executive of Homeless Link, told HuffPost: "While SWEP is an emergency, life-saving response, it is only one part of a range of support and accommodation that councils and local services should make available, in winter and year-round.
"It is important that they invest in longer term solutions to prevent and respond to rough sleeping, supporting individuals to access hostels, supported housing and the private rented system in order to end their homelessness for good."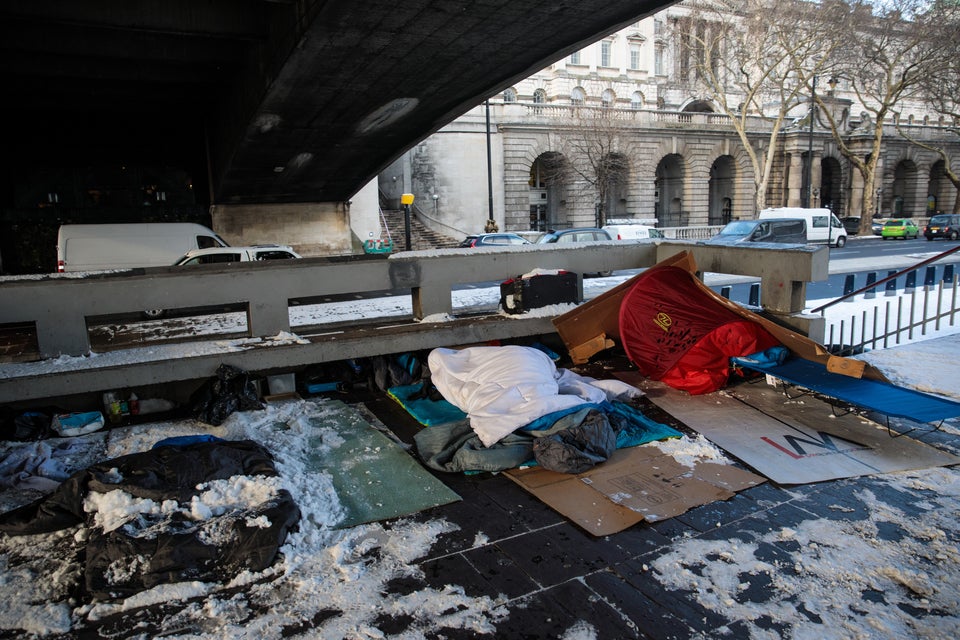 Initiatives Like Streetlink Have Become Victims Of Their Own Success
Streetlink is an app and online service that allows members of the public to refer rough sleepers who are then flagged to local authority outreach teams but anecdotal evidence suggests their social media reach outstretches their capability.
The homeless man who did not wish to be named, said: "They had a fantastic social media campaign, that got the word out. Everyone who did stop said 'are you homeless, I can refer you to Streetlink' but they never found me."
The group received around 35,000 alerts during the cold snap in total covering England and Wales and although many of these were duplicates, the increased number is indicative of wider trends.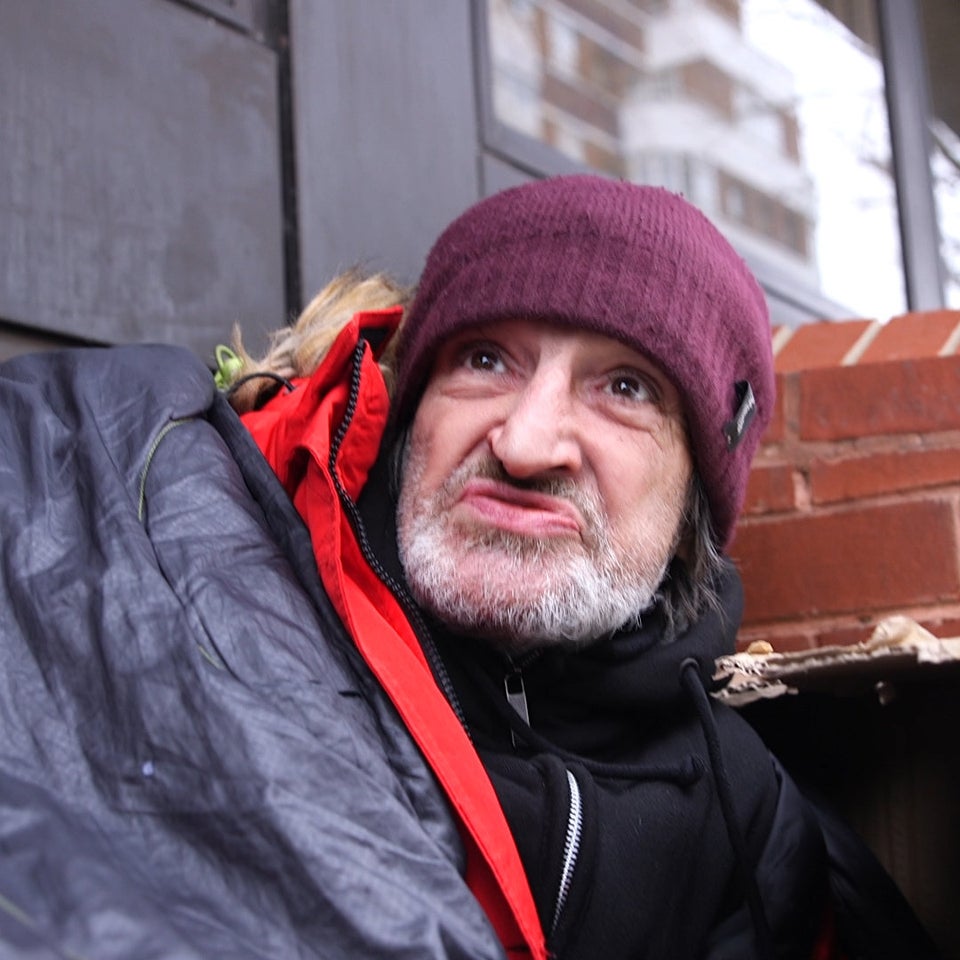 Government figures released earlier this year showed number of people sleeping rough on the streets of England has reached the highest level since current records began.
Matt Harrison, Director of Streetlink, told HuffPost UK: "Thanks to fantastic publicity the word got out really well last week so we saw an unprecedented use of StreetLink. We set it up about five years ago and in the first year we had about 12,000 alerts from the public in the first year.
"We had 12,000 alerts in one day last week, on Thursday."
They had a fantastic social media campaign, that got the word out. Everyone who did stop said 'are you homeless, I can refer you to Streetlink' but they never found me.
Homeless man in London who did not wish to be named
Harrison added: "Homelessness is going up. [There has been] a massive increase across the country but in London it's despite the efforts of the local authorities and charities who work with people.
"There is a lot of really fantastic work going on but clearly something, either in terms of the flow of people onto the streets… the resources there to help people or the housing and employment in London, are particular issues.
"It's very difficult for the charities and for homeless people to rebuild their lives in London so clearly we need more resources."
During a speech on housing this week, Theresa May lauded the Conservatives's Homelessness Reduction Act saying they were taking "unprecedented action across the board" to help address the "complex needs" of homeless people.
But during PMQs on Wednesday, Jeremy Corbyn revealed a government taskforce establish four months ago hadn't actually met until Wednesday and that none of the new funding had been spent to date.
Chancellor Philip Hammond announced the creation of the new body, along with £28 million for three new schemes to support those living on the streets, in his autumn budget late last year.
"I understand, four months on, that the taskforce has not yet met. Not a penny has been spent on that programme.
"There is a homelessness crisis in this country. Rough sleeping has doubled since 2010. Doesn't the prime minister think it's a little unambitious to say we are going to tackle rough sleeping by 2027?"
May said the government planned to completely eradicate rough sleeping by that date and that the taskforce had in fact met that morning.
She added: "But more importantly, this isn't the only group of people we bring together to look at rough sleeping.
"We have an expert advisory group that has been meeting over recent months and whose reports and whose information and whose expertise is being input into that taskforce."
Grassroots Movements Operating In Legal Grey Areas Plugged Some Of The Gaps
Last week HuffPost UK reported on the activist-run Sofia Solidarity Centre (SSC) that opened in a unused building in central London.
The building is privately owned but is not currently used a residential building, so while the group are squatting they are not committing a crime but constantly face the prospect of being issued with legal notice to vacate.
London Mayor Sadiq Khan has implemented a number of initiatives designed to help rough sleepers since becoming Mayor but official shelters can be a risky or unattractive option for some.
An SSC volunteer, John, told HuffPost UK: "So many people don't want to go into shelters for myriad reasons – there could be too much drug use their, it could be bullying. People particularly in the LGBT community get bullied in shelters and that's often overlooked.
"Maybe they've got an animal and they're not allowed in with their pet."
Then there is the issue reported by The Guardian last week of some charities working alongside Home Office patrols in order to find those rough sleepers who are in the UK illegally and who are then sometimes arrested and deported.
Conditions in the shelters are often far from ideal.
Rough sleeper Joe said: "[I was] in the room with someone that smoked spice. I don't know if you've heard about this legal high? And he was constantly smoking in the room and I couldn't bare the smell of it in a way that also really, really affected me.
"So to be honest with you, four days… I couldn't wait for it to be over, because I couldn't take that smell anymore."
The British Public Stepped Up To The Plate
The cold snap prompted some amazing acts of kindness.
The anonymous man HuffPost spoke to said: "I had a guy, I was sitting near London Bridge, with a blanket over my shoulders and a young guy, must have been about 26, 27, saw me, came over, bought me a cup of coffee, gave it to me, walked away, turned back, took the coat off his back, a new parka and went home in just a t-shirt.
"The London commuter community have really stepped up to the plate. I had nowhere to go and the cold snap came. It was freezing and I was out on the streets and the number of people who came up and asked me how I was, brought me a cup of hot chocolate, gave me a sandwich or gave me five, ten pounds was quite phenomenal."