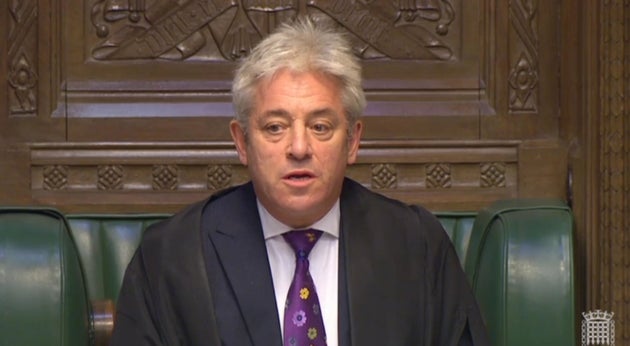 The Speaker of the House of Commons and other senior MPs have been accused of bullying staff in Parliament and failing to tackle a "culture of fear" among officials.
BBC's Newsnight reported that one female clerk suffered post-traumatic stress disorder (PTSD) after she worked for John Bercow and cited witnesses who saw him undermine and shout at her.
Kate Emms, Bercow's former private secretary, left her post after less than a year and the Commons authorities were told she had PTSD.
MPs, including Labour's Jess Phillips and Green Party co-leader Caroline Lucas, said more must be done to tackle the "club of privilege" in Westminster.
Lucas told the BBC's Today Programme that levels of bullying in the Commons goes way beyond anything that would be unacceptable "in any other workplace" while Phillips said she had met with staff to talk about their experiences.
Emms was appointed as the Speaker's secretary in mid-2010. She was signed off sick in early 2011, before resuming work in a new post elsewhere in Parliament in May 2011. She now works in the Cabinet Office.
Sex harassment and bullying allegations swept through Westminster last year, but Newsnight reported that staff "lack confidence" in Bercow's record on staffing matters and his ability to oversee the reforms needed to the system.
The Speaker's spokesperson said: "The Speaker completely and utterly refutes the allegation that he behaved in such a manner, either eight years ago, or at any other time. Any suggestion to the contrary is simply untrue."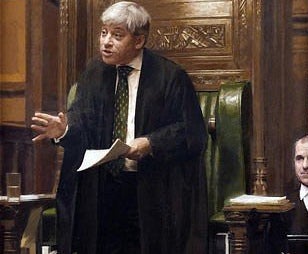 In a bizarre postscript, an official portrait of the Speaker also appears to have excluded Emms, even though she posed for the artist.
But in the long gap between her posing for the artist and the painting's unveiling in September 2011, she had been replaced in the painting. In her place, stood her male successor.
When the Westminster harassment scandal emerged late last year, Bercow insisted that he had a "zero tolerance" approach to bullying.
Bercow is one of several MPs named by Newsnight as part of its investigation into bullying and other alleged misconduct suffered by members of the House of Commons Service, commonly known as "clerks".
As well as bullying, women working in the House have told Newsnight about being pushed against walls, forcibly kissed, groped and slapped by MPs.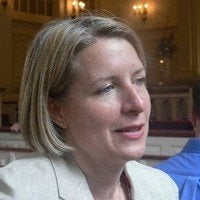 The BBC2 programme reported that Labour MP Paul Farrelly and Tory MP Mark Pritchard had also been accused of bullying
Farrelly was alleged to have bullied Emily Commander, the former clerk of the Culture, Media and Sport Select Committee on which he sits.
Commander was appointed during the height of the committee's inquiry into Rupert Murdoch and phone hacking, but was forced to step down for her own health a little more than a year later – a move attributed by her managers to Farrelly's behaviour.
An internal report obtained by Newsnight revealed that the clerk told managers she had "trouble falling asleep at night".
"I have been anxious about encountering Mr Farrelly… I have repeated nightmares about going on Committee visits with Mr Farrelly and being criticised by him for having neglected tiny details… After particularly unpleasant meetings I have lost my appetite and have on several occasions been physically sick."
Farrelly is also accused of making Commander feel uncomfortable when she was an official on the Science and Technology Committee and he was one of its members.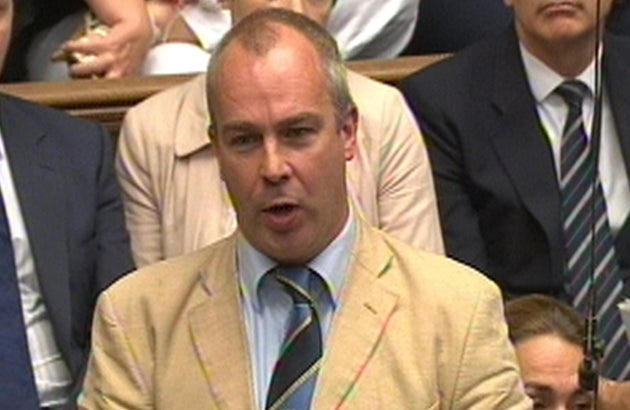 A fellow participant on a committee trip to Italy in November 2004 session recalled his behaviour vividly, declaring: "He was a complete and utter bully".
"He wound her up like a screw and reduced her to tears. The more he upset her, the more he enjoyed it, the more he kept turning the screw. He was very aggressive. It felt like no one had the ability or authority to intervene. Everybody knew it was wrong."
Two other women clerks also complained about Farrelly's conduct, with one saying he asked her on a trip abroad "repeated questions about my marital status, my then fiance, wedding plans and other personal matters".
One described how her boss, a senior clerk still working at the House, had told her: "Mr Farrelly was known to be an awful man, or words to that effect, and that he had previously made the lives of female members of staff …very difficult".
Farrelly, who is still on the DCMS Committee, quizzed BBC executives just a few weeks ago, in January, about gender within the corporation.
An internal report into his conduct found his behaviour amounted to "an abuse of power or position, unfair treatment and undermining a competent worker by constant criticism"
But when the House of Commons Commission, made up of MPs, considered the case in 2012 it was unable to come to a view.
Farrelly told Newsnight: "In 2012 allegations were made about me having bullied a clerk to the Committee during the compilation of the phone hacking report. These allegations were investigated and not upheld."
"Despite this, I apologised if I had inadvertently upset the clerk who had suffered stress."
Staff told the BBC that complaints had not been taken seriously. If they do complain, they fear they will be made to move jobs – and the MPs will be left in place, serving on the same committees.
Since 2014, when the current HR processes were introduced, no complaints raised by staff members have been escalated to formal channels, such as mediation.
Women staff told Newsnight of a "culture of fear" in Parliament, but the House authorities described this as a "grotesque exaggeration".
However, a House of Commons working group found this year that people who had experienced bullying, harassment or sexual harassment were less confident than others that a complaint would be dealt with satisfactorily.
A House of Commons spokesperson said: "The House of Commons takes pride in being a responsible and supportive employer, and does not tolerate bullying or harassment of any kind."
"In 2014 the House of Commons introduced the revised Respect policy which is specifically designed to combat bullying and harassment of House employees by MPs or their staff.
"In addition, we have implemented a range of measures to complement the respect policy, including training for managers on how to address reports of bullying or harassment and a team of trained bullying and harassment contacts for staff to approach should they have concerns."
A spokesperson added to HuffPost: "We are unable to comment on any individual cases but note that the issues raised by BBC Newsnight precede the introduction of these new procedures and processes."
Tory MP Pritchard told Newsnight: "I understand, over the past several years the House authorities have addressed numerous complaints about MPs, but they have also informed me they have no record of any complaints against me, and if they had, I would have been notified."
Lib Dem deputy leader Jo Swinson, who sits on the new Parliamentary working group to overhaul harassment and bullying procedure, said that the culture of 'exceptionalism' among MPs in their workplace had to end.
HuffPost has approached the Labour party for a response on the claims against Farrelly.
In similar cases of alleged misconduct, the party has swiftly suspended MPs. It has yet to decide on the cases of Jared O'Mara and Kelvin Hopkins.
Speaker Bercow has increasingly irritated ministers in recent weeks with what Tory MPs see as rudeness and inappropriate conduct in the chamber.
In a heated exchange, he accused Shadow Chief Secretary Liz Truss of 'launching into rants' and told the Chancellor Philip Hammond "stick to your abacus, man".
One of the Speaker's former staff told the Sunday Times last week: "The irony is that the person who is in charge of the system is one of the worst, if not the worst, offender.".
One Tory Westminster source told HuffPost: "Get your money on a new Speaker by the summer". Senior Tory backbenchers believe it will be time to end his tenure.
Bercow had pledged to retire in 2018 but last year told SkyNews that the snap election had led him to change his mind and he intends instead to serve for the full five years of the new Parliament, to 2022.
"I had originally indicated an intention to serve for approximately nine years. If I may legitimately say so, I made that commitment eight years ago, it was before the Fixed Term Parliament Act, it was before the EU referendum," he said.