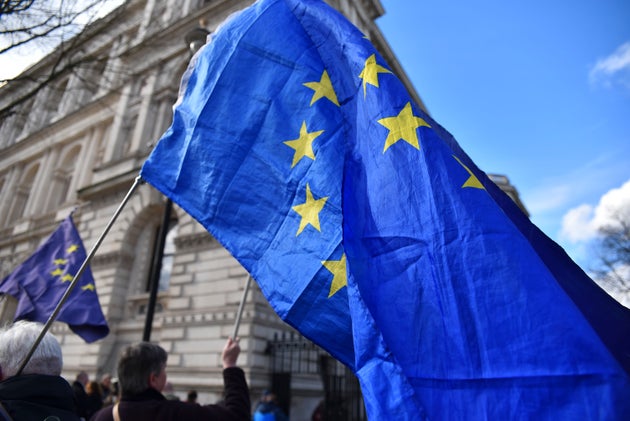 The issue that I work on, Brexit, is in need of a bit of a gender rebalance. One of the first Brexit events I went to last January was in a room full of (mostly white, mostly grey) male heads. I was there with a female friend, and the only other woman in the room (out of 150-odd) approached us to see if she could chat. If you're a man, imagine you and two others in a room of 147 women and three men in a high level debate on Brexit. This should not be the norm but right now, unfortunately, it is. 'The woman' was all the description needed when it came to Q&A.
But even since then, there's change afoot. With the MeToo movement having swept the globe, this International Women's Day marks a uniquely powerful year in the fight for gender equality. Today's a day to highlight the ongoing struggle of women everywhere and the systemic problems that women face, and it is also a day to celebrate the fantastic achievements of women far and wide. It is a moment to recognise the incredible things that women around the world do everyday despite the endless stream of adversity. Maybe, even, one day is not enough for such a task.
International Women's Day is about feminism: a word people used to fear, and is now more widely understood to mean equality.
And it's equality that could be under threat from Brexit.
Brexit brings with it the uncertain potential of a loss of rights for women that we gained only with the legislation of the EU. It is, for example, a direct result of EU law that pregnant women are entitled to paid time off work for antenatal appointments and are protected from dismissal as a result of pregnancy. We are told that these rights will continue to be enshrined, of course – but forgive my desire to get that in writing. The EU packaging may not sit well with us but much of the law has become the bedrock of our rights – particularly for women.
Having seen the rights of women eroded time and time again, I can perhaps be overly sceptical. Especially when the whole process is being led by an individual who has backed austerity policies that have denigrated women's refuges and social care, and is now closely allied to an anti-abortion party.
Brexit is a policy being pursued by a department whose senior members are majority men. DexEU's own Gender Pay Gap report highlights a 15% difference in mean pay across the department between men and women, and, as ever, women are overrepresented at the lowest paid and most junior levels and underrepresented at the best paid, senior levels. Of the Senior Civil Servants, 21 are men; 11 are female. The interests of women risk becoming secondary concerns by simple virtue of the fact there are not enough women in senior discussions who are a) actually aware of what the issues are and b) personally invested in representing them. Theresa May knows this well. Despite her grandiose claims and her desire to eliminate the pay gap 'once and for all,' her own government departments continue to show significant gaps (FCO a 10.6% gap; Home Office 10.1%; Cabinet Office 10%; Department of Health and Social Care 14.2%). Her proclaimed commitment to this issue has, at best, not resulted in sufficient progress and is, at worst, perhaps an all out lie.
But, as mentioned earlier, International Women's Day is not just about highlighting the continued, tiresome structural disadvantage of women. It is a chance to celebrate their relentless achievements anyway. The Brexit process has been no exception. From the contributions of leading female MPs right through to the activities of our fantastic local activists, and from fellow campaigners across the movement to the women on my own team, we should be celebrating the work of these individuals who have fought so hard for the democratic rights of the people of the United Kingdom to have their voices heard on Brexit. Many do so undefeated, although not untouched, by the often gendered abuse thrown their way.
I was inspired to get involved after the murder of my friend Jo Cox who paid the ultimate price for using her voice. I knew that, had she been alive, she would have encouraged me to follow my gut, and would have put wind in my sails for the whole journey. Here's to a future in which all matters that affect our country take into account the impact on women, and here's to a 50:50 politics, business and society in the UK.
Eloise Todd is CEO of Best for Britain