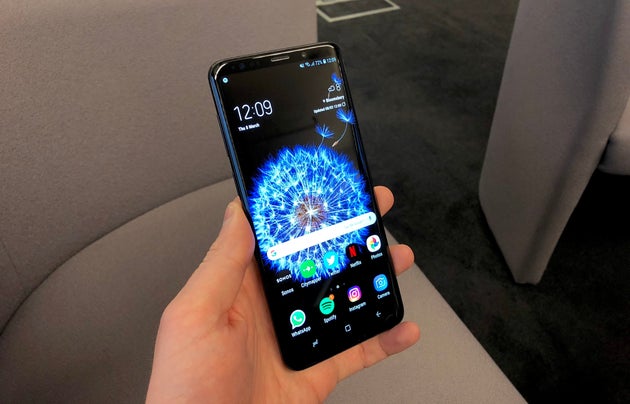 K E Y P O I N T S

Samsung's new flagship smartphone comes in two sizes: the 5.8-inch S9 and the 6.2-inch S9+.

Both phones have a 2K resolution screen, that's higher than most TVs and the best displays we've ever seen on a smartphone.

It is the first smartphone to have a dual-aperture camera which means you can take incredible pictures in the dark. It can also shoot super slow-mo video at 960fps.

AR Emoji turns you into an animated emoji (think Bitmoji meets Animoji). The recreations are fairly accurate and while they're slightly endearing they're absolutely not a reason to buy an expensive phone.

The S9 and S9+ are both made from glossy glass and metal. They look beautiful for about 20 seconds until your disgusting hands get fingerprints all over them.

There are differences between the S9 and S9+. The smaller S9 loses some notable camera features so something to consider.

The S9 costs £739 and the S9+ costs £869.
V E R D I C T

Lets just get this out of the way right now, if you own the Samsung Galaxy S8 you should in no way consider the S9 a 'must buy'. While the phone does have new features, in the week I've been testing the S9+, none of them have stood out as reason enough to buy a new phone a mere 12-months after the last one.
If however you're someone who maybe hasn't upgraded their phone in a while and is looking to splash out, there's a lot to like here.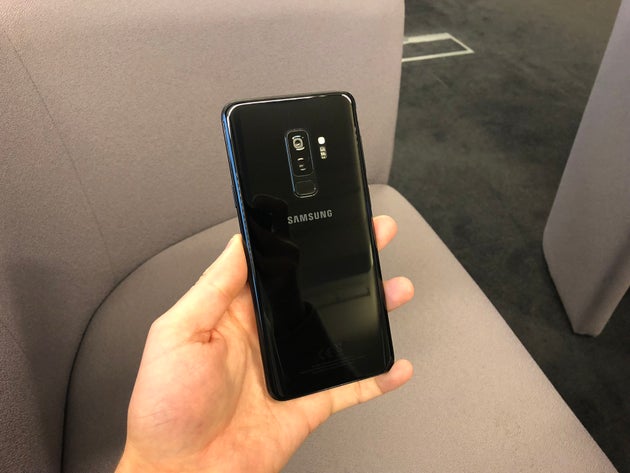 The S9 and S9+ both look and feel almost identical to the previous model. That's absolutely fine – the S9 is a really good-looking gadget, as long as you don't mind constantly wiping fingerprints off the all-glass body. The S9 and S9+ are also water-resistant so they'll survive a dip in the bath or even a few underwater photos in a swimming pool. There are three colours, Midnight Black, Coral Blue and Lilac Purple.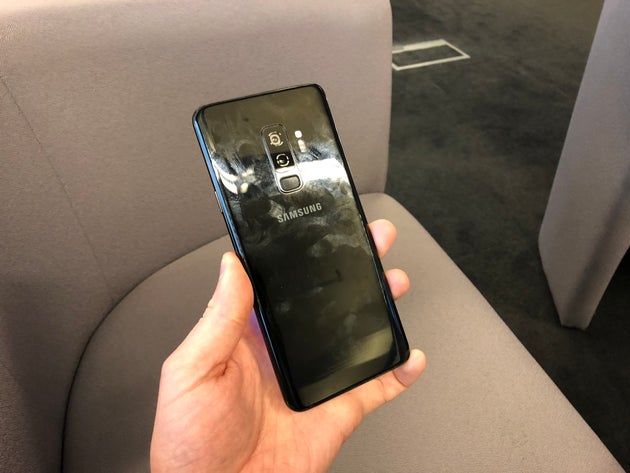 They both offer excellent battery life; in the time I've been testing the S9+ it hasn't once struggled to make it though the day. It also comes with fast wireless charging.
The S9 feels like the perfect size for a smartphone, it's sturdy but not too heavy and thanks to the slim bezels the screen just floats in your hand. The larger S9+ however feels a touch too heavy and frankly too long – as I discovered to my peril earlier this week through a heart attack-inducing drop, it is not a phone for one-handed typing.
The screens are also very similar to last year's model, albeit they're now taking up slightly more of the front of the phone. They're 5.8-inch and 6.2-inch 2K AMOLED displays respectively, which in plain English means they're higher quality than most modern TVs. Colours are lavishly bold while the contrast ratios mean you get an almost infinite black as well.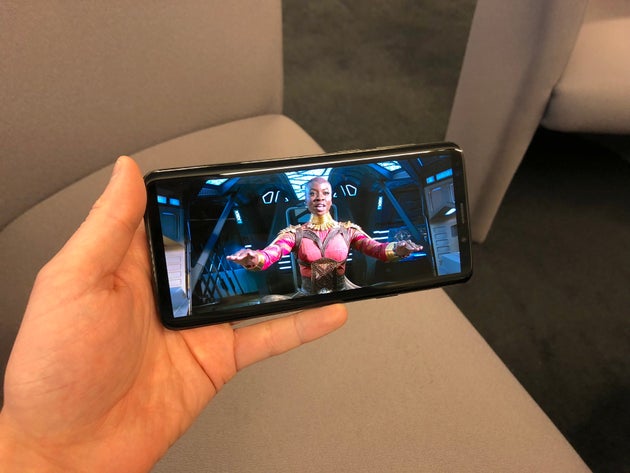 In addition, you now get stereo speakers with Dolby Atmos which should in theory boost the sound quality and even create a 'virtual' surround sound experience. I'm not entirely sure why I would want surround sound on a smartphone but the quality of the speakers is admittedly excellent.
Next is the camera, which is arguably where Samsung has made the biggest change. The S9 and S9+ now have dual-aperture cameras, meaning that the camera can physically alter the amount of light it lets in. The end result is that you should be able to take pictures in the dark without the image being blurry or full of that static noise that often ruins pictures.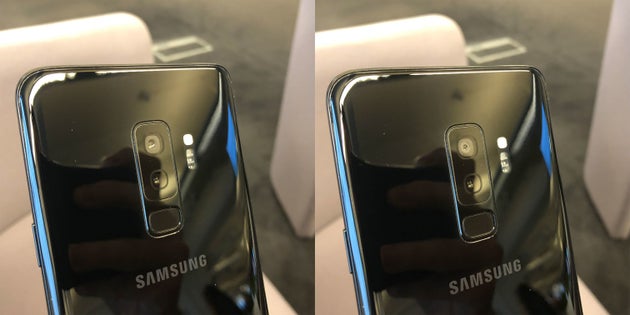 It's pretty remarkable how good it is in low-light situations, but where Samsung lets itself down a little is where it comes to the software that then tries to improve your pictures. It effectively takes 12 images and then combines them to create the perfect image. The result is something that looks very nice but not entirely natural.
Finally there's the Super Slow-Mo. Honestly it's a really cool feature but in the week we had it I had the phone I didn't feel the urge to use it other than to test it for this review. It's nice to know it's there, but it's not a deal breaker.
My main issue with the S9 and the S9+ is that they are not identical phones. In the same way that Apple only gives its larger phone the better camera, so Samsung has given the S9+ a dual-camera that can take portrait-style photos with the background blurred, but not the S9. The S9+ also has a 2x optical zoom, while the S9 doesn't.
It's frustrating because the S9 feels like the perfect size for a smartphone, but if you choose it you're losing out on significant features. Not all of us want a massive phone. This was something that annoyed me about Apple until it finally released the iPhone X with a dual-camera.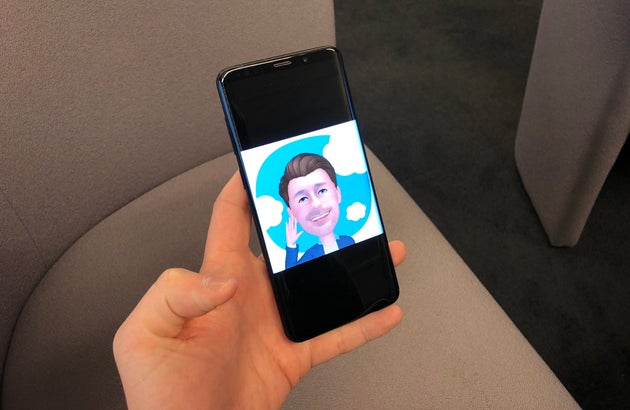 Last but not least there's AR Emoji. This is a feature that uses the front-facing camera to turn you into a cartoon version of yourself. It's cheesy, kind of endearing and 100% an attempt to capitalise on the success of Animoji on the iPhone X.
S P E C I F I C A T I O N S

Display: S9 5.8-inch Quad HD+ Super AMOLED I S9+ 6.2-inch Quad HD+ Super AMOLED
Rear camera: S9 12MP Dual Aperture S9+ I S9+ Dual Camera 12MP wide-angle and 12MP telephoto sensor
Front camera: 8MP
Storage: S9 64GB I S9+ 128GB
Micro-SD slot
IP68 water resistant
Wireless charging
T A K E H O M E M E S S A G E

The S9 and S9+ are Samsung's best phones yet, but they're not revolutionary – so if you bought the S8 or similar smartphone around 12-months ago, an immediate update to the S9 might not necessarily be worth the cash.
Personally, I wish Samsung's hadn't split features between its two phones. The S9+ feels a little too big for me – but if I want all the new camera features I'll have to buy it. Apple has taken this approach for a while, and it's not less annoying now that Samsung is doing it too. One thing I really like about Google's new Pixel 2 phones is that you get the same camera system on both size phones, rather than being penalised for a smaller screen.
The Samsung Galaxy S9 is not a revolutionary phone, instead it's an example of Samsung fixing what was wrong and improving what was right. As such it is excellent, but then so was last year's S8. In short if you bought a phone last year, this isn't the one to replace it. Patience is a virtue.