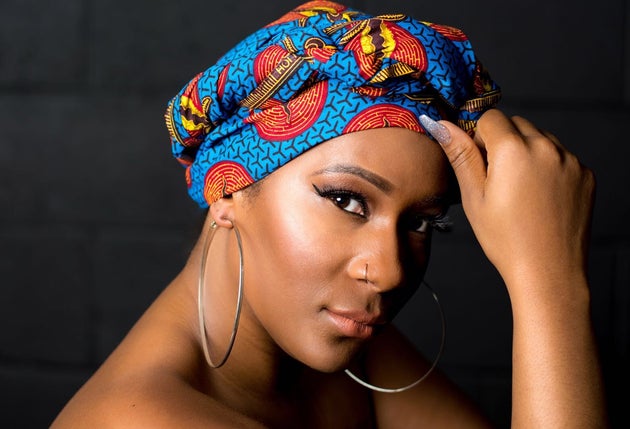 "I'm not going to beat around the bush, unfortunately we have found cancer."
Those were the words my breast cancer consultant used to break this horrific news to me on October 20th, 2016. She was also the same breast cancer consultant who had told my mum the same thing just six months earlier. In that split second, as I sat with my younger brother and best friend, listening to the doctor's declaration, I knew my life as I knew it, at the moment, would never be the same again.
"Wait. Hold on – me? Are you kidding me? I've only just turned 31! I wasn't expecting this – I didn't see it coming. Mum has had this twice – the second diagnosis was just a few months ago. My uncle's wife and my next-door neighbour have also been diagnosed?!! And now me?? Am I going to die?? Is My life is over ?" where the questions I asked myself.
Because you see, after they inform you about the cancer, they then tell you a whole heap of other information in that same appointment that you have to somehow digest. For example, what the best course of treatment is for the type of breast cancer they have found – yes there are types. (Breast cancer treatment has advanced so much over the years that the dreaded chemotherapy isn't the only option. Other anti-hormone drugs, with fewer side effects, are also widely available if your cancer is receptive for this.) I was told (one might say – unluckily) that the recommended course of treatment for my cancer was a drug called Herceptin, which is only licensed in this country to be given alongside chemotherapy and I was told I had to endure eight rounds of the stuff.
I remember asking "What about work? what about uni? Am I going to lose my hair?"
Then there was the surgery talk and what the best course of treatment was for me – full removal of my breast (a mastectomy)? Lump removal (a lumpectomy)? And they told me the worst of it – the cancer wasn't present in just one lump, there were many particles surrounding the main one, so a full mastectomy of my right breast was the best course of action. I remember in that appointment saying, "Just take it off – I just want them both off. I want the cancer gone." But as I learnt, it wasn't as simple as that…next up on the consultant's agenda was the fact my mum had breast cancer twice. Her first diagnosis was at 35, a similar age to me. I was told to consider genetic testing – that would provide me with more options when it came to the surgery, as I needed to think about the potential of it coming back in the future, like it had with my mum. Then the issue of my fertility came up. I was advised to freeze my eggs if I wanted to start a family, because of my age and the fact that chemo would probably stop my periods, and these would take a while to come back, if they even decided to come back and this would make it difficult for me to conceive. I remember thinking "why didn't I have children sooner? Why didn't I settle down when I had the chance?"
As a result of my diagnosis, over the 18months that followed I endured eight rounds of chemotherapy, 18 injections of Herceptin, more than 100 hospital appointments and I had three operations to remove both my breasts after being advised to have a bilateral mastectomy. I gave up my business for a year, quit uni, moved out of my family home, lost my sense of taste and smell, lost my breasts, hair, eyelashes and eyebrows, lost weight, gained weight, suffered constant, anxiety-filled panic attacks and came to the harsh realisation for the rest of my time on this planet I will have to fight for my life every single day.
I was given the all clear on June 29th, 2017.
In comparison to the daily battle I faced trying to get over the trauma left behind by the illness and rebuild my life after cancer, I soon realised for me and many other breast cancer survivors the treatment was the 'easy' part. There is no instruction manual to guide you back into your old routines and most importantly how to feel like a "woman" again. How can you when this cruel disease creeps up on you from nowhere, no warning, no signs or signals and robs you of all the things- we as a society are told- make us a woman; our breasts, our hair, our various reproductive systems whether these are temporary or not, the feeling of losing your femininity is real.
My breaking point during treatment came when I lost my eyelashes and eyebrows because before I lost them I admit they were some of the only things that were making me feel womanly and this loss along with my hair made me struggle to look at myself in the mirror. I used to wake up and before I faced anyone including the postman, get a full face of makeup on, pop on a wig, draw on my eyebrows and stick on a set of fake eyelashes, truth was underneath the bravado, bravery and positivity I presented – I felt ugly, I felt inhumane and I felt worthless. I've since had to revisit and re-affirm all the teachings of my favourite authors and life gurus in all the books I had read- I wasn't silly, I had never been the most confident girl in the looks department before cancer, but I knew my looks didn't define me or the person who I was, I soon realised this was significant for me to remember at that moment because thankfully I learnt I was more of a woman than ever and this time I had my stripes to prove it!
That's why on this special #internationalwomensday it's important to take scope, reflect and celebrate womanhood in all its glory with the good, the bad and the ugly- our struggles, our daily battles, our survivals and our progresses of where we are today and the fight we have had to endure to get here, it's important to look at this not just as a sex but our personal journeys too.
It goes without saying that I'm proud to be a woman, but I'm also proud and forever grateful to be a survivor of one of the most disturbingly common things that many women like myself have had to and continue to have to endure around the world- Breast Cancer, which currently effects 1/ 8 women in the UK. (Cancer Research UK) and currently stands at being the UK's 4th deadliest cancer killer.
I was recently asked on camera who's the woman you most admire in the world – and it annoyed me that I asked the lady to halt the filming whilst I thought about it, I actually didn't realise how much that had changed for me over the past few years- so I simply said any women who has had to endure what I've had to, go through any type of female cancer, consent to chemotherapy all whilst trying to continue to be mothers, homemakers, business owners etc and most importantly feel worthy of feeling like a woman after enduring an illness that robs you of the physical basic components that make you one.
I was also asked in that same interview if you could tell your younger self something what would it be and that was one thing I didn't need to think about- I had the perfect answer, something I had been affirming to myself for the past 18 months…
1- STOP worrying about things. Everything always works out for the best.
and
2- STOP being too hard on yourself- you are enough as you are right now in this moment.
I'm sharing this because I believe it resonates for all women whatever age.
HAPPY INTERNATIONAL WOMENS DAY!