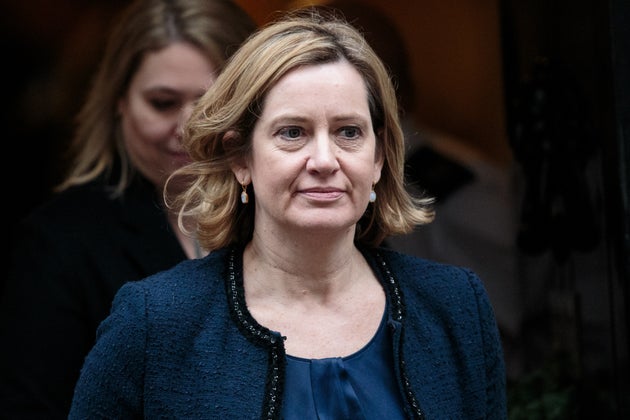 Amber Rudd has said there will be "nothing soft" about the United Kingdom's response to the attempted murder of of former Russian spy Sergei Skripal and his daughter, Yulia, in Salisbury.
Police have revealed that the substance used was a nerve agent and the pair were poisoned in a "targeted" act.
The Met said on Wednesday they were treating the incident as attempted murder as the pair remain critically ill.
Speaking to BBC Radio 4′s Today programme on Thursday morning, Rudd said the male police officer who was also taken to hospital as a result of the attack was now "engaging" and "talking to people".
However the Home Secretary added that "doesn't mean his situation isn't serious".
Rudd declined to say whether she regarded Russia as responsible for the Salisbury attack, but said the government will put a plan in place to respond when the culprit is identified.
"We know exactly what we are doing. We are going to be waiting for the evidence, when we have it, if we attribute, we will have a plan," she said.
"If that is the case then we will have a plan in place. We need to be very methodical, keep a cool head and be based on the facts, not rumour."
Rudd added: "Let me be clear, we are absolutely robust about any crimes committed on these streets of the UK. There is nothing soft about the UK's response to any sort of state activity in this country.
"You may not hear about it all, but when we do see that there is action to be taken, we will take it."
Nick Boles, a former Tory minister, has said Theresa May should consider cutting diplomatic ties with Russia.
"I do not see how we can maintain diplomatic relations with a country that tries to murder people on British soil and puts the lives of British citizens at risk. It's time for us to turn tough talk into action," he tweeted.
WHAT IS A NERVE AGENT?

Nerve agents have been used to deadly effect in assassinations and conflicts of the past.

The toxic substance disrupts signals in the nerves, causing debilitating side effects which can be fatal.

Vladimir Putin – now in the frame following the attempted murder plot in Salisbury – drew international condemnation for defending the Syrian regime after it launched a suspected Sarin gas attack on its own people last year.

Different forms of it have evolved, including Sarin, VX and Tabun, all of which have very similar structures and appear to work in the same way.

Professor Malcolm Sperrin, a fellow of the Institute of Physics and Engineering in Medicine, has described how nerve agents work.

He said: "Nerve agents work by disrupting signals in nerves, at the synapses between nerves. Different agents work in different ways and have different volatilities. What we don't know yet is what particular agent has been used here.

"I'm not aware of a nerve agent having been used in this way previously. Nerve agents are offensive weapons, and there has been some previous suggestion they might have been used in warfare around the world.

"Symptoms of exposure to nerve agents may include respiratory arrest, heart failure, twitching or spasms – anything where the nerve control is degraded.

"It is very unlikely there will be any issues in the environment, and it is very unlikely the nerve agent will still be around now.

"Nerve agents can cause death, but not necessarily at low-level exposure or with a minor dose."
Rudd is expected to deliver a statement to the House of Commons later today.
Defence Secretary Gavin Williamson this morning declined to say whether he held Russia responsible for the attack, but said Moscow was "becoming an ever-greater threat".
"What we are seeing right across the eastern front in countries such as the Ukraine and Estonia is an increasingly aggressive stance," he told ITV1's Good Morning Britain.
As police teams carried out equipment from Skripal's home on Wednesday night, Foreign Secretary Boris Johnson renewed his warning that the UK will "respond robustly" if the poisoning was the result of "hostile activity" from another country.