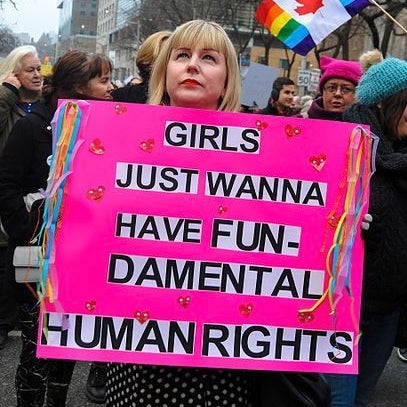 This year's IWD theme, Press for Progress, underlines what so many women already know: that it's time to take control, and enable ourselves and each other.
We've been chipping away at gender inequality for years. Yet, just a few weeks ago, the UN deemed the pace at which the world is moving towards greater gender equality "unacceptably slow".
An IPSOS Mori survey, meanwhile, found that Britons take a more rose-tinted view of gender equality than the reality bears out.
In other words, we've got some work to do. But rather than get caught up in a cycle of blame, let's use the bad news to galvanise us. We're in a situation to move forward, despite the obstacles, if we work together.
Here are four things we should press for:
1. Shed the STEM stereotype
Why: Careers are changing. So-called STEM (science, technology, engineering and maths) subjects are increasingly the basis for emerging jobs. Demand for skilled people to fill these jobs is only set to grow. We need to arm younger people with the means to progress in the brave new world of jobs: that means being versatile, being able to morph and change rather than rely on having a job for life.
Emerging technology offers a huge opportunity for girls, if education is up to the task and girls seize opportunities as they are offered. If we want to see more women in tech start-ups, we need to build inclusive companies to counterbalance Silicon Valley's notorious 'bro culture'.
How: Where do you start? Early, it seems. Girls seem to get the message very young that engineering and tech are just not for them. We need to go back to school to ensure subjects are attractive and relevant. Crucially, we need to shed stereotypes that adversely influence teachers, parents, children and career guides.
It would also help if we stopped lumping STEM subjects together. Instead, lay out the careers made possible by taking up a science, or studying maths. Show girls what kind of jobs they might be able to do.
We also need to educate girls about self-awareness, to help them acclimatise to situations they might not have encountered yet. That's where women who've already made it in STEM could offer their time and expertise.
Look to initiatives such as Girl Geeks or the STEMettes for inspiration on how to get it right.
2. Close the pay gap
Why: Money may not be the prime motivator for women at work. But it signifies a level of achievement, and respect. It's also a question of fairness, a concept that men appreciate as much as women, according to lobbying group Catalyst. Persistence is starting to pay off, with transparency and UK reporting rules laying the truth bare. (Inevitably, some companies have already started to look for 'loopholes'.)
Less good news: progress stalled last year, according to a WEF report, which estimates pay and economic equality isn't decades, but centuries away.
How: Gender pay disparities are complicated because they are often intertwined with other issues facing women at work (less opportunity for promotion, for example). But where glaring inequality exists ― where women doing the same work as men are being paid less ― there is an obvious answer: stump up, companies, or risk losing valuable skills and reputation.
3. Make flex work
Why: Future-working experts such as Sylvia-Ann Hewlett and Alison Maitland have long argued in favour of flexible working. And it can be fantastic ― as long as it is not used against women. Managers have to assume people will be responsible for themselves, especially as the gig economy grows.
Then there is the family-friendly element: women continue to take on the lion's share of responsibilities at home, making flexible hours a necessity for carers or working mothers. Too many women return to work guilt-ridden but feeling it is necessary, while companies likewise are often responsible for penalising women for taking a break.
How: Real progress still needs to be made on both sides. Companies ― specifically, managers ― need to be receptive to flex-work proposals. Senior execs should lead by example. Businesses may think they've got the flexible thing sorted, but all the policies in the world won't work if the underlying culture is one of presenteeism.
4. Join forces
Why: When you want to tackle big, systemic issues, it's better done as a group. That is perhaps the most significant difference we could make this year. Lone female voices may not be heard. Thousands tweeting #MeToo or marching together on Westminster are harder to ignore. And you don't need hundreds to start a movement.
How: Redefine traditional notions of leadership by collaborating with other women across the business to address challenges. Find a facilitator (from outside or within the business) to help you come together. I've seen this at work at one UK firm: a leadership network made up of women from across the business spotted a worsening employee problem, which they took directly to the board with a strategic plan of how it could be tackled. There is an enormous amount of trust and mutual respect now that they are working as a group. One summed it up: 'We're learning to navigate individually as leaders. Now we need to speak collectively.' I'm with her.