Prime Ministers are coming and going faster than tweets out of the White House. The UK definitely wants to make an historic U-turn and leave the EU. Or…maybe not. We're mired in dangerous conflicts, crises and the up-ending of just about every age old certainty we've held dear.
By all accounts, the world has gone stark raving mad. Who can blame us for feeling that our reality increasingly resembles the dystopian vision played out in many best-selling video games, that medium well known for macho gratuitous violence and single shooters killing prostitutes.
And yet from that very medium comes a new video game so beautiful, so full of humanity and universally moving themes, that it shakes one into believing the world may not be lost. On the contrary, on a number of levels, it signals that the world could be barrelling towards a brighter, more emotionally-intelligent future than we had thought.
I'm talking about Monument Valley 2, created by pioneering London design studio ustwo and released last week at Apple's showcase developer's conference in California.
It is the sequel to the original Monument Valley which burst onto the scene in 2014, a game-changing (couldn't resist) extravaganza of breathtaking MC Escher-inspired imagery and impossible architecture. It was a smash hit right off the bat, garnering 30 million downloads, the Apple 'Design of the Year' Award and a turn as President Frank Underwood's late night obsession in the White House on Netflix's House of Cards.

Monument Valley 2 builds on the original, but takes the story in new and surprising directions. Rather than cop killings or soldiers of fortune, the plot revolves around a mother and daughter, following them as the mother teaches her daughter about their fantastical architectural world, while also having great influence over it. The story charts the evolution of their relationship and self-discovery.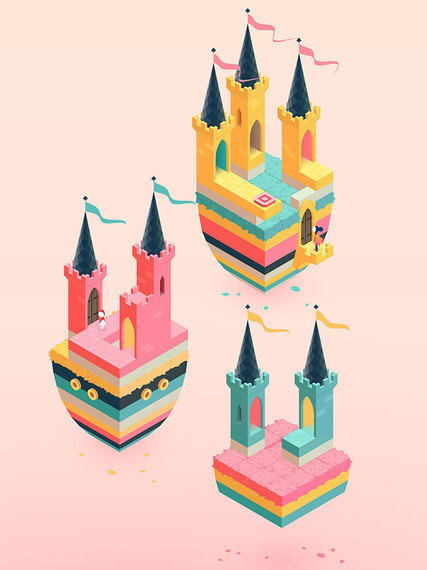 Still from Monument Valley 2 – Image courtesy of ustwo.

The game is remarkable simply for these tender themes, mixed with a large dose of maternal power. Dan Gray, BAFTA-winning head of studio at ustwo, says the Monument Valley 2 team quite deliberately chose the mother-daughter theme from reflecting on their own personal experiences of becoming parents, losing parents and realising, as they got older, just how influential their parents had been in shaping their lives. This was the pertinent, emotionally-charged story they wanted to tell through the game.
And their sentiment is real. At their launch event last week at the Monument Valley studios in London, Mills Miller, co-founder of ustwo, compèred the evening. I was surprised and delighted that his first words were not about their epic win 24 hours earlier in Silicon Valley where Apple used Monument Valley 2 to keynote their new app store announcements (that's a big deal…that would come later) – but instead a moving tribute to his mother, who was standing near me. This was as Mills was flanked on stage by his two adorable young children, their mother – Mills's wife – also standing nearby.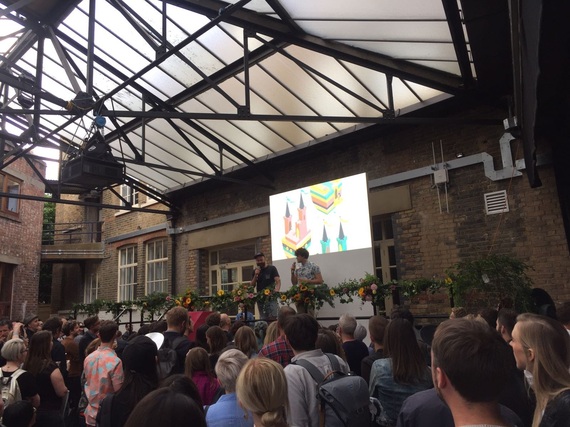 Mills and Dan Gray at the launch of Monument Valley 2 last week. Image: Carolyn Dailey.

For his part, Dan Gray gave a tribute to his parents and then invited everyone to toast to parents who have been lost. This, in other words, was not your typical big time, blow-out, self-congratulatory launch – instead, true happiness, affection and celebration coursed through the crowd.
Besides these surprisingly personal themes, the game is also remarkable for bending the rules of storytelling. Shaping societal narrative has been the domain of film and television, with video games being viewed as a somewhat limited storytelling format. But times, it seems, they are a-changin. Monument Valley 2 tells a story every bit as powerful and nuanced, in a total play time of (a cinematically familiar) two hours.
And, crucially, it is only available on phones and tablets, i.e. the most personal and portable of devices and those overwhelmingly favoured by millennials. These will be the stories the new generation around the world is connecting to and sharing – perhaps soon surpassing more traditional media to tell contemporary stories that matter.
Finally, this thing is crazy popular, killing it across the globe. Not a week after release, for example, it was No. 1 in the China app store, with Monument Valley 1 coming in at second place. To think that a tender, promising story of mother and child exploring new horizons, while at the same time celebrating the transformative power of art and architecture, has universal appeal can only be a sign of hope and promise for the world.
Think what could happen if the real inhabitant of the White House were to get hooked on – and tweet about – Monument Valley 2. The world could truly be a better place!
— This feed and its contents are the property of The Huffington Post UK, and use is subject to our terms. It may be used for personal consumption, but may not be distributed on a website.