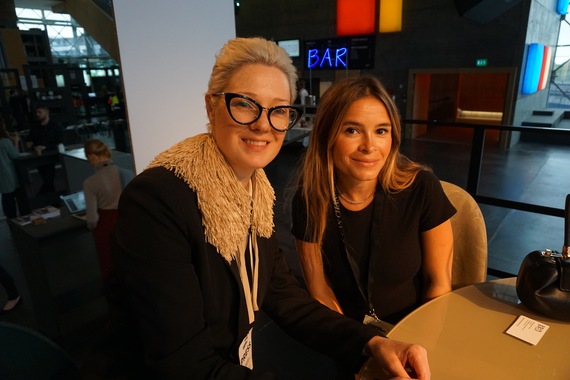 Mira Duma and I at Copenhagen Fashion Summit – Image: Techstyler
When I met Mira Duma at Copenhagen Fashion Summit a few weeks ago she was just beginning to discuss an initiative she had been working on for over a year – Fashion Tech Lab. She has for years been a recognisable fashion week figure and favourite of street style photographers, so launching a fashion tech venture was a strong sign that fashion and technology may finally be starting to get along in a meaningful way.
While interviewing Mira I asked what inspired her new venture, which seeks to innovate in the fashion tech space (including wearables) and harness new and existing technologies to help make fashion more sustainable. She had been sitting in the front row of a fashion show a few years ago, watching fellow attendees responding to the show as though it was the "most important thing in the world". This sparked her to act – to "do something useful" – in what we know to be the second most polluting industry in the world, after oil and gas.
In fashion, it is unlikely that transformative innovation will come from within. It is even less likely to come from the luxury sector, which prides itself on craft and exclusivity. When millennials think of innovative, cool brands they don't think of luxury – they think of Adidas's trainers and apparel using recycled plastic, H&M's Conscious Collection which uses recycled textiles, or Reformation's pioneering local manufacturing hub and use of textile surplus that would otherwise end up in landfill. Ostensibly, luxury fashion is about artisans, excess and heritage – these are not priorities for millennials.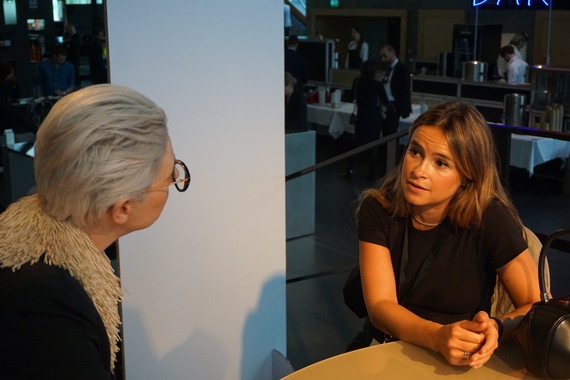 In conversation with Mira Duma – Image: Techstyler
Mira knows this, and she is very clear on investing in, and providing, solutions to consumers to solve their problems. When we spoke again more recently, I wanted to know more about how Fashion Tech Lab aims to help clean up the fashion industry, keeping consumers at the heart of its model. Mira's children will soon be those consumers, and at 7 months pregnant with her third child, she is focused in her determination to make sure they inherit a more viable and sustainable planet.
We talked about Mira's visit to Tesla for the launch of Elon Musk's electric cars; the world's first desirable and luxurious electric car. Before Tesla, electric cars were seen as ugly – a compromise on the luxury and lifestyle associated with the world's top cars. Tesla offers what other car brands offer, plus the kudos of being a responsible and ethical consumer. By association, a Tesla owner is a forward-thinking person – someone who cares about environment and design. It's not difficult to see how this thinking could translate to luxury fashion too.
Mira and her team are working with a global cohort of scientists and technologists to tap existing knowledge and apply it to solving problems in the fashion industry. The use of silver as an antibacterial agent in textiles is well established, but mining is a downside. A recent innovation using peppermint for the same outcome is one discovery that Mira is considering investing in (each t-shirt only needs to be washed after 20 wears). She also mentions radiation absorption properties, which (as an ex-radiographer) piques my attention and hints to a potential healthcare application for the technologies she is investing in. Another innovation which she has been looking at is a citrus waste textile from Orange Fiber that exploits its cellulose to create a silk-alternative that has been used in a collaboration with Salvatore Ferragamo in a capsule collection. She is hoping that technologies like these will inspire and revolutionise the processes used across the fashion industry.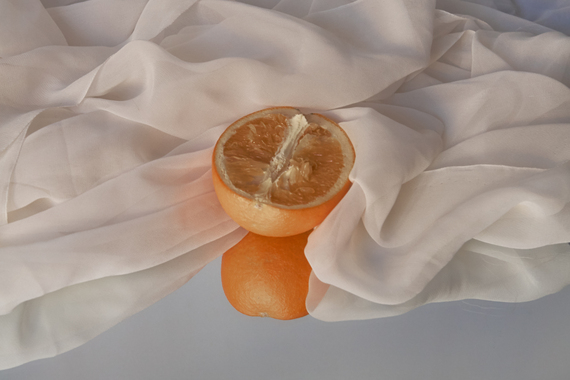 Above: Salvatore Ferragamo X Orange Fiber Capsule Collection, Below: citrus waste fabric – Images: Fashion Tech Lab
Revolution is something that Mira brings up regularly. In particular, the third and fourth industrial revolutions. She has done solid research on tech companies and the transformative effect they have had on the telecommunications industry (iPhone), transport (Uber), and travel (Airbnb) and shows a great appreciation for these progressive business models.
Mira has immense respect for the people who have developed the technologies and innovations that can help deliver solutions to fashion. Fashion Tech Lab has hired a team, including designers, creatives and executives, spanning China, Russia, the US, Italy and France. They also work on the global Experimental Lab, which is the in-house innovation and product development arm of the venture. Although the idea for Fashion Tech Lab was born a year ago, Mira told me a story about visiting Reformation's factory in LA a year earlier and being inspired by founder Yael Aflalo, citing her as "a great inspiration for us".
The Experimental Lab is an area I want to dig deeper into, but Mira is unable to give much detail as the projects are still confidential – more will be revealed over the coming months. Mira did confirm that the team will be showcasing 5-8 new technologies that they have been experimenting with at Paris Fashion Week in 2018. When I asked about whether the Lab, headed up by Chief Innovation Officer Amanda Parkes (alongside the soon-to-be-announced FTL Chief Creative Officer), would be creating products that would form a collection (in a traditional fashion sense) or more iterative and individual products, this was also not able to be divulged yet.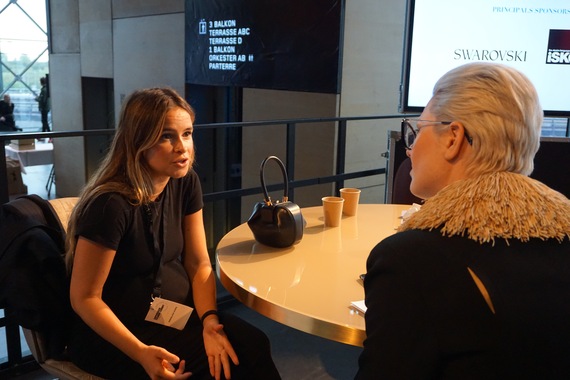 Image: Techstyler
Mira's Fashion Tech Lab is the epitome of cross-collaboration and multidisciplinary problem-solving that exists readily in many sectors, but to the frustration of fashion-tech pioneers, has eluded fashion for so long. Scientific and medical discoveries made in one discipline are often applied to others, for example, GPS (funded and developed by the military) being used in medical examinations. Mira's venture seeks to harness existing technologies and employ scientific thinking alongside design and aesthetics, to develop new ones. She is fiercely focused and pragmatic about the fact that the fashion industry needs urgent solutions for sustainability, but is also aware that consumer "needs and desires are eternal", and this is what makes her proposition so significant.
On the subject of sustainability across the fashion industry, I mention that sometimes it is treated like a 'trend'. She acknowledges this, and openly says there are brands clearly using sustainability as a PR and CSR tool, while others invest in their own labs and are committed to finding sustainable solutions. Mira is refreshingly pragmatic about this, saying that she does not care what the initial motivation is to put sustainability on their agenda, as long as they are open to sustainable practices.
I asked Mira, "What is your view on the current education provided to fashion students around the use of tech and sustainability", and "does Fashion Tech Lab have plans to improve this area?" She explained that Burak Cakmak, Dean of Parsons, is on their advisory board and they are at this moment working on courses, initiatives, and strategic and tactical partnerships with a number of universities including MIT, Parsons, London College of Fashion and Central Saint Martins.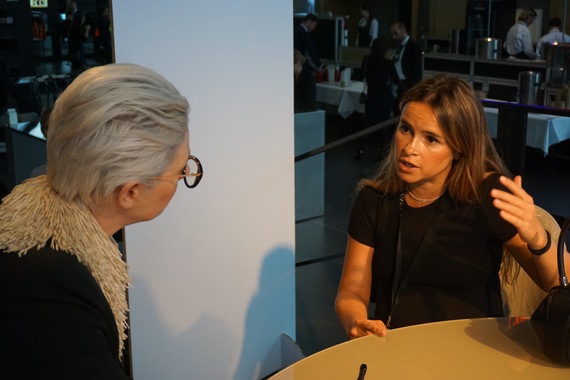 Image: Techstyler
Our conversation has taken several detours, including one about the mind-boggling array of goods at Wholefoods and how Mira likes to wander through it when in London as much for the artistry of the food as for the purchasing of it, and also to the implications of our automated, AI-led future. Her fear of sweeping new technologies, like imminent driverless cars, which makes her worry about the tens of thousands of drivers who will lose their jobs, is balanced with the knowledge that the App economy arising from the launch of the iPhone spawned tens of thousands of engineering jobs. We are both interested in the subject of robotics, and Mira accepts that within her ventures, robots in production make sense. Acknowledging the technological landscape where mixed-reality, gene-sequencing, quantum computing and robotics collide, turning "science fiction to science fact", Mira openly says that she, her friends and colleagues are "scared about the world".
Reflecting on the launch of Fashion Tech Lab, I ask Mira if she sees herself as an ambassador for fashion tech and sustainability – previously, people from a fashion tech background have tried to fulfil this role but the fashion industry did not take to them. Mira takes the point of view that her current position and that of Fashion Tech Lab is down to timing – the right technologies identified, developed and employed, at the right time. Like Uber. Like Apple. I look forward to discussing the innovations which are soon to find their way out of the Experimental Lab and into Paris Fashion Week. Bring on the fashion tech and sustainability revolution.
For more on sustainability and fashion tech innovations see Techstyler.fashion
Follow Techstyler on Instagram
— This feed and its contents are the property of The Huffington Post UK, and use is subject to our terms. It may be used for personal consumption, but may not be distributed on a website.