No matter where you live, they could not be missed last summer: Pokémon seekers. Bent over their phones while walking for miles to catch the little creatures. Using augmented reality, Pokémon Go took the world by storm and became an overnight sensation, appealing to millions of younger people and the young at heart.
Of course there was, as with any hype, criticism. And rightly so. Some players were so immersed they didn't pay attention while crossing the street, with fatal accidents as a result.
At the same time there were claims that playing Pokémon Go could help depression and that it could even solve the US obesity problem; one player caught all the Pokémon by walking 225km – shedding an impressive 12 kilos en route. Others claimed it might even help those suffering with Type 2 Diabetes.
Although it's unlikely that improving the health of its users was the main goal for the app developer, there's no doubt it has made an impact on many of its fans and could have a positive effect on peoples' walking habits. This entertaining, colourful app has reminded us just how powerful gamification in healthcare can be.
Put simply, gamification is the use of design elements as well as motivational and competition techniques from games in non-gaming contexts, like health. Gamification is based on principles that come from psychology and behavioural science. In the field of healthcare, this could take the form of playful apps created by clinicians and game designers, who really know how to keep people engaged and motivated. When designed well, these apps have the capability to trigger long-term behaviour changes that could improve physical or mental well-being.
But why do these simple games affect us so much? Ultimately, we're all wired to enjoy and to be motivated by the core principles behind them. Humans, like dolphins and chimps, all use play to learn and develop key skills. Game play focuses and demands our attention, challenges us at exactly the right level, excites us, and compels us to get better and strengthen our abilities. For all of these reasons, gameplay could well be an invaluable tool in tackling personal health issues all over the world.
Take for example the Pact game app. Users risk losing money if they don't follow through on their commitment to exercise. The app requires them to set personal goals for healthy eating and working out several times a week. The users also enter the amount of money they're willing to lose if they don't stick to their commitment. Those who meet their targets get paid by those who don't, essentially creating a marketplace as well as healthy competition.
And of course, healthcare gamification isn't solely aimed at adults. Inspiring and encouraging children into healthier lifestyle behaviours could well have an impact on their future. One example is the Sonicare for Kids electronic toothbrush – it comes with an app that turns the Bluetooth-enabled brush into a controller for a game, featuring fuzzy creatures called Sparklys. Kids score points in the game by brushing all four quadrants of their teeth for two minutes; the recommended standard. The only problem so far has been that kids don't stop brushing as they get so immersed in the game.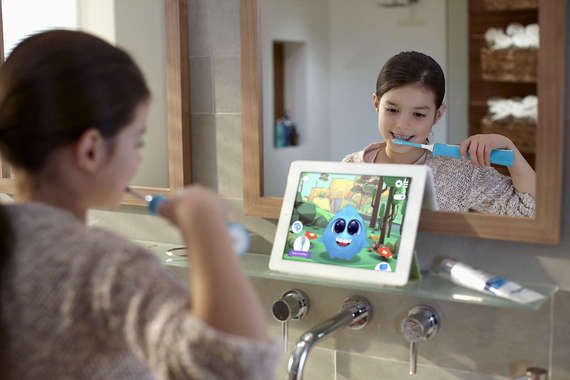 Credit: Philips
Companies like Dutch IJsfontein, are using serious games, including virtual and augmented reality, for the training of healthcare professionals. Doctors have increasingly less time to educate students, so the team developed a game, called abcdeSIM, which teaches students to apply the ABCDE method (a systematic approach for assessment and treatment of someone with an acute condition) without a doctor having to be present – an example of gameplay becoming a vital training tool.

Credit: Ijsfontein
Similarly, Into D'mentia, an immersive role play game, was a major success in the Netherlands, where it raised national awareness on the complication of caregiving for dementia patients and let people experience what it's like to live with dementia.


Credit: Ijsfontein
And it doesn't stop there for healthcare professionals. Other elements of gamification are being used to make information displays easier. Think back to when you played strategy style computer games. You might have had a visual display screen with your "mission briefing", interactive stats and other tools to help you complete it. This approach is being taken by Philips' Illumeo technology which helps radiologists to pull together case-relevant health data for diagnosis, therapy planning and follow-up.
The technology offers a radically new approach on how radiologists will see, seek and share clinical information, helping them to provide an even more critical contribution to patient care.
To improve health and healthcare, changing behavior of both patients and professionals is often the first step. And that's exactly what the science of gamification is all about.
There's no doubt that mental, as well as physical, health can benefit from the merging of mobile technology, virtual and augmented reality, medical science and game-play. Over time they can add great value to truly personalized care paths.
Today, more than ever before, leading a healthy life can go hand-in-hand with having fun.
Let the games begin!
— This feed and its contents are the property of The Huffington Post UK, and use is subject to our terms. It may be used for personal consumption, but may not be distributed on a website.