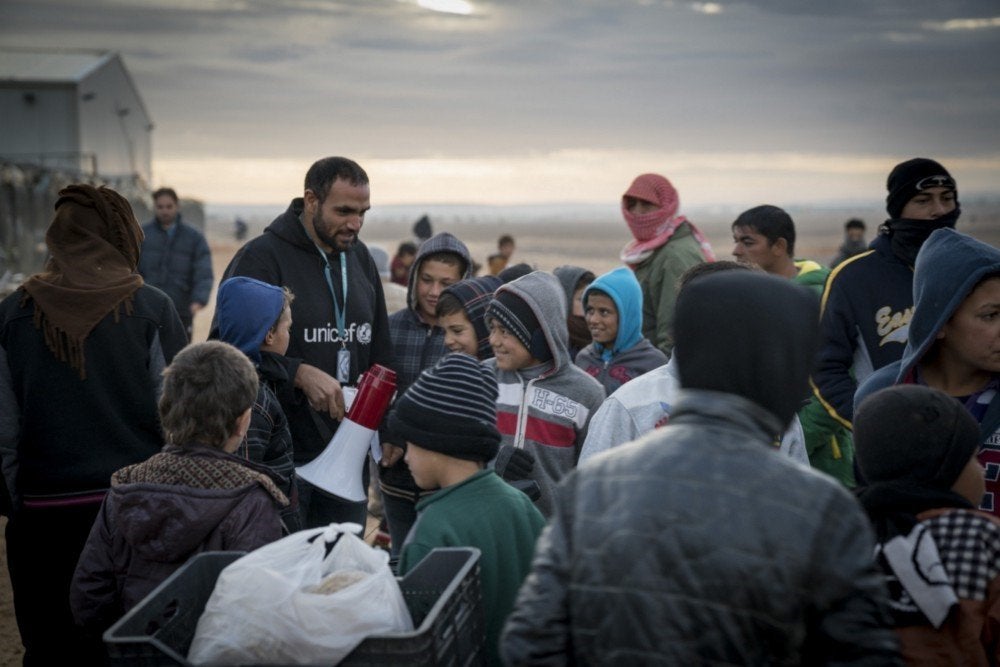 My name is Abed Elmajeed Elnaimi, I am 32-years-old, I am Jordanian and I was born in Syria.
Syria is a beautiful country, living there gave me amazing childhood memories. I finished college with a tour guidance major, and I have visited most of the historical attractions in Syria, it was an unforgettable stage of my life. Life in Syria was simple, everything was cheap and available, medicine, public transportation, education.
The war started in 2011, the first thing I experienced in Damascus was the increasing security forces presence everywhere, wherever I would go the security checkpoints were in front of me. Food items prices started to increase many folds in a very short time and lots of people couldn't afford it.
I can still remember the very first scary situation. I was asleep at home where all of a sudden, I woke up at the noise of a ridiculously loud explosion, and then I learned that it was a suicidal car bomb attack. Up to this point people still had hope that violence will subside soon, but it was not meant to be.
I lived in Syria for one year during the war, in which time I experienced a couple of close-to-death experiences. One of them was when I was going back home after work and I had to cross a military checkpoint to reach home, and then after five minutes the same checkpoint was bombed and a crossing bus was destroyed, killing everyone in it.
The second incident was when I was working in an area where all of a sudden the shooting started between the government forces and the free Syrian army. I was stuck in a building for around five hours and it was located in the crossfire line between the two fighting forces, I was really scared. Eventually the shooting stopped, and on the way back home I saw the level of destruction in the area, there were many furniture shops and all of them were on fire, but the worst scene that is still stuck in my memory was the fear I saw in the people's faces. I saw many families leaving the area and the women and children were terrified and crying. That was when I made my decision, I couldn't stay in Syria anymore. It was a heart-breaking decision, but I had to do it.
When I came to Jordan I had a problem that I shared with many Syrian people, I came with a very limited amount of money that was depleted in a short time and finding a job was difficult. The house rents were very expensive, and when I had spent all my money I almost made the decision to return to Syria like many Syrian families did, but then I had a job offer. It was in Za'atari camp.
When I got the job offer I went for it straight away. Working with the Syrian people is more than what I hoped for, coming from Syria I had a strong connection with the Syrian people and I had the desire to help them. I started working with a Jordanian NGO, at that time I used to work sometimes 24 hours a day in the camp because it was a state of emergency and people were coming by their thousands every day. I used to welcome the new arrivals and help distribute food and blankets for them upon their arrival. I continued witnessing the pain of the Syrian people by working in the camp but I was really happy knowing that I was doing something to help the Syrian people.
It's been six years since I started working with humanitarian aid organisations and now I work with Unicef. My job is in communications, and mostly what I do is to help spread the news about the challenges the Syrian children are facing, hoping that the world would send more assistance for Syrian children.
One of the benefits of working with children is that every now and then I can directly help some of them. One of the children that I helped, her story will remain carved in my memory.
I met her couple of years ago she was struggling with English in school, she wasn't able to memorise many words so I taught her couple of tricks on how to remember English words and she seemed very interested. After one year I came across the same girl, she told me how good she became in English and we were able to make a simple conversation in English. That moment knowing that – in a way – I was able to improve someone's future was one of my proudest moments.
Many families had to make the difficult choice to leave Syria, many of them crossed to Europe on a perilous route that can end up killing them, that is not easy, I know… My stepsister is one of them, she couldn't come to be with us in Jordan but she left Syria to Europe. She sold everything she owns and worked so hard to get, including her house, to cover the cost of the trip, which is mostly paid to the smugglers, and she lost most of her bags and shoes crossing to Europe. She crossed on an unsafe inflatable raft but fortunately she ended up in the Netherlands and all I want to say is thank you to all the countries that welcomed the Syrian people, and without their help these people would have nowhere to go.
The Syrian people are still suffering the ongoing war in their country. Many of them, including children, lost their lives to the war, many others lost their futures, and many children's lives have been altered to the point of no return. Children have lost their parents, and have lost their chance to education, girls were forcibly married due to economic situation of their parents. Children are growing up as refugees away from their home country and many of them have never seen Syria after seven years of war.
What I really wish for is that the Syrian people would have a chance to live in peace once again. I believe that peace is the most important thing in life, without peace there is no life, and there is no future.
For me I wish I can one day be reunited with my loved ones, my sister, my friends…
HuffPost UK has teamed up with Unicef to raise money for Syrian children affected by a war which has stretched over almost seven years.
To donate to the HuffPost UK Christmas Appeal go to: unicef.uk/huffpost
Life Less Ordinary is a weekly blog series from HuffPost UK that showcases weird and wonderful life experiences. If you've got something extraordinary to share please email ukblogteam@huffingtonpost.com with LLO in the subject line. To read more from the series, visit our dedicated page.