The Amtrak train which derailed south of Seattle, killing three people and injuring dozens more, was travelling at 80mph in a 30mph zone, a data recorder has shown.
The device, recovered from the train's rear locomotive indicated the speed at which it went off the tracks, Bella Dinh-Zarr, spokeswoman with the US National Transportation Safety Board (NTSB), told a news conference.
It happened in Washington state on an inaugural run on a faster route from Seattle to Portland, sending passenger cars tumbling from a bridge onto a major highway, killing at least three people and injuring more than 70.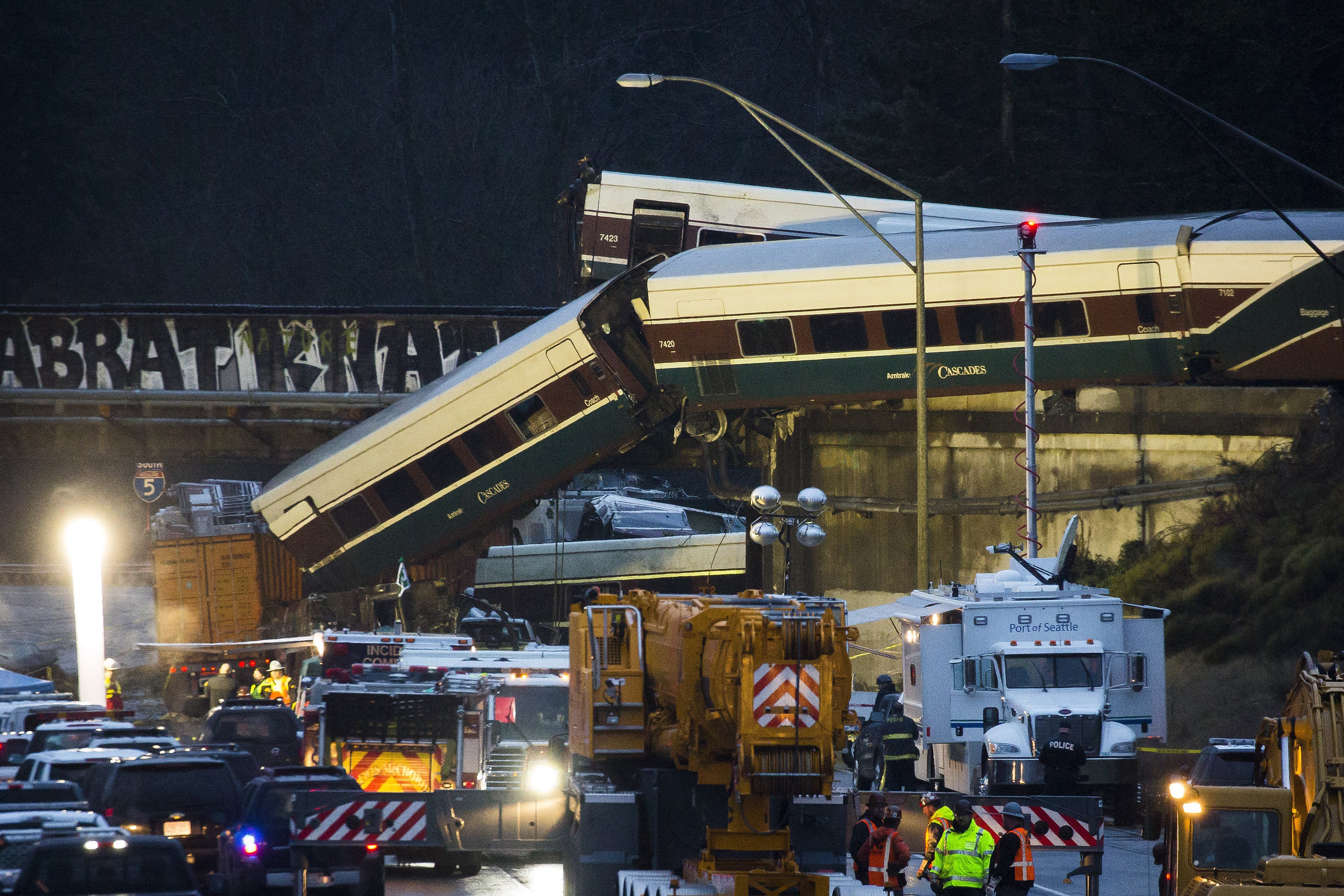 Audio of the train conductor's emergency radio call has emerged, in which a man can be heard saying: "Amtrak 501, emergency, emergency, emergency. We are on the ground! We are on the bridge on the freeway. We need EMS ASAP. It looks like they're already starting to show up."
When a dispatcher asks what has happened, the conductor replies: "Uh we were coming around the corner to take the bridge over I-5 there, right north in Nisqually and we went on the ground."
Dispatcher: "Is everybody OK?"
Conductor: "I'm still figuring that out. We got cars everywhere and down onto the highway. As soon as I know exactly where all my train is, I'll let you know."
Amtrak's safety record was already under harsh criticism following a series of fatal accidents before the derailment on Monday.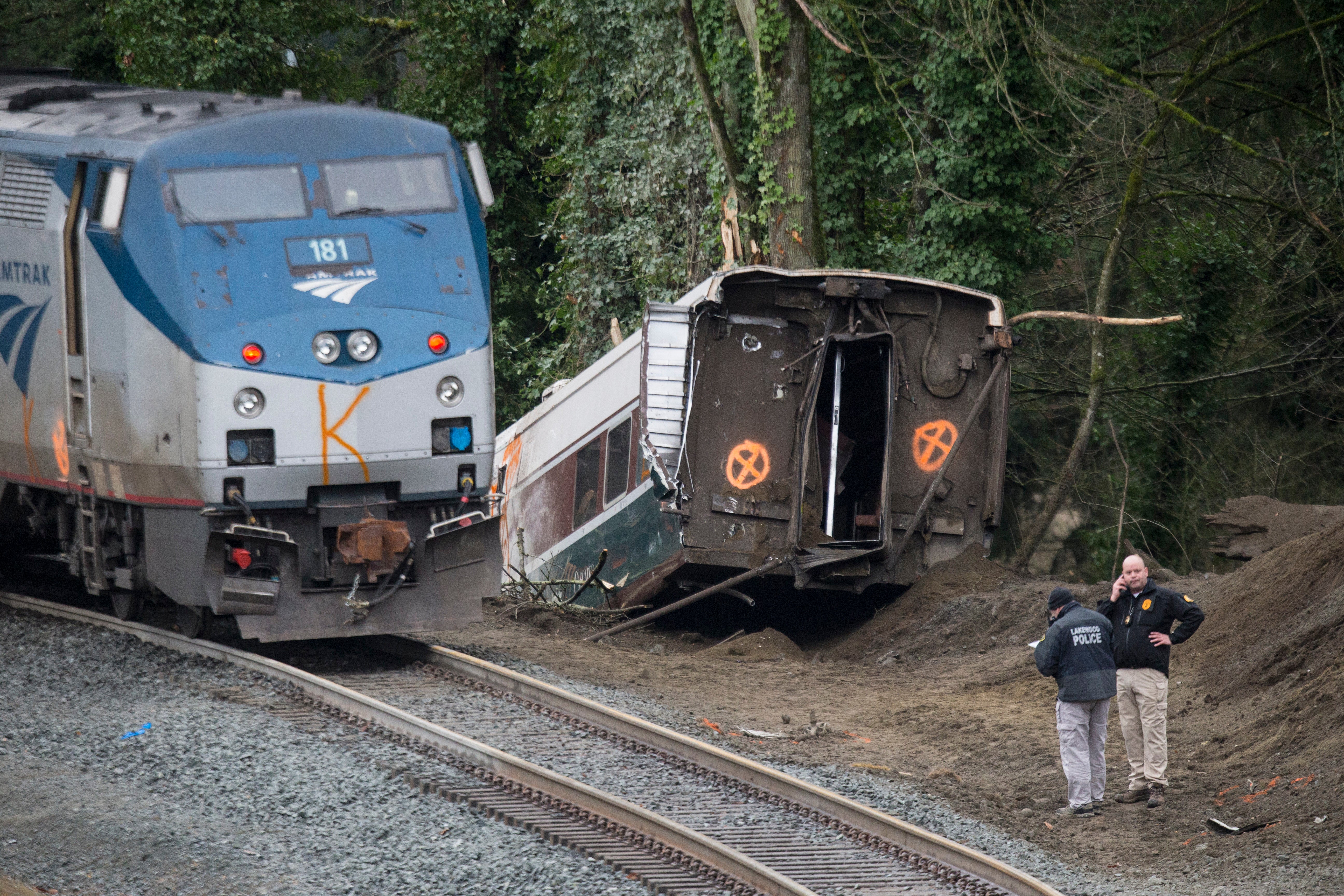 Just last month, the chairman of the NTSB issued a scathing critique of Amtrak's culture, saying a future breakdown was likely, and the board made nine safety recommendations.
"Amtrak's safety culture is failing and is primed to fail again, until and unless Amtrak changes the way it practices safety management," NTSB Chairman Robert Sumwalt said in a statement on Nov. 14.
Sumwalt's statement was made when the NTSB issued its findings on a fatal Amtrak accident in April 2016 in Pennsylvania, which it said was caused by "deficient safety management across many levels of Amtrak and the resultant lack of a clear, consistent and accepted vision for safety."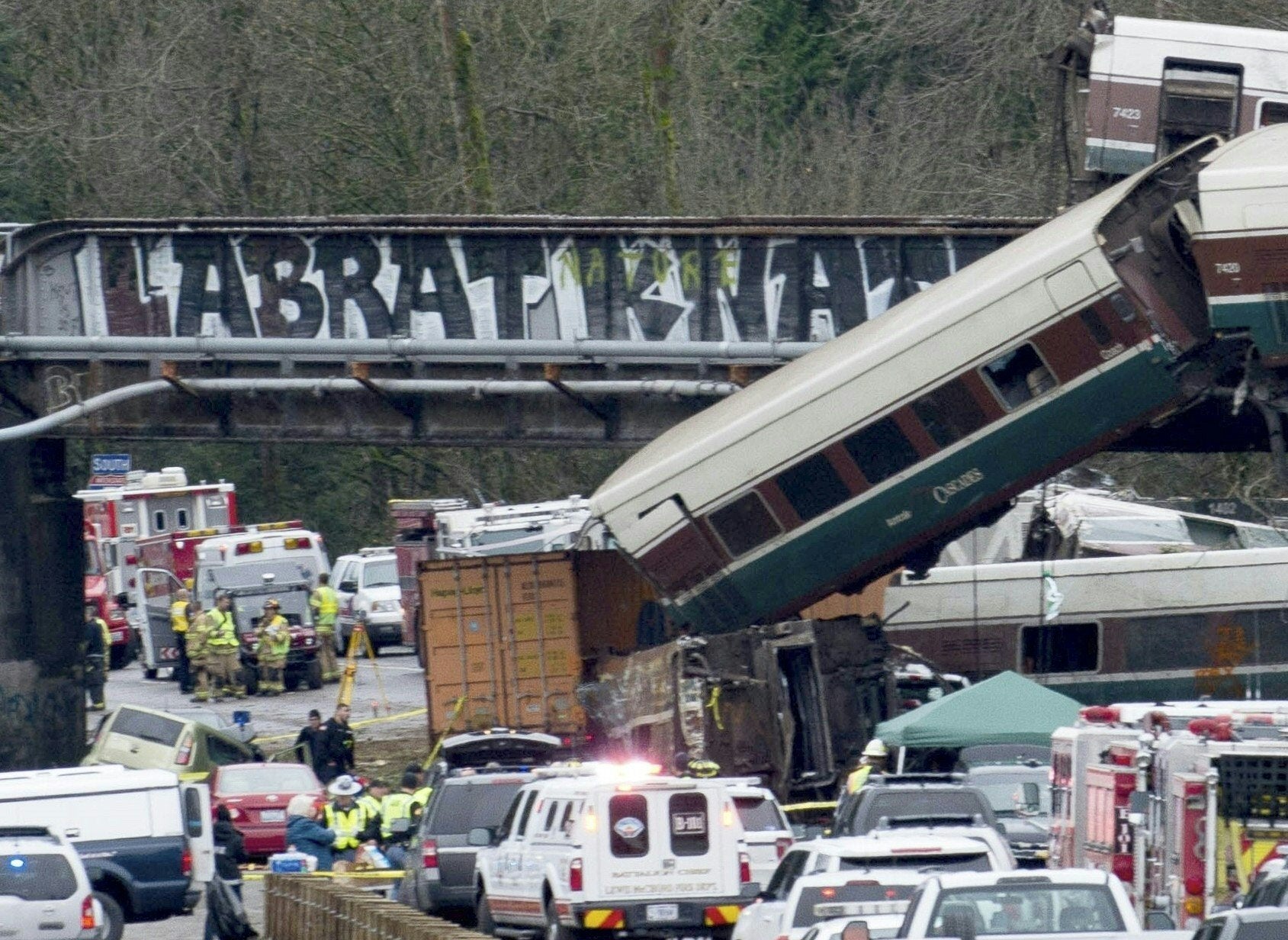 There was no indication that any of the same issues played a role in the Washington crash.
In the Pennsylvania accident, an Amtrak train struck a backhoe working on railroad tracks in Chester, Pennsylvania, killing two maintenance workers and injuring 41. It occurred a few miles south of the site of a May 2015 derailment in which eight people were killed and more than 200 injured.
Sumwalt told a hearing the board's "investigation revealed more than two dozen unsafe conditions and not all of these were rule-breaking by frontline employees."
Amtrak this past summer named former Delta Air Lines Chief Executive Officer Richard Anderson as co-CEO. Anderson on a call with reporters on Monday said he would not speculate on the cause of the crash.
Anderson said Amtrak takes NTSB recommendations from investigations "very seriously" and was continuing to make investments that the NTSB recommended.
"Safety is the highest priority of the Amtrak board," Anderson said.