Footballer Antoine Griezmann has apologised after posting an image of himself in blackface on social media.
The 26-year-old, who is white, had attended an NBA party in a costume which also comprised a wig, an NBA 69 ALLSTARS jersey and was holding a basketball in the photo.
The image, since deleted from his Twitter account, was accompanied by the message '80s Party', followed by basketball and laughing emojis.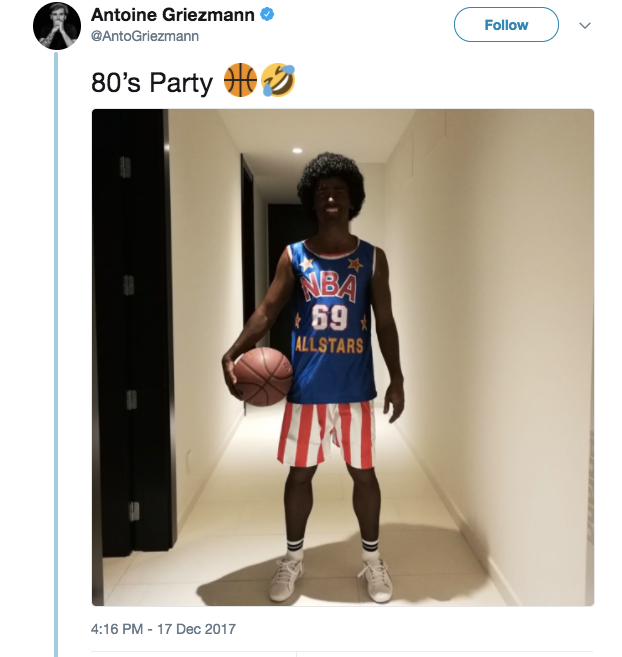 After a slew of negative comments, Griezmann tweeted:
"Calm down friends, I'm a fan of the Harlem Globetrotters and of this great era… it's a tribute."
But the Atletico Madrid player later tweeted an apology, stating: "I recognise that it's insensitive on my part. If I offended some people I'm sorry."
American hip-hop artist Lecrae tweeted that Griezmann's picture had been "Highly offensive toward the black community."
He added: "Even worse to tell the offended to calm down so you can continue to parade the post which shows lack of understanding and concern."
HuffPost also points out that the Harlem Globetrotters are unlikely to have been amused, given the decades of racism they experienced.
Former Globetrotter Tex Harrison told Newsday in 2010: "Jacksonville, 1957. We went to this hotel, they wouldn't let us in. We went to a restaurant and they said, 'We can't serve you here'. So we went back across the [other side of the] track. Later, we found out that a performing chimpanzee was in town, sponsored by a bowling alley. That chimpanzee was allowed into the hotel and given a big suite. Here we are, human beings, and we couldn't get into the hotel or get anything to eat. But 18,000 people came to watch us play and 98 percent of that audience was white."
Blackface came about in the 1800s when performers used black paint or shoe polish to depict a black character in the theatre. These characters often depicted racist stereotypes and perceptions, which were brought to a halt during the US civil rights movement.