The voting stats from this year's 'I'm A Celebrity… Get Me Out Of Here!' have been released, and they're a bit of an eye-opener.
'Made In Chelsea' star Georgia 'Toff' Toffolo was crowned queen of the jungle when the series came to a close last weekend, and it's now come to light that the reality star was a firm favourite with viewers from the off.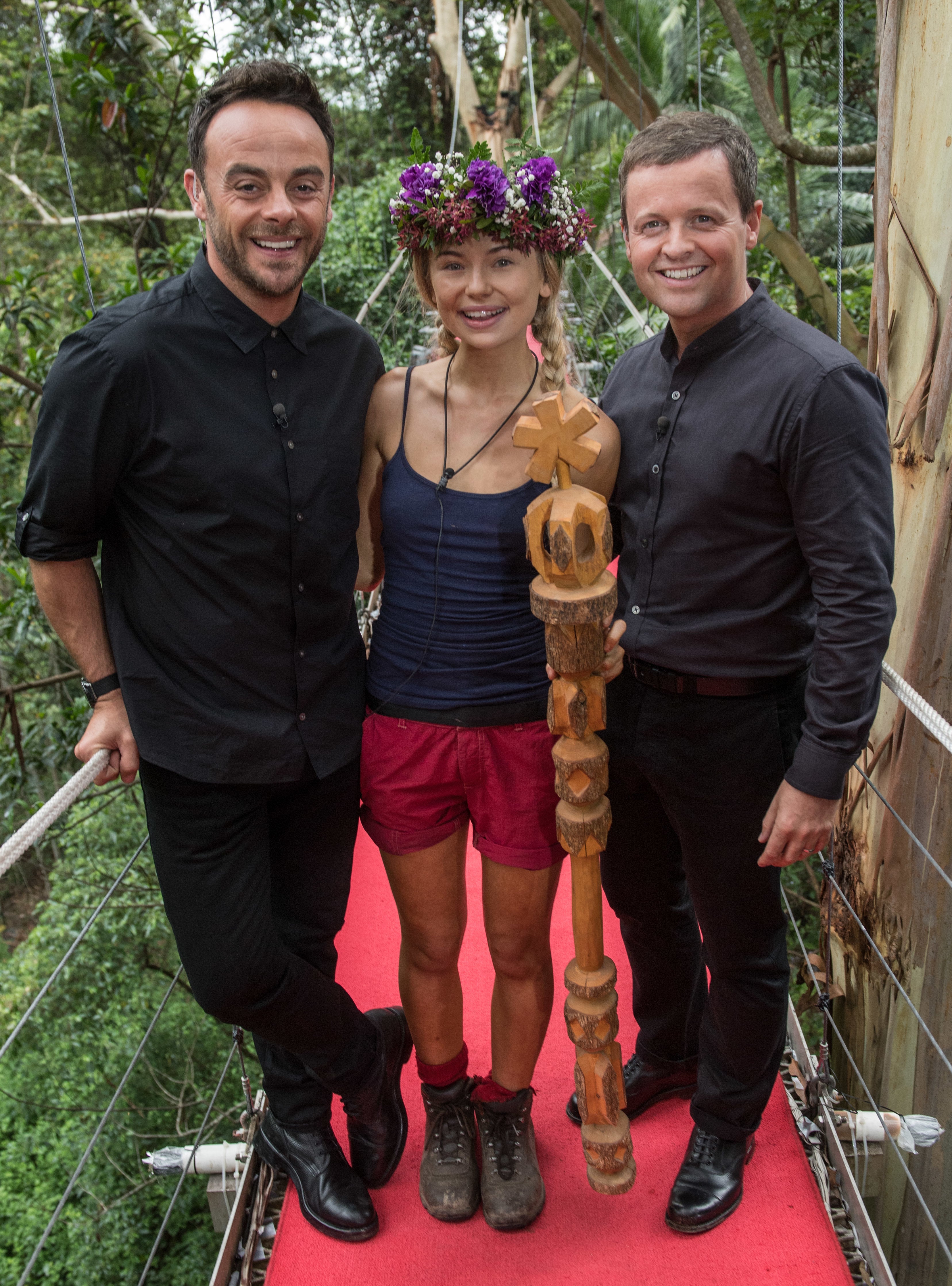 In fact, not only did Toff top every single viewer vote (and by some margin) but in the final vote she scored three and a half as many votes (71.41%) as runner-up, Jamie Lomas (18.53%).
That's even more impressive when you consider Toff received the most votes for the very first Bushtucker Trial, 'Critter-Cal Rescue.
That's in stark contrast to Amir Khan who was an early favourite, but quickly fell from grace after strawberry-gate and claims he bullied fellow campmate Iain Lee..
Here are the 'I'm a Celebrity 2017' voting stats in full:
Vote 1 – Bushtucker Trial Critter-Cal Rescue:
Toff – 19.72%
Amir – 18.09%
Stanley – 16.06%
Jack – 13.43%
Becky – 12.77%
Jamie – 4.88%
Dennis – 4.5%
Vanessa- 4.41%
Jannie – 3.32%
Shappi – 2.81%
Vote 2 – Bushtucker Trial Flushed Out (Becky and Stanley were exempt):
Amir – 41.64%
Jack – 17.53%
Jamie- 12.47%
Toff – 11.1%
Dennis – 5.49%
Vanessa – 4.88%
Jennie – 3.73%
Shappi – 3.16%
Vote 3 – Bushtucker Trial Worst Dates:
Becky – 22.21%
Toff – 18.29%
Stanley – 12.47%
Jamie – 11.21%
Amir – 10.39%
Vanessa – 8.58%
Dennis – 7.03%
Jennie – 5.68%
Shappi – 4.14%
Vote 4 – Bushtucker Trial The Fright House (President of Croc Creek Iain decided which celebrity from Snake Rock would also complete the trial.)
Amir – 20.77%
Iain – 19.23%
Stanley – 18.68%
Dennis – 17.73%
Jennie – 12.54%
Shappi – 11.05%
Vote 5 – Bushtucker Trial Temple of Gloom (Becky and Stanley were exempt):
Iain – 24.51%
Jamie – 16.88%
Amir – 15.15%
Dennis – 11.13%
Toff – 9.96%
Jennie – 6.55%
Kez – 6.11%
Vanessa – 5.27%
Shappi – 4.45%
Vote 6 – Bushtucker Trial The Hole (Stanley was exempt):
Becky – 22.41%
Jamie – 16.48%
Iain – 14.52%
Amir – 11.29%
Dennis – 9.95%
Toff – 8.61%
Vanessa – 4.95%
Kez – 4.62%
Jennie – 4.45%
Shappi – 2.71%
Vote 7 – Prime Minister Vote (Iain and Shappi were exempt):
Stanley – 29.37%
Toff – 22.04%
Jamie – 15.08%
Amir – 10%
Jennie – 8.6%
Dennis – 6.5%
Becky – 4.63%
Kez – 1.95%
Vanessa – 1.82%
Vote 8 – Bushtucker Trial Space Your Fears (Stanley was exempt):
Iain – 21.86%
Becky – 14.26%
Amir – 11.13%
Kez – 10.3%
Toff – 8.78%
Dennis – 8.58%
Vanessa – 7.76%
Jamie – 6.55%
Jennie – 5.91%
Shappi – 4.87%
Vote 9 – Bushtucker Trial The Fear Factory (Becky was deemed too unwell to complete the trial):
Stanley – 30.92%
Becky – 13.65%
Kez – 11.61%
Amir – 8.21%
Dennis – 7.04%
Vanessa – 6.45%
Toff – 6.25%
Jamie – 4.81%
Jennie – 4.62%
Iain – 3.84%
Shappi – 2.6%
Vote 10 – Prime Minister vote (Stanley and Toff were exempt):
Jamie – 24.68%
Jennie – 16.66%
Amir – 15.22%
Becky – 15.22%
Dennis – 13.3%
Vanessa – 5.11%
Kez – 4.55%
Shappi – 3.35%
Iain – 1.91%
Vote 11 – Bushtucker Trial Kiosk Keith's Refreshment Shack (Becky was exempt):
Amir – 13.77%
Toff – 13.61%
Jamie – 12.37%
Dennis – 12.22%
Stanley – 10.7%
Jennie – 9.17%
Vanessa – 8.29%
Iain – 8.17%
Kez – 7.54%
Shappi – 4.16%
Vote 12 – Bushtucker Trial Grot-Holing (Amir, Toff, Dennis and Vanessa were immune):
Becky – 24.1%
Jamie – 15.27%
Jennie – 15.06%
Stanley – 13.86%
Iain – 13.85%
Kez – 10.86%
Shappi – 7%
Vote 13 – Vote-off (Dennis, Iain and Amir were immune):
Toff – 31.51%
Jamie – 18.47%
Stanley – 11.28%
Jennie – 10.77%
Becky – 10.44%
Vanessa – 6.34%
Kez – 6.24%
Shappi – 4.95%
Vote 14 – Prime Minister (Jamie and Jennie were exempt):
Toff – 31.26%
Dennis – 21.12%
Becky – 16.31%
Amir – 15.12%
Vanessa – 7.5%
Stanley – 3.46%
Iain – 2.63%
Kez – 2.6%
Vote 15 – Vote-off:
Toff – 31.82%
Jamie – 14.36%
Amir – 9.22%
Jennie – 8.65%
Iain – 8.1%
Dennis – 8.05%
Stanley – 7.57%
Becky – 6.06%
Vanessa – 4.5%
Kez – 1.67%
Vote 16 – Vote-off:
Toff – 33.29%
Jamie – 11.88%
Jennie – 11.48%
Iain – 8.62%
Amir – 8.57%
Dennis – 7.24%
Stanley – 6.96%
Vanessa – 6.42%
Becky – 5.53%
Vote 17 – Vote-off:
Toff – 38.29%
Jamie – 11.33%
Iain – 10.17%
Jennie – 9.81%
Stanley – 8.37%
Amir – 8.36%
Dennis – 7.69%
Vanessa – 5.99%
Vote 18 – Vote-off:
Toff – 36.78%
Iain – 14.96%
Jennie – 11.44%
Jamie – 10.87%
Dennis – 10.51%
Amir – 7.74%
Stanley – 7.7%
Vote 19 – Vote-off:
Toff- 40.55%
Iain- 21.51%
Jennie- 12.23%
Jamie- 9.86%
Amir- 8.96%
Dennis – 6.88%
Vote 20 – Vote-off:
Toff – 43.49%
Iain – 21.01%
Jennie – 14.88%
Jamie – 11.1%
Amir – 9.52%
Vote 21 – Vote-off:
Toff – 49.49%
Iain – 19.53%
Jamie – 15.85%
Jennie – 15.12%
Vote 22 – Vote-off:
Toff – 65.22%
Jamie – 17.44%
Iain – 17.35%
Vote 23 – The Winner:
Toff – 71.41%
Jamie – 18.53%