A daredevil climbing enthusiast has achieved a posthumous fame after unwittingly filming himself plunging 62 floors to his death.
Wu Yongnin, who had more than 60,000 followers on his Weibo account, was hoping to win a prize of £11,000 while filming a stunt atop Huayuan Hua Centre in Changsa, central China.
Footage revealed Wu, who had martial arts training, doing pull-ups when he seemed to lose his strength, then his grip before falling on 8 November. (The video above does not show his fall.)
His death was confirmed this week by his girlfriend in a post on Weibo – China's equivalent to Twitter.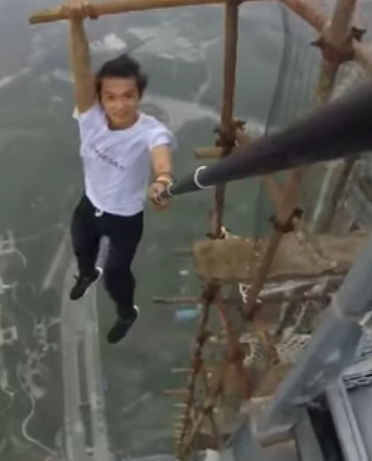 Wu, who used to post videos of himself scaling tall buildings with no safety equipment, hoped to use the prize to pay his mother's medical bills, the Changsha Evening News said.
He was careful to warn people in each one of his videos not to try to imitate his stunts.
His death has spurred warnings from state media against the perils of livestreaming, with the official China Daily stating there was need for stronger supervision of such apps.
"Some of them try to hype things up with obscene and dangerous things, and their purpose is to attract more eyeballs and make a profit," it said in a commentary.
Tens of thousands of Chinese post videos of themselves in a bid for stardom on the livestreaming scene, whose popularity has grown rapidly, particularly in the e-commerce, social networking and gaming sectors.
"There should be a bottom line for livestreaming platforms, and supervision should leave no loopholes," ran a comment in the online edition of the People's Daily.
Wu's videos on his Weibo microblog had attracted several million views each and by the time of his death, he had videotaped about 300 stunts.