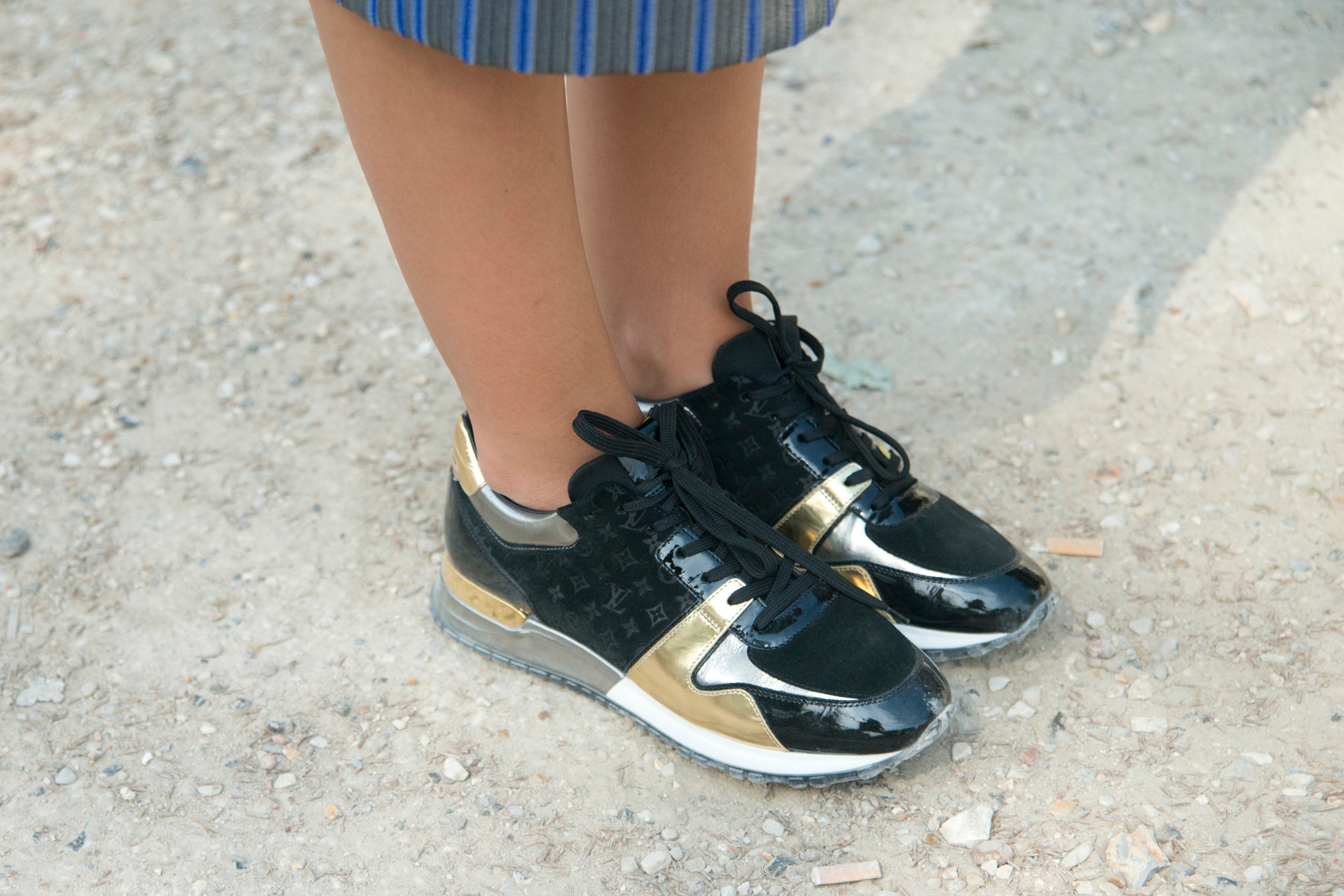 A pair of sneakers have probably graced all of our wardrobes at some point. But for growing numbers of women, disrupting sneakerhead culture and creating new, like-minded communities is becoming a lifestyle choice.
Until now, the sneakerhead scene has been intensely male dominated. As recently as 2015, collectable sneakers did not come in women's sizes, with most sportswear companies adopting little more than a "shrink it and pink it" strategy when designing female-focused products.
The industry at large has re-evaluated this however, identifying young female consumers as a key opportunity for growth. Nike's chief executive Mark Parker notably said that the brand is aiming to double its sales of women's sneakers by 2020, reaching $11bn.
Backed by prominent female celebrities, social media has given female collectors a way to break into this traditionally male-dominated community – helping to define this new era in sneakerhead culture. Puma's ongoing collaboration with pop star Rihanna, which has given us the Fenty Puma, updated the sneaker with a modern female twist, launching it into the mainstream spotlight. It's a partnership that Puma credits as the reason behind its 11.5% increase in quarterly sales in 2015.
And in 2018 the sneaker gained new momentum as a luxury item, featuring on the Spring/Summer 18 runways of Louis Vuitton and Balenciaga amongst others.
Female sneakerheads are having a huge influence on design and a move towards unisex styling. Only 44% of Gen Z regularly buy clothes designed by their own gender. This push for inclusivity is something that is becoming increasingly important within fashion more broadly, encapsulating age, gender, size and race. Kitty Cowell and Jess Gee, founders of The Unisex Mode, a British online streetwear platform, are a great example of lesser-known tastemakers influencing this sea of change. On the high street, H&M has created a unisex collection called "Denim United".
And in embracing a sense of inclusivity, the output is a feeling of community. Sneakerhead culture has continued to thrive because of its ability to build and sustain a sense of community around it. Younger female sneakerheads are really flying the flag here, with some creating their own online hubs and magazines. UK publication Girlfans, for instance, supports female visibility within football-specific sneaker-collector culture.
And naturally, the sports brands with their fingers closest to the pulse are picking up on this too. Nike has tapped into this sense of comradery, launching a collection of customisable Nike Cortez sneakers with a global group of female creatives called the International Girl Crew. Each pair created is embossed with a number on the heel, mirroring numbered friendship necklaces worn by the Crew and signifying the customer's connection to a larger girl-power movement.
This sense of community is making its way off of social media and in-store too, revealing some interesting physical concepts. Spaces exploring the genre's history and cultural influence, audio guides relaying design inspiration, and workshops connecting fan-consumers with industry players, are all helping to bring the culture offline.
This year, Japanese menswear fashion magazine Grind hosted a sneaker design exhibition at Tokyo bookstore Daikanyama Tsutaya. Fourteen Japanese fashion stylists and photographers were invited to put their favourite classic sneaker models – such as Nike Air Max '95s and Adidas Originals Stan Smith '73s – into a contemporary context. Each rare, original pair was showcased alongside a photographic display and the creator's comments.
With the global value of the sneaker market sitting at $55bn, according to The NPD Group, the footwear has become hot property for businesses and consumers alike. The footwear's versatility has enabled it to become a blank canvas for consumers unlike any other footwear. Look around you and you'll see people of all ages sporting a classic white lace-up as the perfect accompaniment to almost any outfit. Dive deeper into sneakerhead culture and you'll find the sneaker become a platform of self-expression or symbol of belonging. All hail the sneaker.