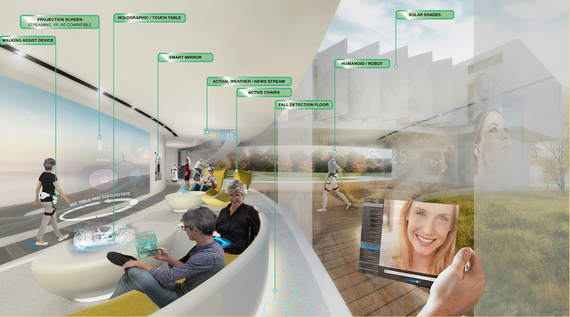 In an unusual show of unity, Innovation Leads for IBM, Intel, Microsoft and other major corporations, will join forces with the European Space Agency, European Commission and representatives from various UK Government Departments in London next week.
The catalyst for this Think Tank is the publication of a white paper predicting a new breed of "Cognitive Home" in joined up digitally empowered neighbourhoods, which will free up hospital beds and institutional care facilities, thereby reducing NHS and social care bills.
This is far more than a wouldn't it be nice scenario, the socioeconomic implications are momentous. Research from Bank of America Merrill Lynch suggests that age-related expenditure accounts for 40 per cent of government spending in developed markets. With a rapidly ageing population, business as usual is therefore no longer an option. Fortunately, the increasing prevalence and convergence of digital technology, digital infrastructure and data production, capture, and analysis is paving the way for transformational change.
There are of course significant issues still to be navigated – not least security and capitalization of data assets- but we are entering the epicentre of a perfect digital storm, where innovation relating to wearable devices connected to sensor-powered home-based technologies will create large cost savings for health and social care, by removing some of the need and/or desire for traditional public health care facilities.
Driving Transformative Change
Technology has the potential to drive transformative change for all, but only if there is a continuous dialogue between innovators and society. Only such a dialogue can lead to the provision of the capital, skills and marketing needed to create, scale and sustain fresh disruptive ideas.
Waiting for the public sector to facilitate these changes is pointless. There is a growing need for the tech giants to stand up and be counted, and we are planning to get the ball rolling May 10 and 11 in London.
Ed Steidl Global Programme Manager for Microsoft Innovation Centers, who will be flying in from Seattle, wants to see more co-creation across sectors and disciplines: "In this age of seemingly endless possibilities, meeting the needs of ageing populations cannot be addressed through the lens of a single sector or discipline. So, I am very much looking forward to the London Think Tank where I will invite peers, SMEs and even competitors to join Microsoft in co-creating a Global Open Innovation Challenge."
David Calder, Health Care and Technology Knowledge Transfer manager for Innovate UK's Knowledge Transfer Network agrees: "Now is the time to break down barriers between sectors, we have to think about new ways of helping innovative SMEs that want to invest in health and care to get to market and scale. That means collaborating with big companies and disrupting the status quo."
Neighbourhoods of the Future 'The Shape of Things to Come' will be staged at NatWest HQ London May 10 and 11. Thanks to our partners, Swiss Re, NatWest, KTN, McCarthy & Stone and St Mary's University, there is no cost to attend.
We still have some space available so follow this link for further information and registration details. And for those that can't make it, keep an eye out for my next Huffington Post article where I shall report on proceedings.
Photo above: cognitive communal living space – by Dariusz M. Sadowski with permission for use
— This feed and its contents are the property of The Huffington Post UK, and use is subject to our terms. It may be used for personal consumption, but may not be distributed on a website.