There has only been one moment when eight-year-old Mohamad talked about returning to Syria. It was when snow fell in his country last winter for the first time in 25 years.
"Mohamad wanted to go back to Syria for just long enough to build a snowman," said his mother Ola Faaour, 28. "Then he wanted to immediately return to his new home, here in Shropshire."
It is the first anniversary of refugees Ola and Mohamad's new life in Wem, a small rural town in Shropshire. They arrived here at the same time as a second family of Syrian refugees – Maher Al Melhem, 33, Nidaa Al Ahlab, 26, their sons Oday, nine, Qosay, eight and Zahraa, two, exactly one year ago.
Both families fled Homs, Syria's third largest city. Even without the devastating conflict there it would be hard to find two more contrasting parts of the world. In 2004 Homs had a population of more than 652,000, along with elegant tree-lined boulevards, bustling markets and elaborately designed mosques. Meanwhile Wem nestles in stunning countryside and is home to just over 5,000 people.
Before the Syrian conflict began Homs was an area where Sunnis, Alawites and Christians lived harmoniously together. Wem is a largely white area, most famous for its cultivation of sweet peas. There are no mosques in the area but Wem has four churches.
"This is a traditional white community," said Sue Matthews, coordinator of the Wem Welcome Group which has been supporting both families. "I think the last time we had any new arrivals was when evacuees from Liverpool came here during the Second World War and then decided to stay on afterwards."
It is testament to both the local community who have welcomed the new arrivals with open arms and the families themselves who are eager to learn English, work, study and adopt English customs, that they have integrated so well over the last twelve months.
The families are among 63 refugees who have arrived in Shropshire since June 2016 as part of the Government's Syrian Vulnerable Persons Resettlement Scheme (VPRS).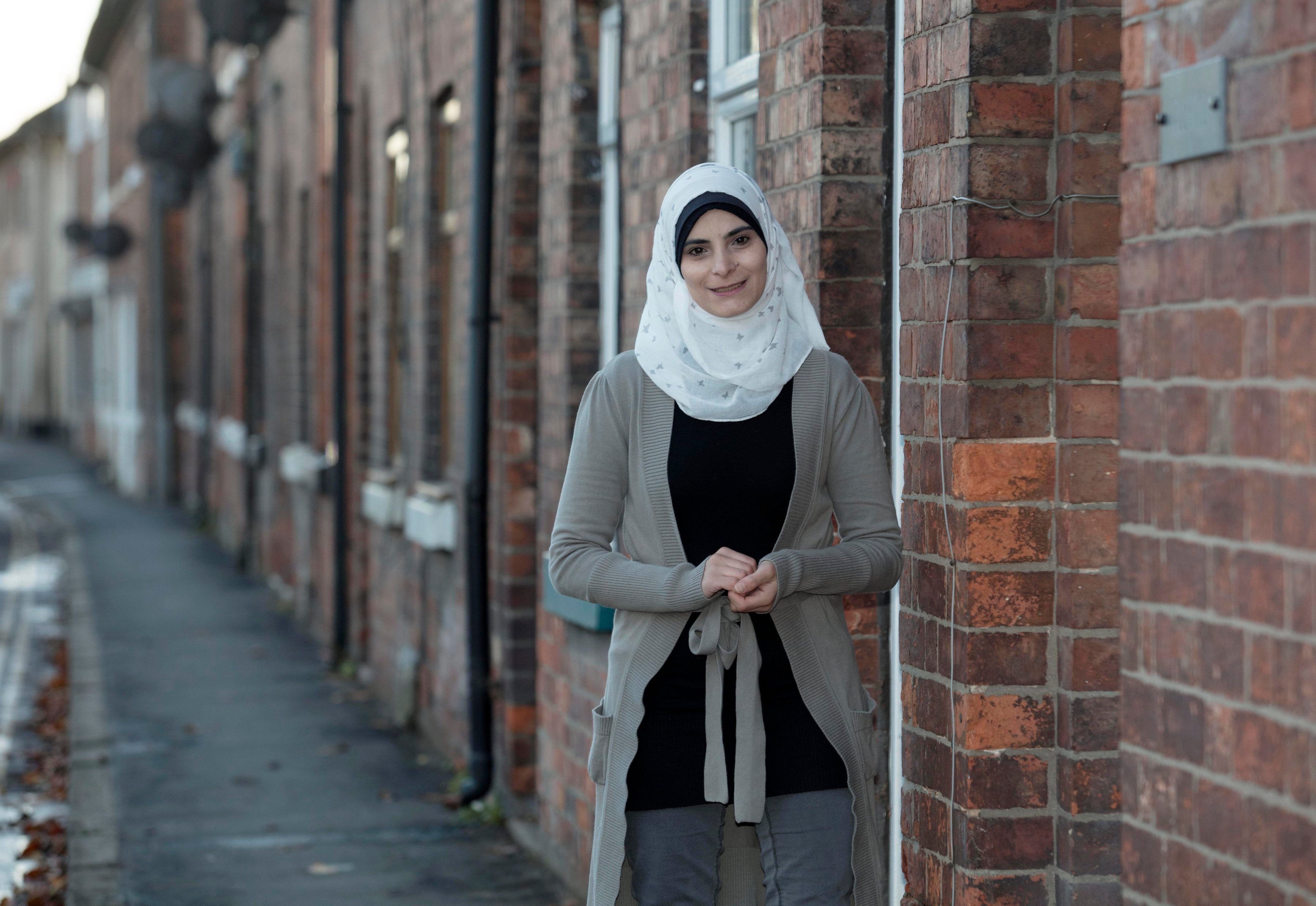 According to the Home Office, 20,000 people in need of protection will be resettled in the UK by 2020 under this scheme. So far 8,535 people have been granted humanitarian protection under the VPRS, and in the year ending June 2017, 5,637 people were resettled across 246 different local authorities. Around half of those resettled under the VPRS were under 18 years old.
The scheme is regarded as the Rolls Royce of the asylum system. Those who have fled persecution and are processed through the asylum system often have to endure lengthy waits of several years, have their testimonies routinely disbelieved by the Home Office, are not allowed to work and are forced to live in sub-standard accommodation and survive on just £36.95 per week. The experiences of the families in Wem show it doesn't have to be that way.
For the children and their parents, the local school, St Peter's C of E Primary and Nursery School, whose motto is 'where everyone matters', has been a focal point.
Ola and Nidaa have baked traditional Syrian cakes for school events and the three oldest children are learning carols to celebrate Christmas. The families are among the first on the resettlement scheme to be interviewed and photographed, telling HuffPost UK about their new lives in Shropshire.
"I've got a Christmas tree in my bedroom and we're going to bring it into the living room and decorate it soon," said Mohamad excitedly.
Like his friends Oday and Qosay he adores school.
"I wish I could stay there longer every day," he said. "I love reading and writing and maths and eating fish and chips and pizza and speaking English with my friends." Although he loves playing with Oday and Qosay he estimates he has made at least "50 new friends" since he arrived in Wem.
Both families fled atrocities in Syria. Ola is too distressed to talk about what happened to her and her family but Maher described the horror of fleeing Homs via Damascus to escape over the border to Lebanon.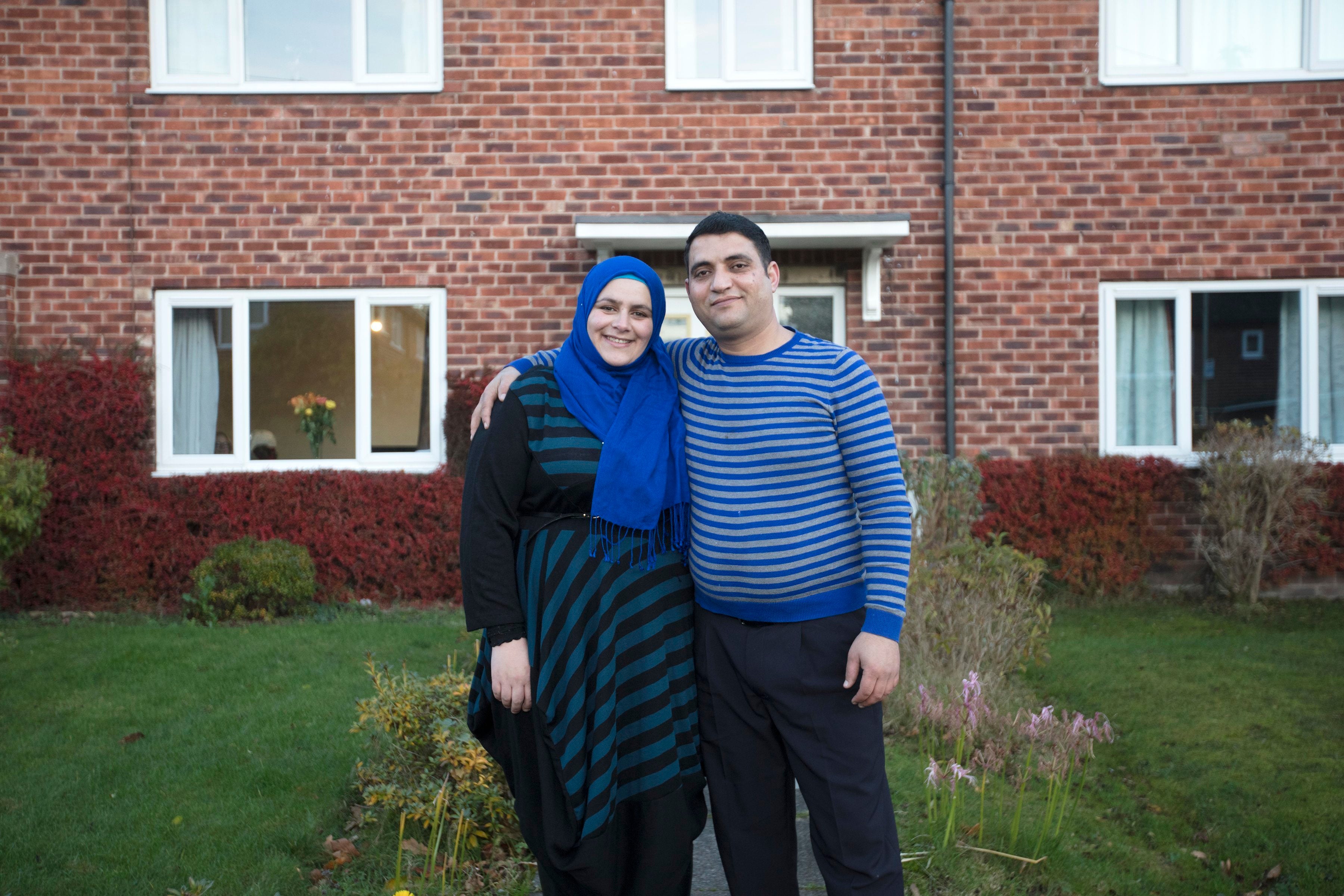 "The streets were full of bodies," he said. "It was terrifying for the children to see. We had no plan when we escaped, we just wanted to find somewhere that would be safe for the children."
He said that before the war started he had not had any problems with Bashar Al Assad's government. "But when he started killing his own people I began to hate him."
He also condemned so-called Islamic State in the strongest terms and said that Syrian people were trapped between the two opposing forces.
"Isis is not related to Islam. We as Muslims don't want them at all."
When Maher and his family reached Lebanon they thought that after a few months the bombing would subside and they could return home.
"After two years in Lebanon we discovered that our entire street had been destroyed by bombing. That was when I realised that we could not go back to Syria."
They consider themselves fortunate to have been recommended for the VPRS scheme by the United Nations High Commissioner for Refugees (UNHCR) although the process of applying, being vetted and finally arriving in the UK took four years.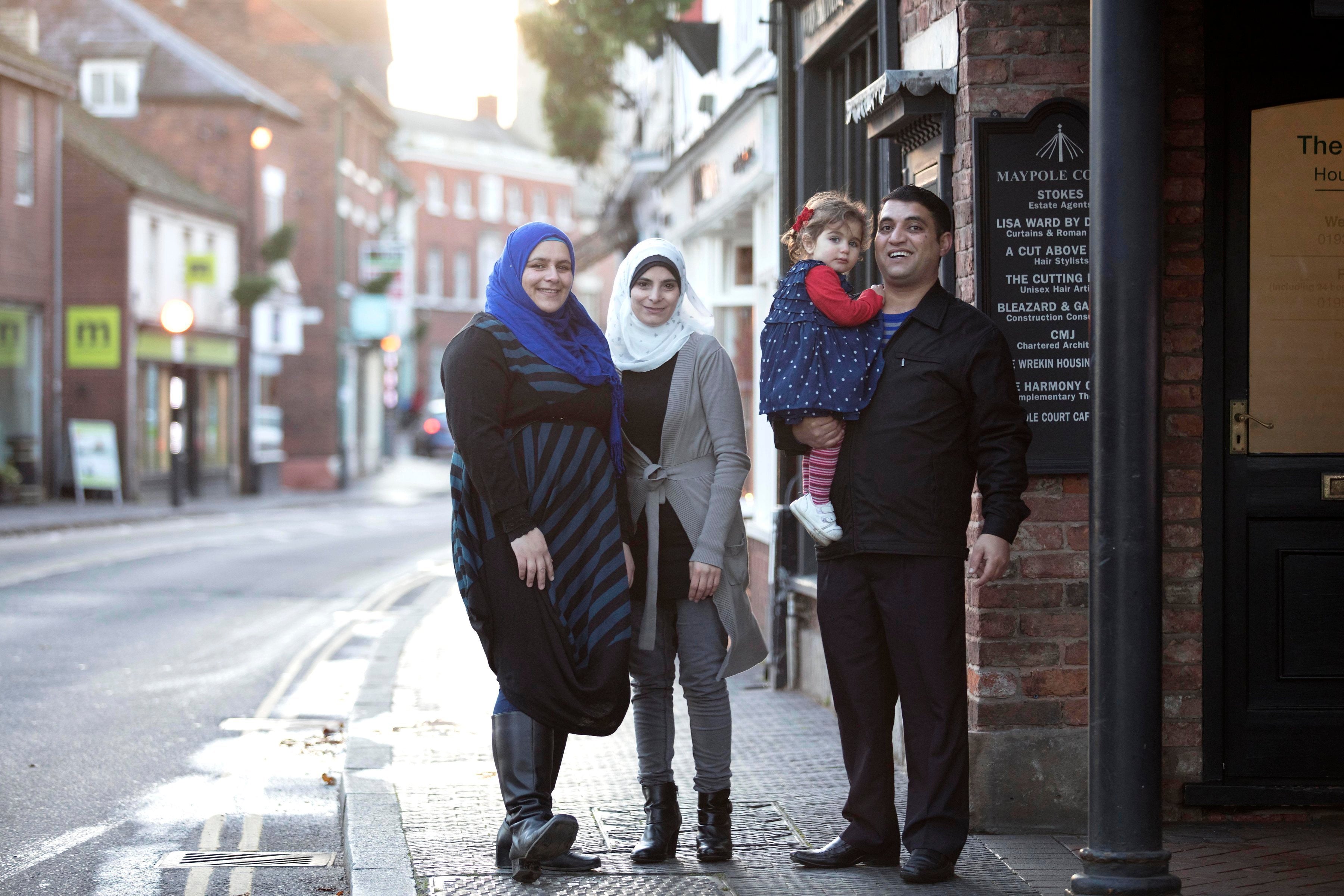 The majority of people fleeing conflict zones have to go through the asylum process. Unlike Maher, who is thrilled to have secured a job with North Salop Wheelers, a community interest company that provides accessible and affordable local transport, they are forbidden from working while their claims are considered.
This process may take years, and while they wait they are placed in accommodation of a very low standard, unlike the two Syrian families in Wem who have been provided with clean and decent accommodation by the housing association Connexus.
I love the way people treat each here. Everything is safe here and we feel more relaxed and comfortableOla Faaour
Ola volunteers a few days a week at a local charity shop, sorting out clothes. She is learning English and she and her co-volunteers make abundant use of Google translate to fill in the gaps in understanding.
There are some adjustments to English culture that the families have made.
"When I first came here I was surprised to see boyfriends and girlfriends kissing in the street," said Ola. "In Syria things were much stricter. Children back home would not be allowed to watch TV but here there is more freedom."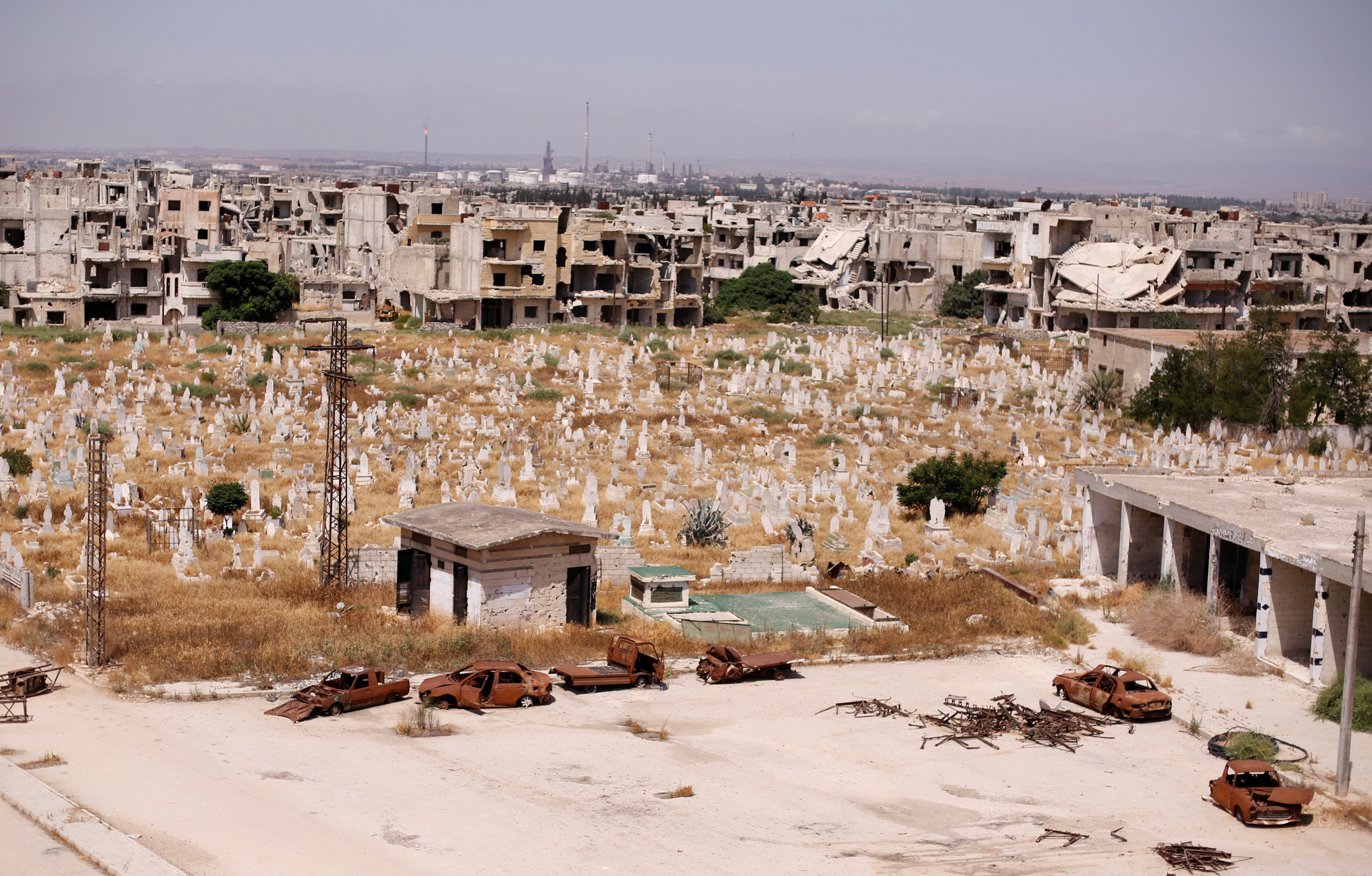 She brought a traditional long Syrian dress coat with her to England but said she has not worn it, choosing instead to wear western clothes like jeans while still covering her hair.
"Every country has got its own culture," she says. "I love the way people treat each here. Everything is safe here and we feel more relaxed and comfortable."
Maher and Nidaa say their neighbours are wonderful although they are still getting used to conventions about social visits.
"In Syria we are very close with our neighbours but here nobody just knocks on your door to see how you are doing."
Shropshire Council commissioned the charity Refugee Action to provide a resettlement service to support the Syrian refugees to begin rebuilding their lives in the county. The charity's caseworkers provide practical and emotional support to help the families start learning English, register with their local GP, enrol their children in school and become independent.
I am happy and everything is good here but I need my grandma and grandpa here'Oday Faaour, 9
Louise Calvey, head of resettlement at Refugee Action, said: "Resettlement gives families whose lives have been torn apart by conflict and persecution the opportunity to build new lives in Britain. It's wonderful to see Syrian refugees being warmly welcomed to Shropshire and the contribution they're already making to towns around the county."
Mohamad, Oday and Qosay have all thrown themselves into their new lives with energy and enthusiasm. But like their parents they cannot always banish the sadness they have left behind.
Oday and Qosay speak to their grandparents who fled to Lebanon on Whatsapp.
"I am happy and everything is good here," says Oday. "But I need my grandma and grandpa here."
"I talk to Nidaa about everything," said Maher. "When we hear bad news, I support her and she supports me. We don't talk about it in front of the children. In Britain, we always think about the future and the future for our children. Today I passed my driving test, which is very good news. Always I'm trying to do my best for my family's future."
Sue Matthews says that the new arrivals have enriched life in Wem.
"You should never rush anyone from Shropshire," she said. "The Syrian families say they feel very welcomed here. We walk alongside them. Their arrival in Wem has been a damn good thing all round."