Step aside materialism. Christmas is the season of giving – and what better way to give than by volunteering?
This Christmas, the largest foodbank provider in the country is expecting its "busiest Christmas ever". The Trussell Trust said there was a 47% increase in three-day emergency food supplies last December compared to the monthly average and the same is expected this year, but on an even bigger scale.
The charity desperately needs volunteers to help pack parcels at foodbanks across the country. And it's not the only one looking for support.
Caring in Bristol needs help running its annual Caring at Christmas project, which helps provide homeless people with warm and safe beds, food and social activities. Meanwhile Cats Protection is in need of volunteers to feed and play with shelter moggies over the festive break and beyond.
To help fill your winter months with something other than turkey and mince pies, we spoke to 13 charities about their volunteering and fundraising opportunities.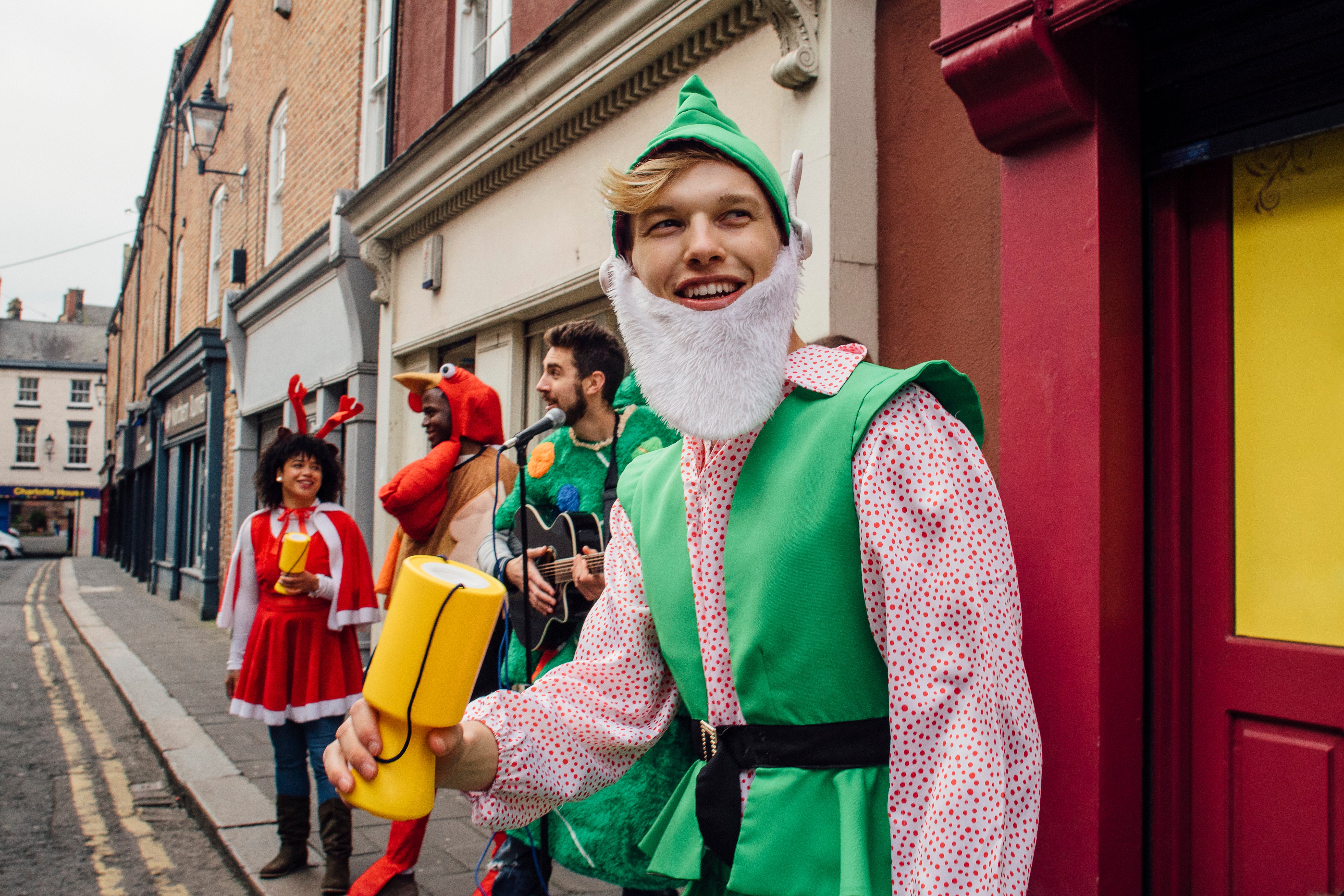 What it does: It's a national charity for single homeless people. It is dedicated to ending homelessness by delivering life-changing services and campaigning for change.
Opportunities this Christmas: Every year the charity runs Crisis at Christmas. This year it will take place from 22-29 December and more than 11,000 volunteers will be needed.
The charity is looking for:
:: General volunteers, who chat to guests, serve food, sort bedding.
:: Night shift volunteers, who keeps Crisis' centres running 24 hours a day.
:: Service volunteers, including medical professionals, hairdressers and caterers, who give guests access to services they usually miss out on.
:: Logistics volunteers, who drive vehicles, co-ordinate deliveries and provide translation services.
:: Entertainment volunteers, such as musicians, artists and sports coaches, who use their talent to bring some Christmas cheer to guests' lives.
:: Volunteer advisors, who help guests in the longer-term by providing advice on issues such as housing, welfare rights, women's issues and family law.
People have to attend one training session before they volunteer. To sign up, click here.
What it does: It's a worldwide Christian church and registered charity dedicated to caring for people who are vulnerable or in need. It works with some of the most disadvantaged people in communities including homeless people, older people and victims of modern slavery.
Opportunities this Christmas: The charity runs local Christmas present appeals, where members of the public donate gifts and food for children and families who might otherwise go without. Toy parcels and food hampers are then packed and distributed to those in need.
Many Salvation Army centres in the UK will be running local Christmas present appeals. To find out if your nearest one is participating, find them on the charity's website or contact them directly for more details.
If your local Salvation Army isn't running a Christmas present appeal or you aren't able to get a gift to them, you can donate to its Christmas fundraising appeal.
What it does: It's a North East charity supporting cancer patients and their friends and families with a range of services from counselling and wellbeing to wig-fitting and family fun days.
Opportunities this Christmas: FACT has multiple volunteering opportunities over Christmas. It is looking for shop helpers to assist with deliveries and the general running of shops ("Christmas is a particularly busy time for FACT's charity shops, as a lot of donations are made during the season of giving," a spokesperson said).
The charity is also looking for:
:: Volunteers to help with packing shoppers' bags at Marks and Spencer in the Metrocentre, Gateshead, on 18 December.
:: Complimentary beauty therapists to provide massages and manicures to service users.
:: Volunteers to help run the FACT Centre in Gateshead.
For further information on volunteering opportunities, please email info@fact-cancersupport.co.uk or visit www.fact-cancersupport.co.uk.
What it does: It's the world's leading organisation helping children in danger, providing kids across the globe with education, life-saving food and nutrition, clean water, vaccines, relief in emergencies and protection from violence.
Opportunities this Christmas: There are unfortunately no specific hands-on volunteering opportunities at Unicef UK this Christmas. But you can fundraise to help the charity keep Syria's children safe and warm this winter by hosting a #CookForSyria dinner party or donate to HuffPost UK's Christmas appeal for Syrian children here.
The #CookForSyria hashtag has grown into a global movement that has raised almost £500,000 for Unicef's work to help protect the children of Syria with support from the world's top chef's, restaurants and volunteers.
Learn more about how to host a #CookForSYRIA supper club to help protect the children of Syria this winter at www.cookforsyria.com/supper-club/.
What it does: It works to deliver support to homeless and vulnerable people in Bristol 365 days a year.
Opportunities this Christmas: The charity is recruiting 1,000 Bristol-based volunteers to help them run their annual Caring at Christmas project, which helps provide homeless people with warm and safe beds, food and social activities during the Christmas period.
The shelter opens on Christmas Eve at 3pm and remains open until 10am on 1 January 2018, aiming to welcome over 200 guests each day, provide 60 beds each night and serve 5,000 hot meals. As homelessness is so prominent in Bristol at the moment, the charity is expecting an especially busy Christmas.
The Caring at Christmas project will run at the Night Shelter, Little Bishop Street, Bristol BS2 9JF.
To get involved email jenny.duffy@caringinbristol.org.uk or call 0117 924 4444.
What it does: It provides emergency food to people in crisis through a network of UK foodbanks and partners with churches and communities to open new foodbanks nationwide.
Opportunities this Christmas: December is the busiest month of the year for foodbanks across the charity's network, so any extra help is really appreciated. There are a number of volunteering opportunities available at foodbanks in the lead up to Christmas. The best way to find out what is available near you is to contact your local foodbank (contact details can be found via the website).
Volunteer roles in the lead up to Christmas include:
:: Helping to pack Christmas hampers alongside the standard emergency food supply.
:: Helping sort, weigh and store food donations in the foodbank warehouse.
:: Helping out at supermarket collection days.
:: Meeting people referred to the foodbank and sitting with them to chat about their needs and what other support is available locally.
Click here to sign up to become a volunteer.
What it does: It's the UK's leading feline welfare charity, helping around 200,000 cats and kittens every year.
Opportunities this Christmas: Cats Protection relies on the efforts of volunteers throughout the year but it particularly needs a helping hand (or paw) over Christmas.
Cat care volunteers provide cats and kittens with hands-on care and attention and play an important role in keeping the cats happy and healthy until they are ready to be rehomed. They still need feeding and looking after over the Christmas period when many of the staff are on leave, so volunteers get the chance to make a real difference.
The role involves: cleaning the cats' living environment, grooming, feeding and spending time playing with the cats. No particular skills or experience are required apart from a love of cats. Training is provided so the charity recommends signing up as early as possible if you are looking to work over the festive period.
With 34 adoption centres across the UK, there are many opportunities to get involved. Find out more here.
What it does: It supports older people all over the country to stay independent at home and active in their communities.
Opportunities this Christmas: The charity's volunteering opportunities tend to be longer term, however if people sign up now they might be able to become a volunteer by Christmas.
Volunteering could mean driving someone to a Christmas event or helping them to get food in for the Christmas period. They could also sign up to be a trolley volunteer – providing refreshments and company on ward to patients having a stay in hospital over Christmas (and beyond).
Sign up to become a volunteer here. If you can't spare your time, the Royal Voluntary Service also accepts donations to support their work.
What it does: It supports vulnerable families from low income backgrounds within Stoke-on-Trent and Newcastle-under-Lyme.
Opportunities this Christmas: The charity is desperately seeking volunteers to help wrap gifts for its toy appeal and support its 'People's Pantry' – a foodbank initiative.
No training is required for wrapping toys, but the charity offers safeguarding training and a food safety qualification for those getting involved with 'People's Pantry'.
To sign up, email info@alicecharity.co.uk.
What it does: It's a new charity which helps homeless people move off the streets and into sustainable homes.
Opportunities this Christmas: The charity is looking for people to support with its 'furniture mine' initiative, delivering furniture to families who are living without beds and sofas.
No training is required to volunteer, you'll just need an on-the-job induction.
To sign up, email johnw@emmauspotteries.org.uk.
What it does: It combines surplus food, spare kitchen space and volunteers to create nutritious, community meals for people who are hungry and lonely.
FoodCycle runs 33 community-powered projects across the UK, operating in cities in the North of England, East Anglia, Birmingham, London and the South West.
Opportunities this Christmas: The Christmas period can be especially difficult for FoodCycle guests and it's also a challenging time for volunteers to keep their projects running.
Each week, volunteers collect food from supermarkets and local retailers, take it to a venue (such as a community centre) and cook a healthy, vegetarian, three-course meal for the community.
The charity would love to welcome new volunteers who hate food waste but love other people. You can sign up here: volunteer.foodcycle.org.uk.
What it does: It's an animal welfare organisation in London helping thousands of dogs and cats to escape a life of abandonment, cruelty and neglect each year.
Opportunities this Christmas: Mayhew is seeking reliable and dedicated people who are able to offer space to homeless cats in their home on a temporary basis until Mayhew finds a suitable permanent home.
The volunteers have to be responsible for the safe transportation of the animal to and from Mayhew, attend vet appointments, keep the foster cat permanently indoors, contribute to the care and welfare of the animal on foster, and to be available for a potential adopter to view the cat at the foster home.
For more information about the volunteer role, click here.
What it does: It provides support to RAF families.
Opportunities this Christmas: There are many ways you can help. Royal Air Forces Association volunteers make thousands of calls and visits to those in need. They also get involved with fundraising initiatives and raise the money needed to provide vital welfare support services.
Some of the volunteering roles include:
:: Caseworkers, which carry out home visits to assess the needs of beneficiaries and develop a support package.
:: Befrienders, who reach out to those who ask for help to offer friendship and support.
:: Fundraising team leaders, who create and organise local fundraising activities.
:: Fundraisers, who help fundraise at events alongside serving RAF personnel.
You will be given appropriate training to ensure you have the support and skills you need, whether you're delivering welfare support or fundraising.
Take a look at the volunteering roles available in your area this Christmas by visiting rafa.org.uk/volunteer.