Forget chocolates or beauty products, one mum is creating an advent calendar with a difference this December to "tackle stigma around pee, poo and periods".
Sarah Brisdion's 'toilet advent calendar' will see her take a selfie on the loo every day until Christmas Eve to raise awareness of the lack of toilet and changing facilities for disabled people.
The mum to seven-year-old twins Hadley, who has cerebral palsy, and Erica, says she believes toilet stigma contributes hugely to lack of awareness around the struggles disabled people face every day when using public toilets.
"We don't talk about toilets and what we do on them. I want to try to break down some of those barriers," the 37-year-old tells HuffPost UK.
"We all have to pee. It's nothing to be ashamed of. Some people just need a little more help than others."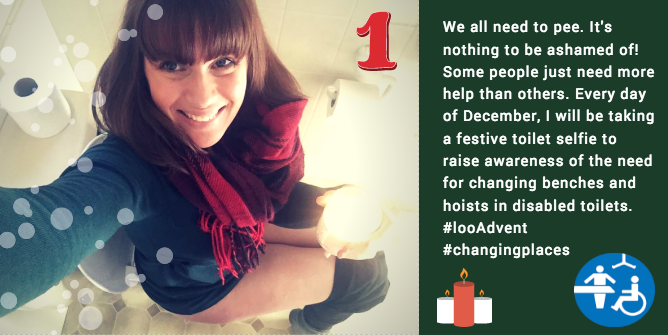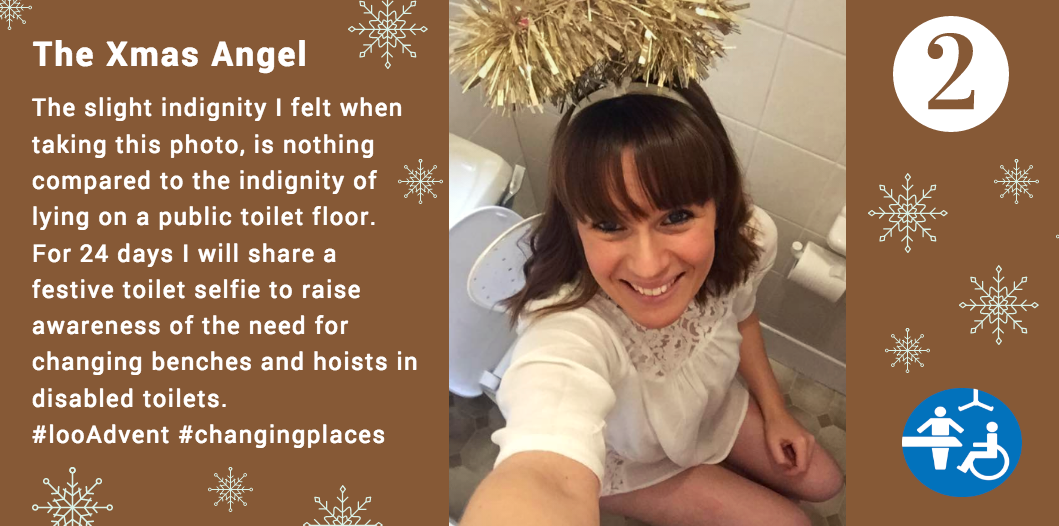 Sarah has created the advent calendar after years of struggles trying to change her son Hadley in disabled toilets without adequate changing facilities, such as benches and hoists.
"A lot of the time, the only option we have is using the toilet floor to lie him down, prepare him for the loo and/or change him and get him clothed again," Sarah explains.
"It's horrendous, undignified, unhygienic and dangerous. I can just about manage to lift him at age seven. I can only imagine how hard it is to lift an adult from a wheelchair to the floor and back up."
The writer and designer details one particularly heart-wrenching situation when the family was food shopping and Hadley had an accident in his nappy. The disabled toilet facilities in the supermarket were so disgusting that she couldn't bare to lie her son on the floor.
"We had no choice but to a take him to the car and change him in the boot," she reveals. "He was so upset. He was begging us not to change him, but he couldn't sit in his own waste until we got home, it was everywhere.
"We had to do it in the boot. It was freezing cold. We put the heaters on full blast and did everything as quickly as we could, trying to keep him warm and shield him from anybody walking past with their shopping.
"He knows we have no choice, but it still really upsets him. He's very aware of people looking at him and it's hugely uncomfortable. Seeing my son so distraught is heartbreaking.
"When I got home I just sobbed."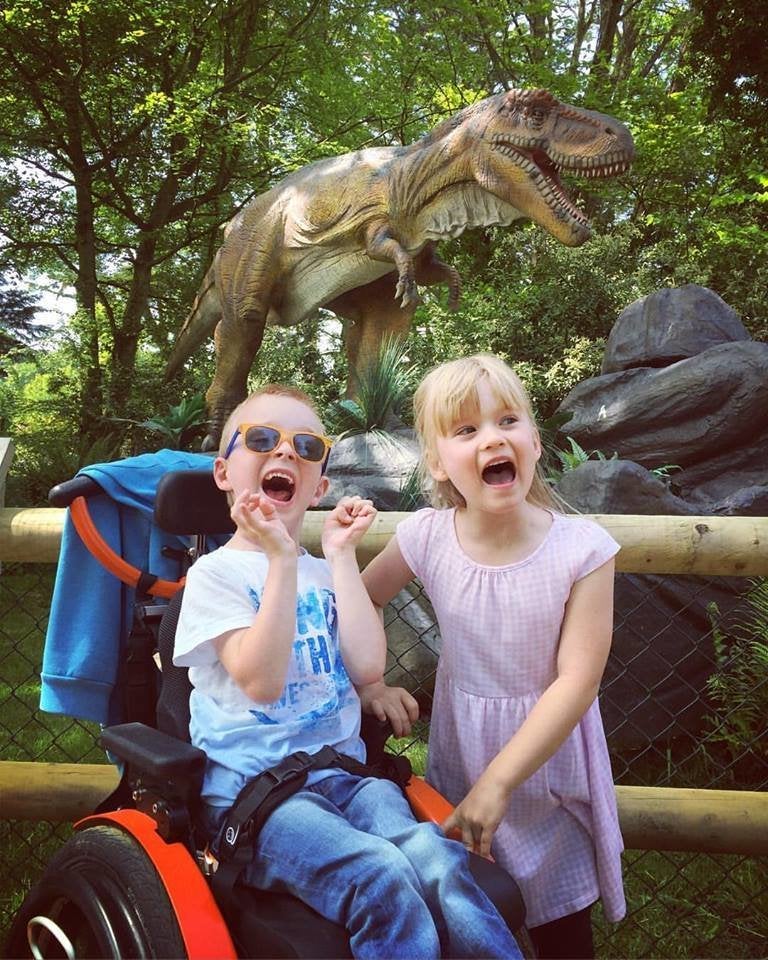 It's such difficult times that have spurred Sarah into taking action – she's been fiercely involved with Changing Places for three years now, which campaigns for fully accessible toilets.
It's thought over a quarter of a million people cannot use standard toilets, yet many disabled toilets aren't up to the job. Changing Places believes all disabled toilets should have more space and the right equipment, including height adjustable changing benches and hoists.
Sarah, who lives in Brockenhurst, New Forest, with her husband Martyn, 38, says Changing Places toilets are fairly easy to install and not too costly, "yet huge multinational businesses are refusing to install them".
Currently there are 1,044 specialist toilets across the UK – but it's not enough. As Sarah puts it: "There are only around 1,000 toilets in the whole country that Hadley can use. There are millions for everyone else.
"That infuriates me, as they are saying my son is not worth catering for. And it's not just my son, as you know – there are hundreds of thousands of people who need Changing Places toilets."
The lack of services affects the whole family, including Hadley's twin sister. Sarah says seeing her brother having to be changed in unhygienic places takes a huge toll on Erica, and it also means they can't go to places where the average family does.
"We now have a couple of public Changing Places installed locally," Sarah explains. "But there is not a single cinema, theatre, restaurant, supermarket, bowling alley or train station that we can go to without having to resort to using a toilet floor or boot of the car. And very few holiday destinations or tourist attractions."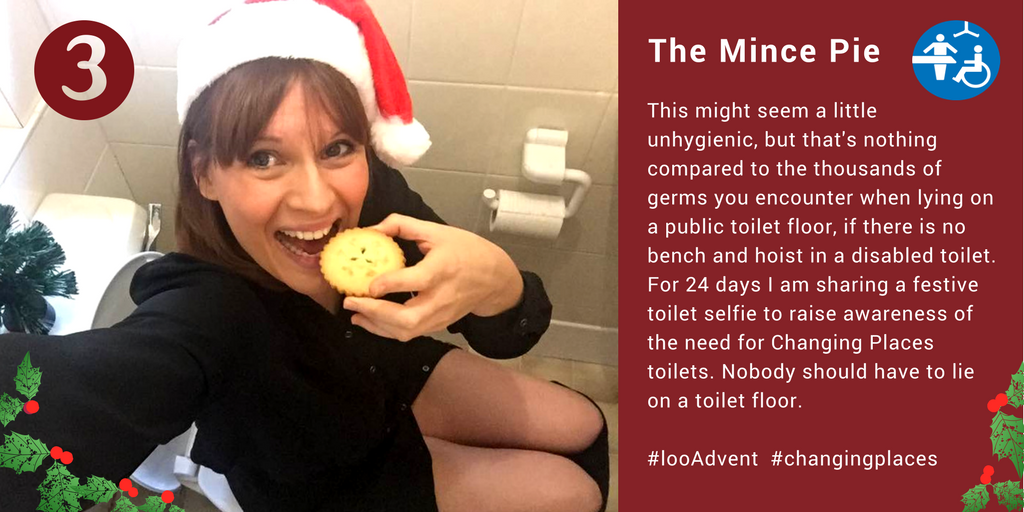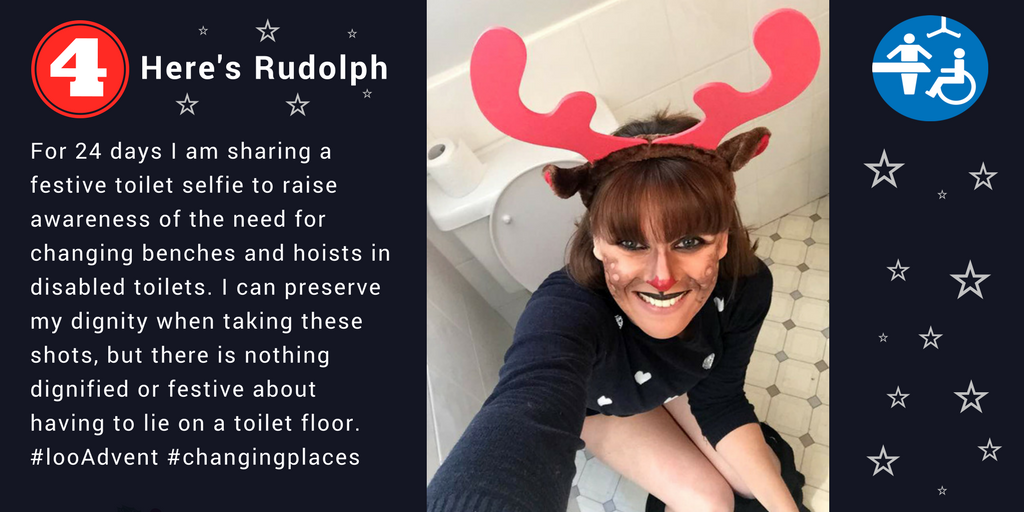 Sarah's toilet advent calendar is one way of drawing attention to the issue, which affects her life – and the lives of thousands of others – every single day.
While she was a bit worried about what people would say initially, she's incredibly glad she took the plunge.
"I want to show people that this is an important issue," she says. "Just because it's not glamorous, that doesn't mean it doesn't deserve attention. I want people to think, the next time they are on the loo, how they would feel if they had to lie on a toilet floor or how they would feel if they had to lay their child on one.
"The more people who are aware of the cause, the more likely we are to have success when we approach businesses and encourage them to install facilities."
Throughout December Sarah will share 24 photos of herself on the toilet on social media. She hopes that people will share her photos, to raise awareness of the problem, and sign the below petition. Her ultimate aim is for more businesses to install Changing Places facilities.
"The slight embarrassment I feel from sharing these photos is nothing compared to the indignity my son feels having to lie down amongst other people's urine," she says.
"It's easy for me to take a photo. It's not easy for my son to live with being discriminated against."
To support Changing Places' plight to get better facilities installed in supermarkets, sign this petition.