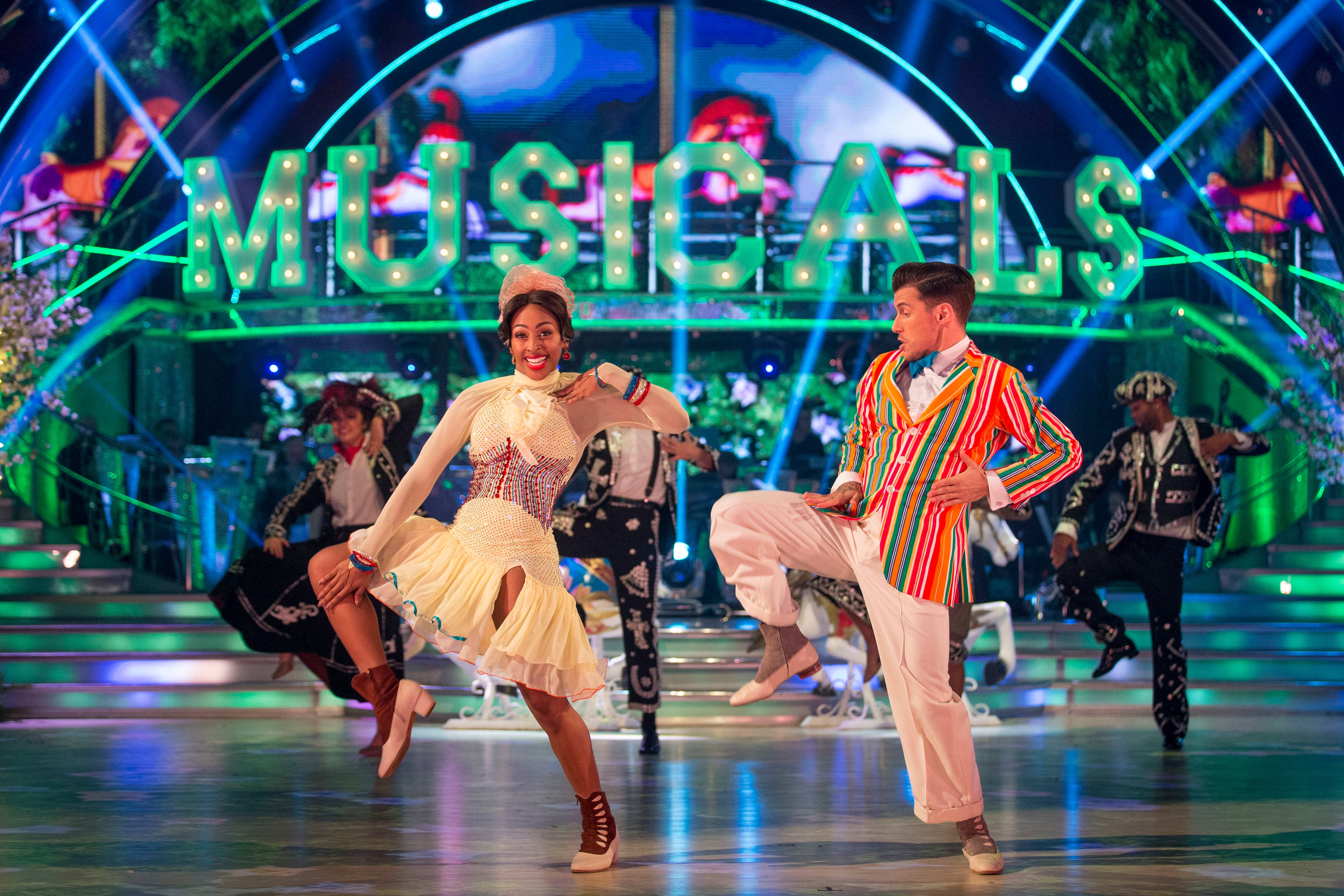 K E Y P O I N T S

Gemma Atkinson and Aljaz Škorjanec scored 29 points for their Quickstep to the title track from 'Hello Dolly!'. Score breakdown: 6 (Craig), 7 (Darcey), 8 (Shirley), 8 (Bruno).
The judges couldn't agree on whether Gemma's posture and acting deserved praise. "The character lost impact," Bruno told her.
Mollie King and AJ Pritchard scored 31 points for their Rumba to 'Hopelessly Devoted To You' from 'Grease'. Score breakdown: 6, 7, 9, 9.
An illegal lift stopped Craig from scoring Mollie higher. "I liked it but I did not love it," he said.
Joe McFadden and Katya Jones scored 37 for their Samba to 'Money, Money' from 'Cabaret'. Score breakdown: 9, 9, 9, 10.
Joe's acting skills made sure this unusual take on a Samba impressed the panel.

"I was ready for it to fail, but it was incredible," Craig said.

Debbie McGee and Giovanni Pernice scored 39 points for their American Smooth to 'Memory' from 'Cats'. Score breakdown: 9, 10, 10, 10.
The first wow moment of the episode.

"It's going to be a memory etched in people's hearts for a long time," Shirley said of the routine.

Davood Ghadami and Nadiya Bychkov Atkinson scored 29 for their Argentine Tango to the title track from 'Phantom Of The Opera'. Score breakdown: 7, 8, 7, 7.
The 'EastEnders' actor lacked balance. "Y

ou can't be wobbly in the Argentine Tango," Bruno said.

Alexandra Burke and Gorka Marquezscored 39 points for their Charleston to 'Supercalifragilisticexpialidocious' from 'Mary Poppins'. Score breakdown: 9, 10, 10, 10.
A show-stopping lift sequence made this a dance for the 'Strictly' history books. "You couldn't tell who was the pro," Darcey said.
S N A P V E R D I C T

After getting off to a slow start, the 'Strictly' quarter-final stepped up a gear when last week's leaderboard-topper Joe McFadden took to the floor. His partner Katya Jones took a risk, with an unconventional song choice and choreography, but their efforts paid off.

Conversely, while Davood Ghadami and Mollie King's routines looked like surefire crowd-pleasers on paper – with well-known tunes and familiar dances – the celebs failed to impress the panel.

The first wow moment of the episode came courtesy of the phenomenal Debbie McGee, who battled through back problems to deliver an emotionally-charged American Smooth.

And providing a lesson in how to bounce back in style, Alexandra Burke reminded everyone why she's still a favourite to win the competition, barely pausing for breath between cartwheels, lifts and footwork-heavy bars.
B E S T L I N E S F R O M T H E J U D G E S

Bruno Tonioli on joe McFadden:
Divine, decadent and slightly twisted – your character not me."
Craig Revel-Horwood on Mollie King:
I thought you were dancing by numbers."
E V I C T I O N P R E D I C T I O N

Ahead of the quarter-finals, Mollie labelled the rumba the "dance of doom" and it certainly seems like she had a point. With ten points separating her from the top of the leaderboard, it would take a lot of viewers votes for The Saturdays' singer to avoid the dance-off.
It also looks likely that Gemma's divisive Quickstep will be performed for a second time tomorrow, but Davood and Nadiya's uncharacteristic lack of chemistry could fast-track them to a spot in the bottom two.