Wendy Williams has assured fans she's doing well, after fainting live on air during the Halloween edition of her US talk show.
On Tuesday (31 October), Wendy was introducing her show's annual costume competition, and came out in a glitzy outfit inspired by the Statue of Liberty.
However, as she discussed the upcoming segment, she suddenly stopped in the middle of a sentence and attempted to gather her footing.
To the shock of her live studio audience, Wendy then fell suddenly to the floor, at which point the show's production crew cut to an abrupt ad break.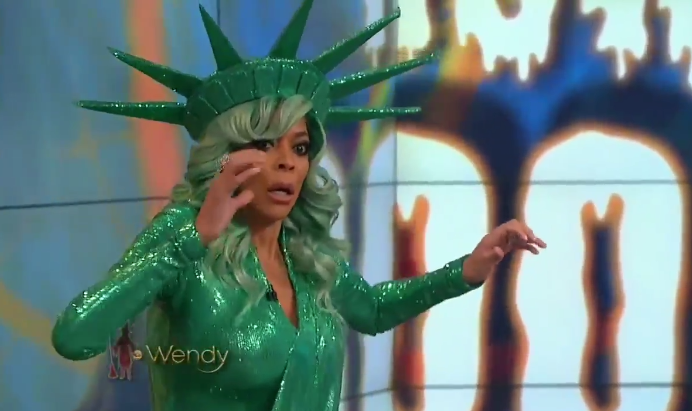 When the show resumed, Wendy was looking visibly better, and explained to her viewers that she would be soldiering on.
She said: "That was not a stunt. I'm overheated in my costume, and I did pass out.
"But do you know what? I'm a champ. And I'm back."
After finishing the rest of her show without incident, she posted a comment on her Twitter page, putting her fans' minds at ease.
She wrote: "Everybody relax. I'm doing fine, just need some water and electrolytes. On another note, I slayed and laid Halloween, LOL!"
Promising she'd give the inside scoop on the following day's show, Wendy added: "Shout out to my magnificent Glam Squad and Ceasar Galindo the costume designer."
A statement was previously shared on her Twitter, revealing that she had passed out due to "her heavy costume, make-up and lights", but had been able to finish the rest of the show "in true Wendy spirit".