The White House Press Secretary has been accused of "lying" in response to reporters' questions about the role of former foreign policy advisor, George Papadopoulos, in Donald Trump's 2016 election campaign.
Sarah Sanders sought to play down the importance of the 30-year-old who has pleaded guilty to a charge of lying to FBI agents about "dirt" he was offered on Hillary Clinton.
The information came to light on Monday in the indictments against Trump's former campaign manager, Paul Manafort and his associate, Rick Gates.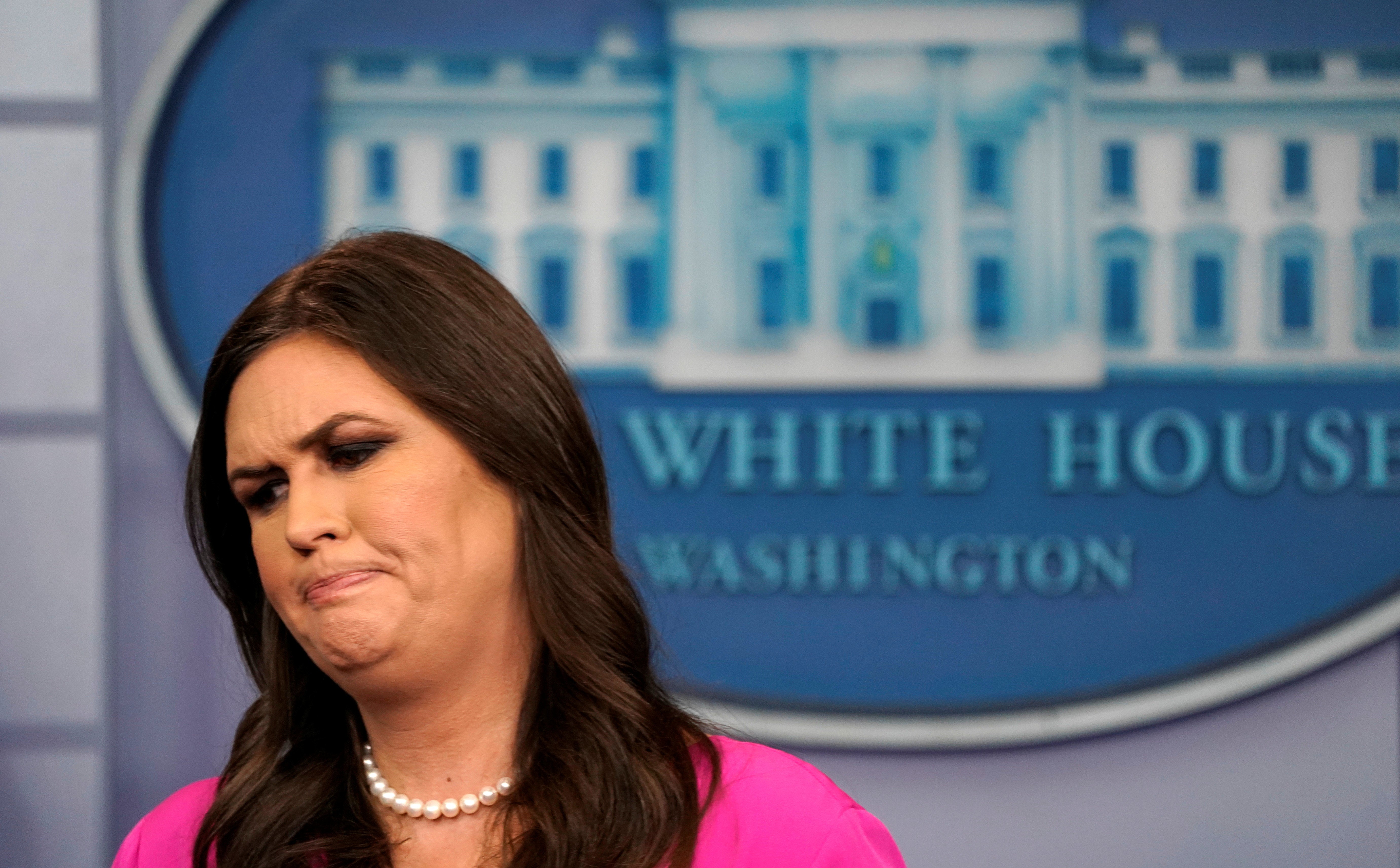 Speaking of Papadopoulos's role, she said: "It was extremely limited, it was a volunteer position.
"He reached out and nothing happened beyond that which I think shows one, his level of importance in the campaign, and two, what little role with coordinating anything official for the campaign."
Sanders's assertion is at odds with the indictment issued by the Special Counsel investigation into Russian meddling in the 2016 election, which states Papadopoulos was encouraged to meet with Russian officials by campaign officials.
Sanders was then asked by a reporter: "So his activities were entirely of his invention, no one asked him to do any of these things – is that what you're telling the American public?"
Dodging the question, she replied: "I'm telling you he was a volunteer member of an advisory council that literally met one time."
The White House has acknowledged this one meeting as there is photographic evidence of it from Trump's own Instagram account (Papadopoulos is third from left).
Papadopoulos was one of five people announced to be part of Trump's foreign policy team in March of last year.
At the time Trump described him as an "excellent guy" so was clearly familiar with his work.
Additionally, Sanders' repetition of the word "volunteer" to show reduced significance rings hollow in light of the fact Manafort also worked on the campaign for free and is now accused of, amongst other things, "conspiracy against the US".
Manafort and Gates have pleaded not guilty to all charges.
Sanders was also asked how she could "describe Papadopoulos as having a limited role when there's a photograph of [him] sitting at a table with then-candidate Trump at a national security meeting".
She replied: "There are thousands of photographs [of Trump] with millions of people."
Sanders is of course correct but only a tiny number of these people are "sitting at a table with then-candidate Trump at a national security meeting".
The Press Secretary also repeated Trump's current favourite go-to line, that the real investigation should be about Hillary Clinton, Uranium One and the pee dossier.
Speaking of Trump Jr's meeting with Russians last year, she said: "The big difference here is you have a meeting that took place vs millions of dollars being sent to create fake information to actually influence the election.
"When you compare those two, it's like apples and oranges."
Sanders also raised a few eyebrows by starting the press briefing by using an analogy of reporters getting drunk and trying to split the tab to illustrate tax reform.
Papadopoulos was living in London when he joined the campaign, according to the indictment.
He told the FBI a London-based professor had "told him about the Russians possessing 'dirt' on then-candidate Hillary Clinton in the form of 'thousands of emails,' but stated multiple times that he learned that information prior to joining the campaign", according to court documents.
In fact, Papadopoulos was contacted after he learned he'd be joining the campaign, and the professor only mentioned the "thousands of emails" after he'd been on the Trump campaign for more than a month.
The professor, the statement indicates, had "substantial connections to Russian government officials" even though Papadopoulos claimed the professor was "a nothing".
Papadopoulos sent a "High-Ranking Campaign Official" an email titled "New message from Russia" back in June 2016, in which he said the Russian ministry of foreign affairs wanted to meet with either Trump or a campaign official in an off-the-record capacity, according to the prosecutors' statement.
A Trump campaign supervisor encouraged Papadopoulos to make the trip "if it is feasible" on August 15, 2016.