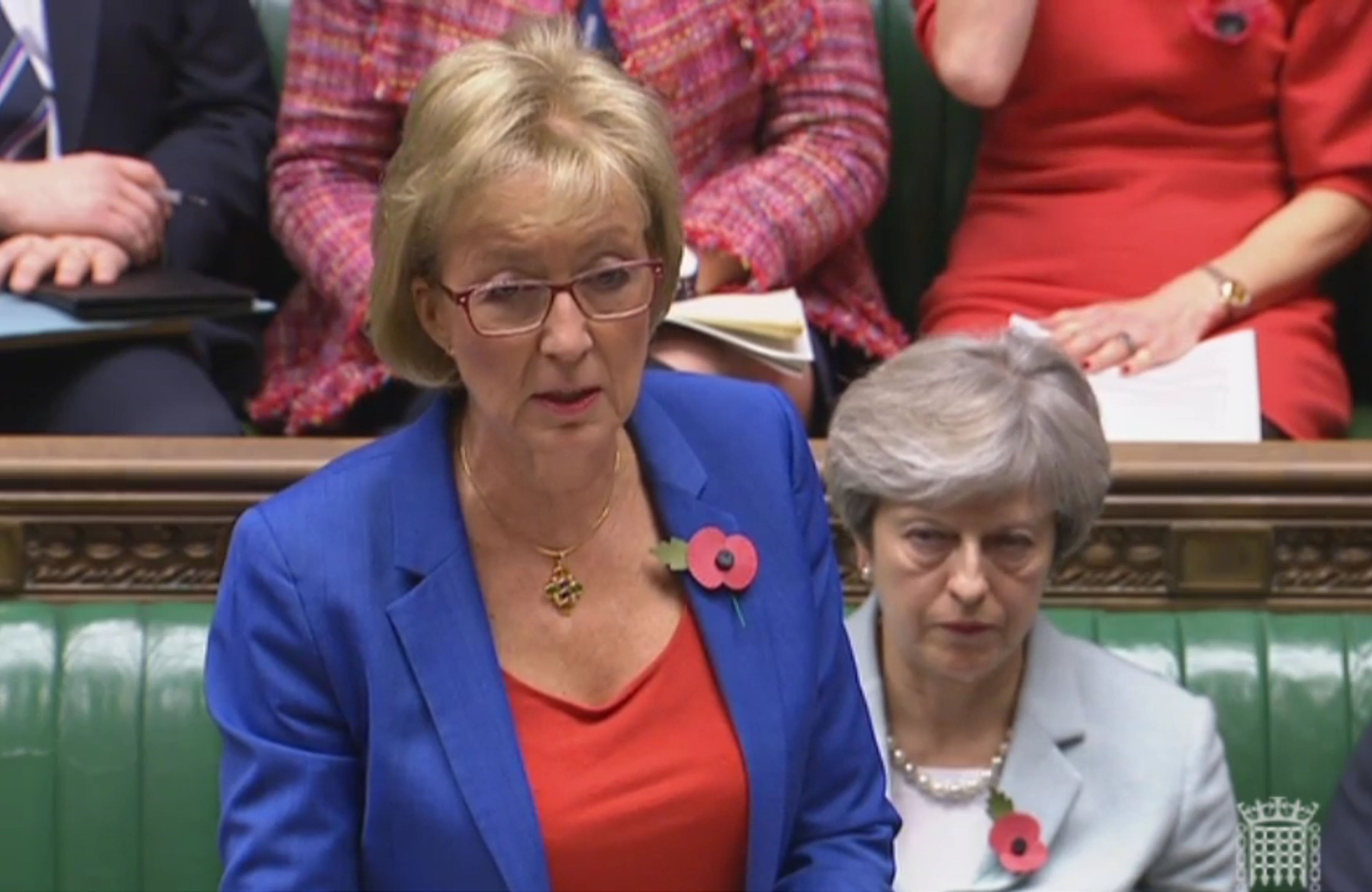 Theresa May is not "covering up" allegations of sexual harassment against Conservative MPs and ministers, Andrea Leadsom has said.
The Commons leader said on Monday it was "not true" that the prime minister turned a blind eye to the behaviour of her MPs.
It came as she announced parliament needs a new independent body to protect MPs' staff from abuse and unwanted attention.
Leadsom's statement in the Commons came after allegations surfaced that MPs and ministers were guilty of inappropriate behaviour towards younger female and male staff.
International trade minister Mark Garnier is under investigation after he admitted asking his secretary to buy sex toys for him.
May has written to John Bercow to call for a mediation service to be set up to deal with complaints.
But the Commons Speaker said today it was up to party leaders, including the prime minister, to "live up to their responsibilities" to "adopt an effective grievance scheme".
Guido Fawkes and The Times revealed a dossier complied by parliamentary staff detailing the inappropriate behaviour of Tory MPs – including cabinet ministers – towards staff.
The staff who work for the 650 MPs in Westminster are employed directly by their MP – not by parliamentary authorities.
The Sunday Times reported Chief Whip Gavin Williamson gives the prime minister "weekly updates about the sexual indiscretions" of Tory MPs – a charge Leadsom denied.
Harriet Harman, the former Labour deputy leader, told the Commons there was "obviously a problem" with a "sleazy" and "toxic" atmosphere in Westminster.
"No woman, or man for that matter, moving to work in this House should be subject to unwanted sexual advances from those who are in a position of power," she said. "It has to be stopped and now is the time to do it."
Plaid Cymru MP Liz Saville Roberts said one member of staff had made a complaint but authorities "did nothing" leaving her "deeply disappointed ad distressed"
Leadsom said the current system for dealing with complaints had been shown to be "inadequate".
"There can be no place for harassment, abuse, or misconduct in politics," the Leader of the Commons told MPs. "There is a vital need to provide better support and protection of the thousands of staff members working in Westminster and in constituency offices."
She said the bar for MPs being disciplined for sexual harassment should be "significantly below" criminal behaviour.
Labour MP Tulip Siddiq said the number of misconduct cases in Westminster could run into "the hundreds".
In Scotland, Nicola Sturgeon has written to Ken Macintosh, the presiding officer of the Scottish Parliament, to ask that there is a "zero tolerance" approach to harassment in Holyrood.