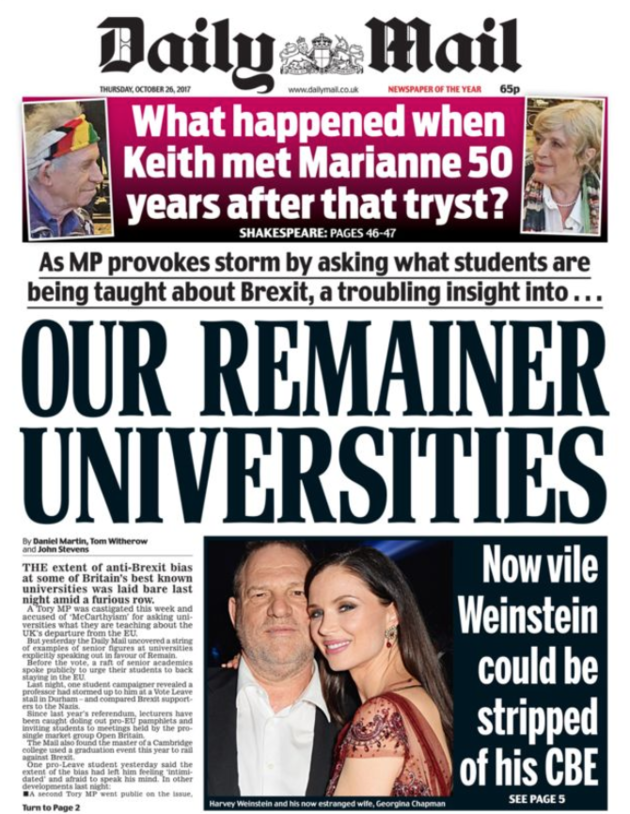 The Daily Mail's inbox for collecting stories of "anti-Brexit bias" at UK universities is being inundated with messages, if people on Twitter are to be believed – just not the type they had hoped for.
Yesterday, the tabloid launched a front-page attack on "Remainer universities" – just days after Tory MP Chris Heaton-Harris, a staunch Brexiteer, wrote to all UK vice-chancellors asking for the names of academics teaching about Brexit.
The right-wing publication suggested pro-EU lecturers are leaving students afraid to speak their minds on campus, and claimed professors have been caught "doling out pro-EU pamphlets" and inviting students to Open Britain meetings.
The paper also encouraged readers to get in touch via a specific email address with their own experiences of so-called "anti-Brexit bias."
Many were quick to condemn the coverage as a "witch hunt" – as they were with Heaton-Harris' "chilling" letter – but they also spotted an opportunity too good to miss.
And so the emails began…
Some lengthy
Some to the point.
All hilarious:
Brexit voters were among those who responded to the call-out to refute the Daily Mail's claims, arguing that universities did in fact house a "broad range of ideas" to allow for "critical thinking".
A professor even felt compelled to turn himself in and confess to his bias, while sarcastically complimenting the paper's "commitment to the truth".
Another creative way in which the email address was used was to sign it up to an eclectic mix of updates from the Labour party and a porn site.
So seriously, spare a thought for the person sifting through that mailbox today.