Why has London's Police Commissioner chosen America for her first official overseas visit. It is a reasonable question, particularly given the year London has had.
First and foremost, I am here because I believe that sharing and learning with our policing friends across the globe is an essential part of the job. There is no better example of this than the common goals and approaches the UK and the US share across law enforcement. We share each other's pain when terrible things happen, we celebrate successes together.
People won't be surprised that much of what I am talking about during my time here this week is terrorism. I have spoken to hundreds of fellow police chiefs about our most recent experiences of terror at the International Association of Chief Police in Philadelphia, and to key federal partners in Washington. I'll be doing the same here in New York, a city which like London, never sleeps, is packed full of energy and diversity; a symbol to the world of the values of tolerance and freedom.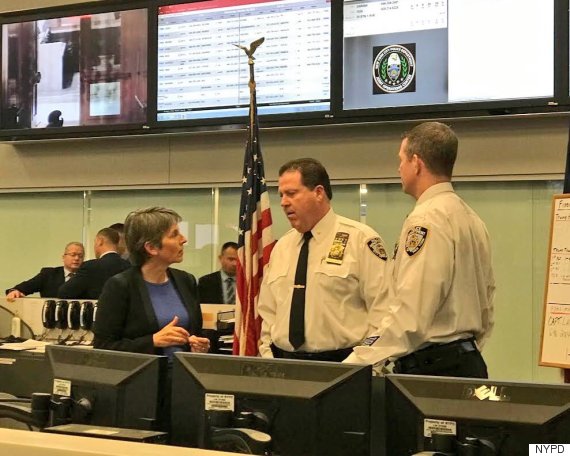 We are both great global cities and financial centres. London and New York are home to big, vibrant and complex populations. Tourist flock to our cities, citizens of the world want to live and work in them – myself included. All of these qualities however can make these wonderful places targets for those holding twisted ideologies.
The common threats that we face, not just from terrorism but from a huge range of crimes, mean that on a practical level, the police must work across international borders. Not only do criminals hide behind international borders, but in the digital age people can fall victim to criminals thousands of miles away. Officers need to work together to hunt down criminals, and to protect the most vulnerable among us.
Criminals don't stand still. Just as policing is learning from new technologies to change how we combat crime, criminals are too, exploiting the internet and all tools at their disposal. So we have to share what we are learning with the law enforcement family. By talking to each other, seeing how we each tackle similar problems we get better, faster.
I want Scotland Yard to be the best international partner we can be. I want my officers to be working with our friends and learning from them. Of course we don't expect this to be one-way traffic. Every week we welcome many visiting international colleagues to the Met. London is host to at least 40 resident overseas law enforcement officers – they are there to liaise with us, and nearby police forces across the UK and in Europe. We seek the same help ourselves from others – we have officers overseas covering 80 countries.
Scotland Yard has great relationships with many US law enforcement agencies and in particular the NYPD. We are, in many ways, sister forces. Police Commissioner O'Neill was our guest in London earlier this month. He saw that, despite the difficult summer we've had in London, our city is everything it ever was. Bouncing back quickly is one way to confound the terrorists. Terrible pain has been caused to many people but the idea that such senseless acts of violence would change the essence of our city or our determination to protect our freedoms is misguided hubris. I am so pleased to be returning Police Commissioner O'Neill's visit this week to see the best of what New York has to offer, and the incredible dedication of NYPD's officers in the face of many difficult challenges. I see so many of the best qualities of the Met reflected in them.
London – like New York – is very much open. Terrorists may try to convince us otherwise but they will not succeed.