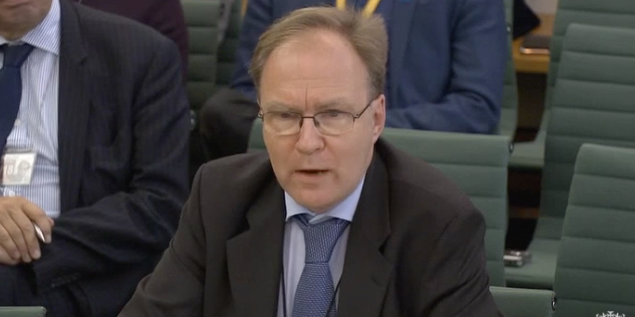 Theresa May was warned the UK would be "screwed" in the Brexit negotiations if she triggered Article 50 too early – but did it anyway, according to Britain's former EU ambassador.
Sir Ivan Rogers, who quit his role in January, told MPs today the Prime Minister has allowed the EU to "dictate" how the Brexit negotiations are being carried out.
May triggered Article 50 in March, but at the first round of negotiations in June the Government instantly conceded to the EU's timetable of settling citizens' rights, the Northern Ireland border and the divorce bill.
With no agreement reached on those issues, talk on a future trade deal has been put on the back-burner.
Sir Ivan predicted if no trade agreement is reached between the UK and EU by next December the two sides will resort to conflict and "name-calling".
Appearing before the Common's Treasury Committee this afternoon. Sir Ivan was clear that May had made the wrong first move in the negotiations.
He said: "I did say last autumn I would not agree unequivocally to invoke Article 50 unless you know how Article 50 is going to work because the moment you invoke Article 50, the 27 dictate the rules of the game and they will set up the rules of the game in the way that most suits them.
"My advice as a European negotiator was that that was a moment of key leverage and if you wanted to avoid being screwed on the negotiations in terms of the sequencing you had to negotiate with the key European leaders and the key people at the top of the institutions and say: 'I will invoke Article 50 but only under circumstances where I know exactly how it is going to operate.'"
Sir Ivan stunned the Government with his resignation in January, and a lengthy farewell email he sent to staff showed his frustration with the Brexit plans.
He wrote: "I hope you will continue to challenge ill-founded arguments and muddled thinking and that you will never be afraid to speak the truth to those in power."
The bureaucrat claimed that civil servants "do not yet know what the Government will set as negotiating objectives for the UK's relationship with the EU after exit" and that "serious multilateral negotiating experience is in short supply in Whitehall."
In his evidence session today, Sir Ivan raised further concerns about the progress of the talks.
He told MPs: "A no deal that is a walkout or a breakdown anywhere between December or March is unlikely to be anything other than bloody – a breakdown of trust, very difficult.
"If it's going really conflictual and bad trust levels will be low, there'll be a huge amount of name-calling across the Channel.
"There will be a big fist fight and the UK will make our own contingency plans."
Want to know what's really going on with Brexit? Sign up for HuffPost UK's Brexit Briefing – sent straight to your inbox every Thursday.
Sir Ivan also warned Britain not to expect business-as-usual with Europe after Brexit even if a free trade deal is signed,
He told MPs there is a "radical difference" between a trade agreement and being members of the Single Market and customs union.
"We cannot expect simple continuity, whether it's in energy or telecoms or financial services or multiple other things. The British can't simply expect the world to carry on broadly as is," said Sir Ivan.
Labour MP Wes Streeting, backer of anti-Brexit group Open Britain, claimed Sir Ivan's evidence showed the why the Government "have made such a pig's ear" of Brexit.
He added: "They are banking on a final deal on trade being agreed by October 2018, when in reality there is almost no chance of an agreement that complex being completed in time.
"They rushed into triggering Article 50 without a plan or even internal Cabinet agreement over what they wanted. And they are in real confusion over transition.
"It's clear that the Brexit that was sold to the British people is becoming unachievable, as this process is far more complex than anyone was told."