This post first appeared on Social Schmocial blog.
Thinking in the abstract is something I've been doing a lot lately – thanks to a new Netflix show called, funnily enough, Abstract.
The example they give in the show is about illustration, and it gives three hearts – one that's super-realistic, which is a bit grim. Another of just a few pixels, which doesn't really look like a heart at all (though does look quite cool imo).
Then the final one is the classic heart we are all used to seeing represent love.
Aww.
Anyway, a clever colleague suggested using this as a thought experiment for coming up with creative ideas. It was advice that stuck around for me – and got me to thinking about what social media could look like if you had some fun taking current trends to their extremes. So I've had a go… here's what I came up with.
1. DroneSpace
Drones look to be invading every facet of our lives and will soon be used for delivering just about anything.
But what if they were used for socialising too?
I'm thinking events like big football matches, for example, could offer an experience where, for a fee, you could send a drone instead of attending in person.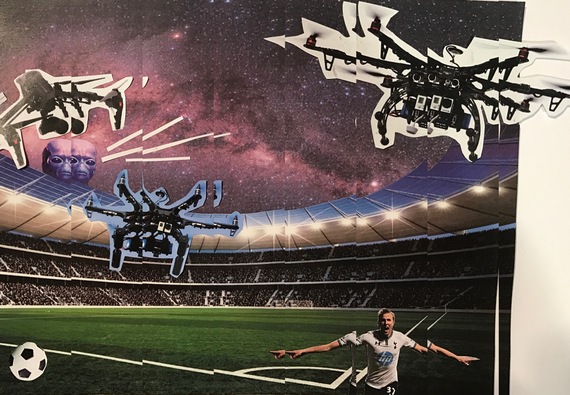 Awesome illustration by Gemma Albone – find her here.
You could hover above the field and get any view of the action you want.
A set number of spots could be sold for these punters who want their own, personal, best view in the house – all from the comfort of their own homes.
This could also be applied to all sorts of extreme adventures. People socialising via drone isn't an idea that's been explored much, but piloting your own micro-copter around picturesque locations, alongside friends doing the same, chatting about everything you see as you go in the exact same way people do in real life – that could easily become a popular pastime.
2. FoodR
Food is universal. Everyone needs to eat. Which is why, in my opinion, food content is everywhere online at the moment – because the potential audience is huge.
But what about when technology pushes the boundaries of what we can achieve with food on social?
What I'm thinking about here is tongue pads that accurately replicate the flavour of food (and people have already started inventing them).
This kind of tech would clearly have applications beyond just social media – but imagine the fun!
Next time you're watching one of those amazing Buzzfeed Tasty videos of a chocolate yorkshire pudding or some other delicious nonsense, you could actually be tasting the thing you're looking at – calorie free!
This one could change the bloody world.
3. LifeCam
Snapchat and Instagram stories basically have us documenting our entire lives on film.
My generation learned to do it – and the generation younger than mine really doesn't seem to be able to live without it.
If a night out doesn't have a Snapchat story – was it really even a night out at all?
Well obviously yes – but probably only if you're older than about 25.
The next stage of this trend is explored in a wonderful book by Dave Eggers called The Circle.
I'd recommend you read it, but for those who haven't, the premise is basically that the main protagonist goes to work for a Google-like tech company who encourage transparency in everything for everyone.
That involves filming everything you do, all day, with a little camera worn around your neck.
How long before we see Snapchat or Instagram influencers doing the same?
4. SEXBOOK
Bit of an obvious one, this.
It might not be very nice – but the world of digital sex is coming. Ahem.
VR sex
You could use this contraption to literally fuck a computer. Welcome to the future.
You can already get sex toys that are controlled remotely online (there was a feature in Wired magazine don't judge me).
So how long before we're all at it? After all, it's not THAT long ago Tinder was considered sad and weird – now look at us! See how the army of mindless goons swipes endlessly, drooling over tiny bikini-clad photos, taken on the long-past holidays of people they're never likely to meet. All the while hoping – praying – one will finally reveal love on their tiny illuminated screens. Or at least, and more pragmatically, lust.
Not weird now, is it, eh?
So before too long, I can envisage people – normal people, not like them weirdos – settling down for the night with VR goggles and a whole digital room chock full of other people all waiting to meet, love and lust after one another.
And for those wounded souls who don't much care for true love in the digital age – why should they even need to meet real people? They'll simply plug in their connected sex toy and enter an entire cathedral, filled to the rafters with artificially intelligent, bodiless sex robots, existing only for one reason.
5. Exerciseme
Fitbit and others are already having some fun with the idea that we want to share our exercise accomplishments on Facebook – but this trend is merely in its infancy.
Soon there could be whole networks for different sports online and well-visited global league tables for every kind of sport.
Sunday league teams will be able see how they compare with their favourite pro sides – and unknown sprinters will be discovered quickly and easily as all fitness tracking and official competition data is uploaded automatically onto their digital profile.
FYI – if you didn't know, I'm on Facebook here
— This feed and its contents are the property of The Huffington Post UK, and use is subject to our terms. It may be used for personal consumption, but may not be distributed on a website.