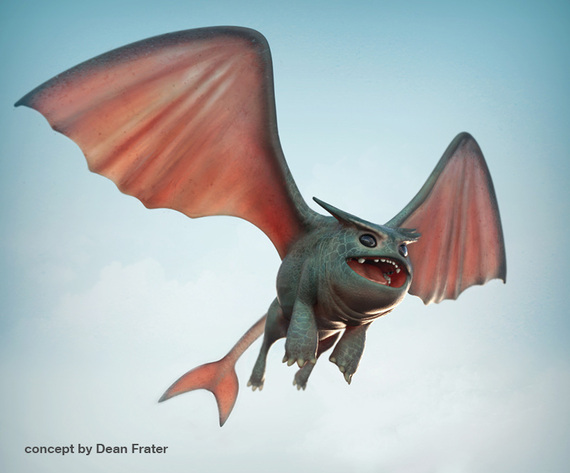 A new video entitled 'Strange Beasts' has been doing the rounds on social media this week. Directed by Magali Barbé, the film purports to be a trailer for the next generation of augmented reality gaming — but in actual fact, it is a short fictional work, and a commentary on the increasing encroachment of virtual reality and augmented reality upon our lives.
Barbé's film, which is slickly produced and features polished sets and performances alike, begins with a handsome young man, shirt unbuttoned at the collar, introducing himself as Victor Weber. Weber tells us about "Strange Beasts", an augmented reality game that sits somewhere between Pokémon Go and the classic Tamagotchi; users create, customise, and grow their own miniature creature, and can interact with it on a daily basis as they would a real pet. We see cutesy shots of Weber playing with his beast, Walter, as well as of his "little girl" Anna playing with her own pet, Blooby.
A sense of unease, which will be familiar to viewers of Charlie Brooker's "Black Mirror" series, quickly sets in. Weber moves tells the viewer that his augmented reality is achieved through "nano retina technology"; the optimistic music slowly fades as Weber's own enhanced retinas flash unnaturally blue in front of the camera. An increasingly dead-eyed Weber explains that it is a harmless enhancement, but we don't fully trust him. The footage we're watching snaps and crackles, as if the utopian vision of this technology itself is fizzling out of reality.
The next few scenes show Weber from a third-person perspective, talking to and interacting with nothing more than thin air. In the final scenes, and in an ingenious twist which is hard to see coming, we see from Weber's perspective that Anna is hungry. As he calls her over for a snack, we see him again from the outside, and realise that she, like his monster, has no reality outside of the nano retina tech. She's not his daughter, she's part of the game. We watch Weber, entirely alone and yet interacting with his imagined family, walking away from the camera, whilst no music plays.
It's an impressive bit of film-making, well narratized and with expertly rendered CGI monsters. The effect is convincing — this could well be the next thing in augmented reality technology — and it plays against expectations to ensure that the ending is a shock; I knew something was going awry, but I somehow expected Weber to fall into loud madness, rather than the quiet loneliness we see. His name, 'Victor', might be a borrowing from Mary Shelley's Frankenstein, for, like Shelley's work, this is a piece that gets under the skin of ours deep-set anxieties about technology.
Barbé is a London-based animator and previsualization artist — the digital rendering of scenes and photography ahead of filming the real thing. That relationship, between the digital and the 'real thing', is precisely in question in 'Strange Beasts'. She wrote and directed, and produced the film, which was self-funded, but she also relied on an extensive team of designers, animators, and other experts (all credited under on the Vimeo page). Wanting to know more about the film, I reached out to Barbé, who was warmly responsive to my questions.
CT: The film obviously casts this kind of technology in a dim light. What set you off thinking about VR and augmented reality in this way?
MB: I have been a computer graphics animator and previs artist for about eight years, so I am surrounded by new technologies. I have tried a few VR kits, of course. The first one I tried was VIVE, with the 3D drawing application, and I admit I was amazed. When writing my short, I was watching hundreds of videos about VR, AR, the latest game trends, the future of gaming, Google Glass, etc. I guess watching all this put me in a specific mood, a mix of fascination and fear. I wanted to translate this feeling into film, so I'm glad that people picked up on it.
Of course, I have seen those videos where people are running around everywhere chasing Pokémon, and that definitely inspired the film. I generally love reading about science and technologies. I'm always wondering about what's next and I like to read crazy or serious theories about the future of humankind… I'm fascinated by the theory that the future of humanity will be fully digital, and that it will entirely lose its material side. People see it as either the end or the future of humanity. It's an interesting question.
CT: Why the form of a hoax? You seem to want your viewers to feel, at first, as if they are watching the advert for a real game — what artistic value do you find in playing with expectations in this way?
MB: Precisely! I do want people to think they're watching an advert at first. To begin with, I just wanted to make a 'hoax' video. I thought, "Let's make a fake commercial, about a pretend VR or AR game, post it online, and drive people crazy because the game will look so cool!…" But after watching all those 'demo' videos online, I realised what I wanted to do already exists all over Youtube. That's when I decided to make a narrative instead, but to start it off like a hoax.
CT: On the film's overriding theme, which might be something like 'isolation', do you think technology is bringing us together or forcing us further apart?
MB: I would like to make it clear that I'm not 'anti-tech' at all! I think technologies become a part of our lives, as phones and washing machines did when they were introduced.
I think people's behaviours and desires drive technologies further, and not the other way around. Then, of course, we could debate the fact that technologies change our way of life and then, impact our behaviours. So there is a loop to some extent. Technologies make things faster, easier to reach, easier to connect. What I find scary, though, is how fast it's developing. And I'm sure I'm not the only one.
I'm not sure if technology drives us apart or not. Again, it is debatable. The emotional state of my protagonist was not necessarily caused by technology. It may have been enhanced by it, but I'm pretty sure the feeling of isolation is something that has always existed. The protagonist is definitely using his app to fill a hole. Whether it's 'helping' or not is for the audience to decide.
CT: I can see 137,000 views so far on Vimeo, and it's a 'staff pick'. Is the film surpassing your expectations in terms of success?
MB: 137K in a week!! It became a staff pick less than 48 hours after release. I won't lie, I was hoping for a staff pick! But the viewing numbers, it was unexpected and it's definitely overwhelming. I have actually been contacted by quite a few Hollywood executives (seven so far) concerning a feature version of "Strange Beasts", and they're also interested in my other projects. I'm spending my week on Skype calls with L.A.
My guess is that it's popular because people like to be tricked? Haha! Also, I guess this topic is sort of universal in a way. That feeling that the virtual world has taken over the physical world is something that I think a lot of us can identify with.
CT: When making the film, where you taking as a inspiration the idea of other 'viral' videos and promotional trailers? It was obviously important to you that the whole thing should look good and be convincing as a piece.
MB: Yes. My big concern for a while was that the creatures have to look appealing enough for people to believe they're watching a video game advert. The creatures also needed to look well integrated into the real world, otherwise the twist wouldn't work. I'm not saying it's perfect, but I think, for a self-funded project, it looks great. I'm happy with it. I would like to acknowledge the amazing contribution from all my team. It was a self-funded project, and it wouldn't have been possible without them. Thanks guys.
I did watch a lot of promotional videos, Kickstarter videos and viral videos such as the Google Glass one. Yes, it did inspire the start of the short film. It's funny, a friend told me he liked how I'm mocking those. I didn't mean for it to appear that way. I was using and playing with those 'formulas', but never really mocking them. It's sort of a parody, true. Some people might see it as a little sarcastic, fair enough.
— This feed and its contents are the property of The Huffington Post UK, and use is subject to our terms. It may be used for personal consumption, but may not be distributed on a website.